IBM Robotic Process Automation with Automation Anywhere
IBM Robotic Process Automation with Automation Anywhere is a relatively new offering from IBM Digital Business Automation (DBA).
Robotic Process Automation (RPA) uses software robots (or bots) to automate activities that are performed by people, so that they can focus on higher value activities within your business. Typically, RPA is used to perform highly repetitive tasks that do not require any human judgement. RPA integrates with existing systems by using their Graphical User Interfaces (GUI) and mimicking the keyboard and mouse actions of a human operator. This can radically improve time to value, reduce human error, increase throughput, and decrease development costs.

RPA is one of the IBM digital business automation capabilities which does Task automation within the IBM Automation Platform for Digital Business.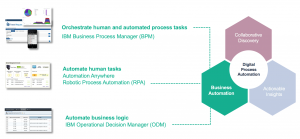 Workflow combines the automation of end-to-end business processes (BPM) and case management capabilities. A workflow ensures that people and systems receive tasks to perform at the right time with the right information that is required to complete the task. Workflow provides the Graphical User Interfaces (GUI) for business users so that they can manage and execute their tasks. System activities are used to integrate with one or more back-end systems using traditional system APIs.
Decisions automates rule based decisions that are defined by the business to implement its policies. Business rules can be maintained and scheduled in real-time. ODM decisions can be used by other systems within the enterprise to provide the business with the agility to react to changing business requirements in real-time.
Data Capture enables the enhanced automation of information extraction from forms, documents like invoices, claims using OCR, cognitive and other techniques. The extracted information can then be passed and used by the RPA, workflow or decisions capabilities.
These products each fulfil a specific role for digital business automation within an organization and used together they provide a powerful automation platform that delivers business value that is greater than the sum of its parts. RPA is a very useful capability to have in your business, but most businesses will need a broader "Digital Labor" capability in combination with the other automation capabilities to best meet all requirements.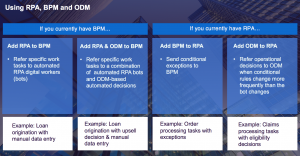 Use IBM RPA with Automation Anywhere with workflow, decisions and data capture to deliver a complete digital business automation capability within your organization. IBM has developed samples that you can use to implement the following integration scenarios:
IBM RPA with Automation Anywhere can be used for either attended or unattended RPA scenarios. Attended (or desktop process automation) may be useful in specific situations, but we recommend using unattended RPA for most cases. The following integration scenario demonstrates how desktop process automation can be used in combination with workflow where you consider it to be applicable: