Woodside Energy is working with Watson so employees can instantly access 30 years of experience.
Woodside Energy is Australia's largest independent oil and gas company. Some of its employees are based on off-shore facilities for two-week deployments. Their jobs require extreme precision, and conditions must be perfect before any action can be taken.
Woodside employees consider every element from weather and wind, to tidal currents, to animal migration patterns. They rely on historical context and procedural information to adapt. Therefore, they needed a way to dramatically simplify the way technical and engineering staff could locate, analyze and learn from the existing body of subject matter knowledge throughout the company. By discovering information on a particular technical issue, such as how often to maintain certain operating equipment, Woodside could make better decisions while preventing "reinventing the wheel" in expensive and time-consuming tasks.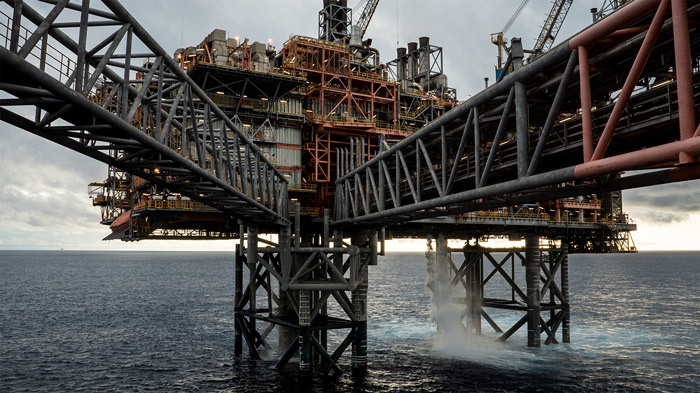 70 Miles From Shore with Watson: Woodside Energy and IBM (1:56)
Enter Watson on IBM Cloud
Working with Watson, Woodside Energy built a customized tool that allowed its employees to find detailed answers to highly specific questions—even on remote oil and gas facilities. Watson ingested the equivalent of 38,000 Woodside documents — this would take a human over five years to read.
This corpus of knowledge evolved into Willow, Woodside's cognitive solution powered by Watson on IBM Cloud. Woodside's employees can ask Willow questions in natural language, like "What is the maximum weight of a helicopter landing on the platform?", and Willow will respond accordingly.
30 years of knowledge, 75% faster
Now employees anywhere in the world can access 30 years of expertise and locate technical data to make quicker, smarter, more fact-based decisions.
Watson helped reduce the time spent searching for expert knowledge by 75%. In a high-risk industry, every action on an offshore platform costs time and money. With Watson on IBM Cloud, Woodside can get a return on their investment and help keep employees safe.
Watson APIs being used include:
Natural Language Classifier
Conversation
Retrieve and Rank
Oil and gas companies, airlines, hospitals, businesses, educators and governments are working with Watson. In 45 countries and 20 industries, Watson is helping people make sense of data so they can make better decisions while uncovering new ideas.
How Watson Energy worked with Watson on IBM Cloud (in 5 simple steps)
Over 38,000 Woodside documents were loaded into Watson ion IBM Cloud – the equivalent of 30 years of practical engineering experience.
With this data, Watson considers historical context and procedural information on operations, equipment, weather, tidal currents and more.
Employees ask Watson a question in natural language, such as "What is the maximum weight of a helicopter landing on the platform?"
Watson can find results from previous tests and recommend a course of action.
Employees can generate and make physical adjustments based on the information.