Adopt a managed cloud approach for Oracle to facilitate faster innovation
Oracle applications are critical to your organization, so it's important that you be able to implement and operate these applications efficiently. Traditional IT environments can derail your efforts with expensive infrastructure costs and long lead times for provisioning. Moving Oracle applications to a managed cloud environment can help you stay on track and support faster innovation.
Improve agility of Oracle applications with IBM Cloud
IBM Cloud for Oracle Solutions positions you to free up internal resources by running Oracle applications on a fully managed infrastructure-as-a-service (IaaS) platform. IBM manages the Oracle applications, database and core infrastructure. You gain accelerated provisioning, enhanced flexibility and increased availability of mission-critical Oracle applications. The security-rich, enterprise-grade, production-ready infrastructure is available through multiple delivery centers around the world.
Key features
Two service classes
Set up sandboxes for dev/QA/test systems, and capitalize on fully managed production environments.
Guaranteed service-level agreements
Gain up to 99.9 percent availability for Oracle Real Application Clusters (RAC) and mission-critical applications.
Cognitive solutions
Transform Oracle Enterprise Resource Planning (ERP) from a system of record to a system of intelligent thinking with IBM Watson™.
Self-service portal
Improve service quality by standardizing and automating Oracle provisioning, cloning and refreshes.
Startup company, Epic Piping, conserves resources and stays focused on growth by running Oracle JD Edwards EnterpriseOne on IBM Cloud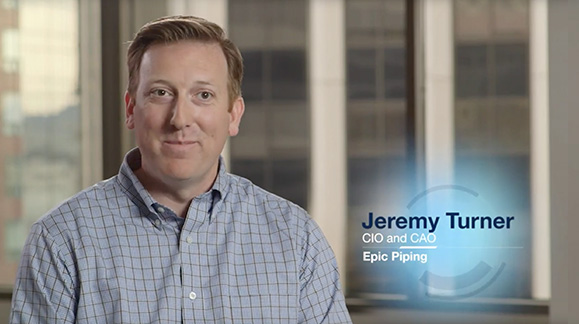 "We think that we will absolutely drive double-digit percentage reductions in individual indirect departments with the automation and the capabilities of JD Edwards EnterpriseOne on IBM Cloud."

—Jeremy Turner, Chief Information Officer and Chief Administrative Officer, Epic Piping
IBM Cloud Managed Services®
Access a fully managed, enterprise-class cloud environment.
IBM Cloud Advisory Services
IBM can help you turn strategies into action and adopt cloud effectively.
Discover how IBM Cloud for Oracle Solutions can help you accelerate time to market