News
Abstract
Approved 9/24 and available in the HTTP group in the last week of September.

IBM Navigator for i is a modern web-based interface for managing and monitoring one or more IBM i instances from a single location. This modern user interface can be accessed from http://hostname:2002/Navigator.

With the 2H 2021 Navigator PTFs, IBM Navigator for i is re-created in a new framework and user interface that replaces the heritage IBM Navigator for i. This new IBM Navigator for i runs under the ADMIN1 server and by default listens on port 2002. The URL for the new Navigator is http://hostname:2002/Navigator
Content
For the Heritage version of Navigator, go to https://www.ibm.com/support/pages/node/1142704
---
The PTFs for 7.3 and 7.4 are approved.
They will be available in the HTTP group before September 30.
Getting started with Navigator:
Navigator for i is redesigned, leveraging the latest in web and IBM i data retrieval technology to create a user-centric, high-performing interface for monitoring and managing one or more IBM i systems.
To open the new Navigator after installing the PTFs, use the URL: http://hostname:2002/Navigator.  Note that the additional "/Navigator" text is required and is also case sensitive.  This is a change from the heritage navigator URL; not only the port number, but also the additional path is required.
To learn more about the new features within Navigator, follow these links:
---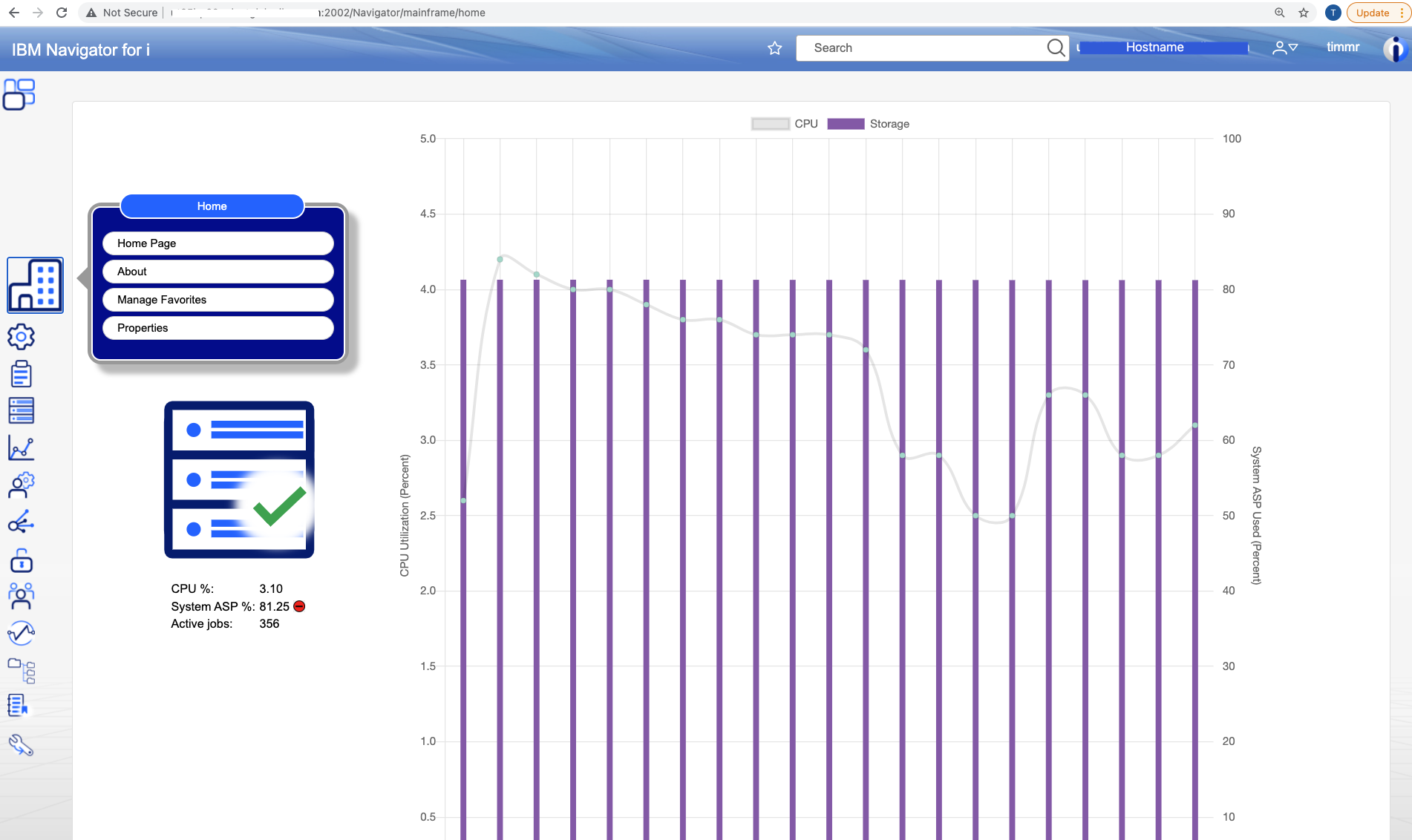 ---
 Install, Service, and Reference links:
---
Documentation on functional areas:
If you are looking for documentation on the heritage IBM Navigator for i, which runs under the ADMIN2 server, look here: https://www.ibm.com/support/pages/node/1142704
---
Service Level Requirement:
IBM Navigator is installed as part of the IBM i operating system. It is part of SS1 option 3. The actual PTF is delivered as part of the HTTP PTF Group.
In addition, there are a number of other groups that are needed to ensure that all parts of the navigator interface function properly.  For a list of these groups, see Product Install Requirements.
---
Systems management: https://www.ibm.com/docs/en/i/7.4?topic=sys-navigator-i
Connecting to your system: https://www.ibm.com/docs/en/i/7.4?topic=system-navigator-i
Performance tools: https://www.ibm.com/docs/en/i/7.4?topic=data-navigator-i
[{"Type":"MASTER","Line of Business":{"code":"LOB08","label":"Cognitive Systems"},"Business Unit":{"code":"BU054","label":"Systems w\/TPS"},"Product":{"code":"SWG60","label":"IBM i"},"ARM Category":[{"code":"a8m0z0000000CH1AAM","label":"IBM Navigator for i"}],"ARM Case Number":"","Platform":[{"code":"PF012","label":"IBM i"}],"Version":"7.3.0;7.4.0;and future releases"}]
Document Information
Modified date:
24 September 2021