Jedes Jahr nützen Tausende zukunftsorientierte Unternehmen das IBM Client Center Wien für ihre Kundenveranstaltungen. Sie lernen dabei, mithilfe modernster Technologien wie IBM Analytics, IBM Cloud, IBM Blockchain sowie künstlicher Intelligenz mit IBM Watson langfristig wettbewerbsfähig zu bleiben.
Neben den Business-Meetings, die in unserem Center stattfinden, ist das IBM Client Center Wien Teil eines Netzwerks aus mehr als 15 Center. Als solches bieten wir Leistungen auf digitalen Plattformen, wie unserer Website, Social Media-Kanälen und in unserem IBM Virtual Client Center an, um das Kundenerlebnis zu optimieren.
Weitere Informationen zu unseren Räumlichkeiten und Services erhalten Sie in den unten stehenden Bereichen unserer Website. Wir freuen uns schon, Sie im IBM Client Center Wien begrüßen zu dürfen.
Breakfast & Deep Dive Events
Erfahren Sie mehr über die Ausprägungen der IBM Lead-Technologien bei einem informativen Frühstück oder lernen Sie IBM Lösungen hands-on bei einem interaktiven Deep Dive kennen.
In dieser Vortragsreihe für interessierte Kunden und IBM Geschäftspartner wollen wir einzelne Schwerpunktthemen aus dem IBM Lösungsportfolio näher beleuchten: IBM Watson, IBM Cloud, IBM Quantum Computing, IBM Digital Process Automation und IBM Security.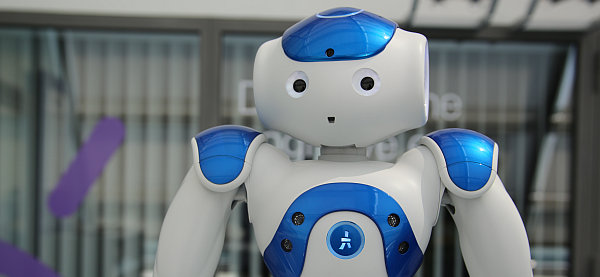 Watson Business Lounge
Unsere Watson Business Lounge vereint eine Vielzahl von innovativen IBM Watson Lösungen, die ein Unternehmen langfristig am Markt bestehen lässt.
Sehen Sie sich unser Kurzvideo an.
Im Rahmen einer Veranstaltung steht Ihnen NAO, unser humanoider Roboter mit angepassten Dialogen zur Verfügung.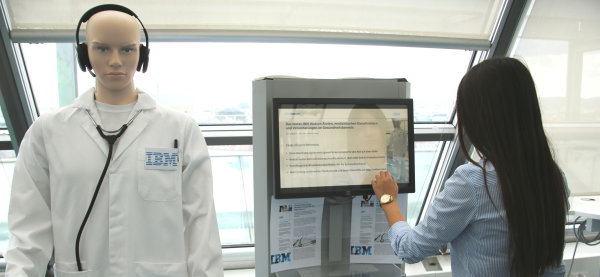 Medical Linguistic Analysis Showcase
IBM hat in die Entwicklung eines deutschsprachigen Assets für Ärzte auf Basis IBM Watson Explorer investiert. Das Medical Linguistic Analysis Cockpit analysiert die Inhalte aus den umfangreichen Krankenakten, fasst diese zusammen und bereitet sie für den Arzt anschaulich auf einer Seite auf.
Besuchen Sie unseren Medical Linguistic Analysis Showcase im IBM Client Center Wien. Finden Sie heraus, welche IBM Technologien zur Anwendung kommen, um mögliche Pilotprojekte für Ihre Branche zu identifizieren.
IBM Client Center Discovery-Programm
IBM Client Center Discovery-Programm
Die IBM Expertise zum Greifen nah: von IBM Blockchain, Internet der Dinge, IBM Watson und vielem mehr.
Das IBM Client Center Discovery-Programm bietet eine Serie kostenloser Webinare im IBM Client Center-Auditorium an. Auf diese Weise werden brandaktuelle Business-Technologien angesprochen. In regelmäßigen Abständen stellen internationale IBM Experten die IBM Produktpalette vor und knüpfen sie an aktuelle Themen der IT-Industrie. Diese Webinare können auch jederzeit "on demand" abgerufen werden.
Entdecken Sie unser IBM Client Center-Netzwerk digital!
Ähnlich wie in unseren physischen Centern auf der ganzen Welt, können Sie auch auf digitaler Ebene von der IBM Expertise und unseren Demopunkten profitieren.
IBM Business Partner und Kunden haben im IBM Virtual Client Center die Möglichkeit, zu umfassenden Webinaren Zugang zu bekommen. Dort können Sie aber auch selbst Webinare, ohne Setup-Kosten auf die Plattform stellen.
Ihr Zugang zu einer Welt voller Wissen!
Besuchen Sie unsere verschiedenen IBM Client Center, indem Sie auf die aufgelisteten Länder klicken.
---
Europe
Austria
Belgium
Denmark
France
Germany
Böblingen (IBM Deutschland R&D)
Italy
Netherlands
Norway
Portugal
Russian Federation
Spain
Switzerland
THINKLab (Research - Zurich)
Sweden
United Kingdom
---
Middle East & Africa
Kenya
Morocco
Nigeria
South Africa
Turkey
United Arab Emirates
Raummöglichkeiten
Unsere Seminar- und Tagungsräumlichkeiten mit direktem Tageslicht, HD Beamer, Leinwand, Flipchart – variables Set-up ist ebenso möglich wie der Zusammenschluss einzelner Säle.
Skylobby
Unsere Skylobby mit großartigem Blick über die Dächer Wiens können Sie als idealen Breakout-Bereich nützen. Wählen Sie dazu aus einer Vielzahl an Sitzmöglichkeiten aus, um Ihre Networking-Gespräche anzuregen.
Wir bieten auch gesetzte Business-Eventformate in unserer Skylobby an. Weitere Informationen dazu, finden Sie in unserem IBM Business Events Flyer oberhalb.
Saal 1 (65m²)
Dieser Seminarraum mit insgesamt 50 Sitzplätzen ermöglicht Ihnen die Durchführung von größeren Veranstaltungen.
Saal 2 (61m²)
Für Board-Meetings und interaktive Besprechungen ist dieser Saal mit 17 Sitzgelegenheiten perfekt geeignet und kann mit 10 zusätzlichen Stühlen erweitert werden.
Saal 3 (54m²)
Dieser attraktive Saal eignet sich optimal für Executive-Meetings im Lounge-Ambiente mit 6-8 Sitzgelegenheiten.
Saal 4 (54m²)
Dieser Seminarraum mit 16 Sitzplätzen ist der ideale Veranstaltungsort für Kundenmeetings, kleinere Schulungen und Präsentationen. Er kann auch für interaktive und innovative Workshops genutzt werden und eignet sich, um kreative Ideen in Teams zu sammeln und deren Umsetzungspotenzial zu bewerten.
Folgende moderne Infrastruktur mit professioneller Technik wird Ihnen in diesem Seminarraum geboten: Beschreibbare, magnetische Wände, mobile Whiteboards, Pinnwände, rollbare Stühle und rollbare, höhenverstellbare Tische.
Saal 5 (61m²)
Besonders für Schulungen, Vorträge und Präsentationen ist dieser Raum in Klassenzimmerbestuhlung geeignet. Er bietet bis zu 28 Personen Platz.
Saal 6 (65m²)
Mit 30 Sitzplätzen ist dieser Saal der ideale Veranstaltungsort für Workshops. Die Tische sind in Kleingruppen platziert – können bei Bedarf aber auch in Klassenbestuhlung, U- oder Blockform geändert werden.
Think 2019 offers you the possibility to explore the technologies that are redefining industries.
From captivating solutions to transformative outcomes, technical deep dives to expert roundtables, Think is offering you more ways to learn about your favorite topics through a personalized journey that's meaningful to you.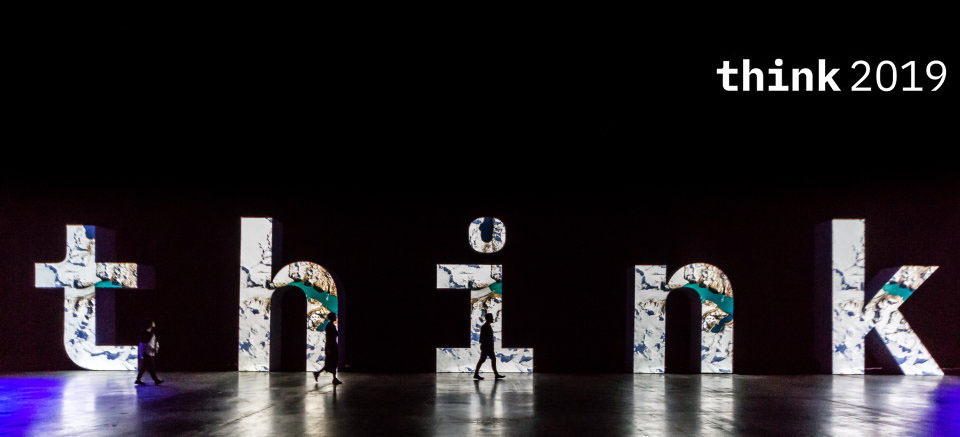 Teilen Sie diese Website: