Chief Supply Chain Officers (CSCOs) continue to navigate uncertainty amid the pandemic and other global disturbances. But as they deal with one challenge after another across the global supply chain, they are discovering unexpected opportunities to innovate. Digital supply chain management—driven by intelligent workflows—can help them be more agile, more flexible, and more resilient.
As IBM Consulting and IBM Business Partner Celonis mark a year of working together to help clients optimize processes and advance intelligent workflows, the IBM Institute for Business Value (IBV) surveyed 500 CSCOs to gauge what drives success in next-generation supply chain management.
Data-led transformation
CSCOs are pursuing aggressive strategies to build smarter digital supply chains that can deliver radically improved performance and resilience. They are adopting a data-first mindset, recognizing the strategic value of applying data-infused solutions to not only current issues, but to long-term digital transformation.
Today's leaders are focused on building resilient workflows powered by artificial intelligence (AI) and automation. Using a modern toolkit of technologies, they are breaking down data silos, identifying insights, and removing hidden performance blockers. A cloud infrastructure makes up the foundation, with 74% saying that hybrid cloud integration is crucial to accelerating and enabling the digital transformation of supply chains. Similarly, almost 70% cite the need to accelerate cloud adoption to enhance real-time accessibility to data.
Nearly 3 in 4 CSCOs say that hybrid cloud integration is crucial to accelerating and enabling digital transformation of the supply chain.
77% of supply chain leaders are finding and fixing inefficiencies by using process and task mining, which integrates data in real time across multiple data models to render an "X-ray" of processes. With this information, teams can remove bottlenecks, deploy automation, and reengineer key business processes. Organizations are also fueling their transformations using new technologies such as machine learning, AI-enabled simulations, blockchain, predictive analytics, digital twins, and virtualization.
Optimizing operations
Disruption kindles data-led, long-term strategies for modernizing supply chains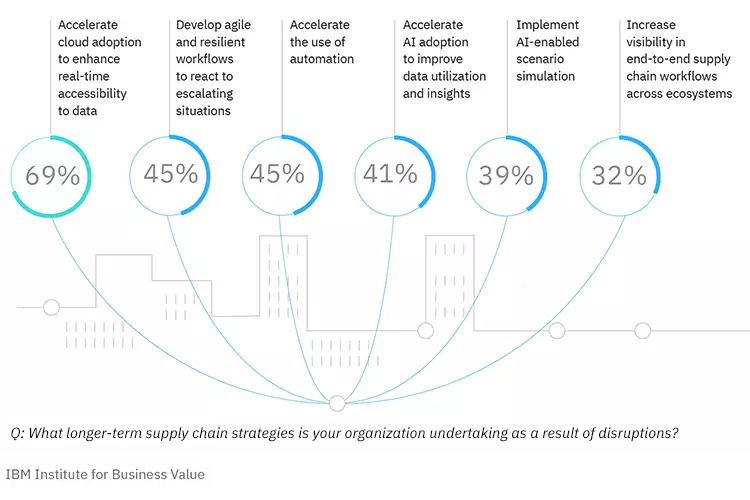 Making supply chains the differentiator
Automated, intelligent workflows can help CSCOs not only improve customer satisfaction, but also distinguish their organizations from the competition. In fact, 53% of CSCOs predict that digital supply chain transformation initiatives can be their most significant competitive advantage over the next 3 years.
Workflows with embedded predictive intelligence can drive dynamic customer experiences, preventative product and service maintenance, and real-time inventory and delivery status. Deeper insights can also reveal potential supply chain risks, helping CSCOs build in greater resilience.
Connecting digital supply chain transformation with sustainability
Supply chain leaders are under intensifying pressure to meet sustainability goals. They are moving from the linear traditional supply chain model toward a circular model, which can help mitigate near-term cost concerns and improve long-term value. To make this change, they can infuse data from multiple sources into business process redesign and decision-making, evaluating workflows with environmental impact in mind.
CSCOs are taking several specific actions over the next 3 years in pursuit of the circular economy. These include full lifecycle design of materials and products to expand re-use of materials and components (47%), reducing first-use (virgin) plastic usage (32%), and engineering new zero-waste products and services (30%).
Next steps
The massive explosion of data sources and micro-insights born from extreme digitalization makes it possible to solve complex problems across the end-to-end supply chain. CSCOs can develop and operate data-informed, optimized, sustainable supply chains by:
Exploring new business models that amplify resilience
Investing consistently in the near- and long-term potential of automation
Making sustainability one of the most important business priorities.
Read the full report for to learn more about using digital technology to design intelligent workflows and for detailed recommendations on building resilient digital supply chain solutions.
---
---
---
Meet the authors
Sheri Hinish, Sustainability Services Lead, Enterprise Sustainability Offering Workflow Leader, IBM
Lars Reinkemeyer, Vice President, Customer Transformation, Celonis
Karen Butner, Global Research Leader, Supply Chain, Automation, Virtual Enterprise, IBM Institute for Business Value, Consulting
Janina Nakladal, Global Director of Sustainability, Celonis
Anthony Marshall, Senior Research Director, IBM Institute for Business Value
---
Download report translations
---
Originally published 18 April 2022