---
During the pandemic, AI adoption has helped companies boost profitability, increase efficiency, and deliver more business value.
As business leaders navigate a succession of pandemic-fueled transformation imperatives, artificial intelligence (AI) continues to enable organizations to address urgent and immediate business priorities—quickly and at scale. AI improves a company's cost base—augmenting human capability to motivate greater and more expansive efficiencies. And AI helps enhance or protect top line revenue, experience, and engagement. With its value-expanding impact on both sides of the financial equation, the essentiality of AI is clear, both in and before the current crisis.
Our six-year data series shows that COVID-19 has accelerated AI's shift from experimental to widely adopted as a key lever of sustainable competitive advantage and profitability across businesses and industries around the world.
More than 85% of advanced adopters are reducing operating costs with AI.
With participation of 6,700 C-level executives across 13 business functions, 28 industries, and 46 countries, IBV's third biennial survey on enterprise AI reveals significant advancement in the maturity and use of AI technologies and related capabilities.
Key insights from the new data include:
AI is an economic accelerator. As the pandemic continues, AI adoption has become positively correlated with superior business outcomes in revenue, cost, and profitability—and this finding holds across industries and regions.
AI's financial impact has become clear. Business leaders now acknowledge that investments in AI bear a direct relationship with financial gains from the use of AI.
An all-in commitment to AI pays off. Advanced AI adopters achieved proportionately more financial value from AI technologies.
Investment in foundational AI "readiness" speeds time to value. Investing in capabilities that are necessary preconditions of AI—data, process, and human capital—speeds progress to more advanced adoption and time to value.
AI "readiness" capabilities yield near-term financial results. Strategic, broad-based investments in AI-enabling capabilities—staged along a path of AI-specific initiatives—deliver value in their own right. Companies begin realizing value even before AI is introduced.
Our analysis has already revealed that companies that turned to AI to address pandemic-exposed vulnerabilities—from an inability to absorb spikes in customer-service volume to recalibrating broken or uncertain supply chains—have found AI a boon in enhancing customer engagement and maintaining operational flexibility. And as a consequence, nearly one-third of organizations plan to bolster their AI investments as a result of the pandemic, with 84% of executives expecting a steady or increased level of organizational focus on AI.
99% of companies report reduction in cost per contact from using virtual agent technology—estimated at $5.50 cost savings per contained conversation.
How AI drives revenue growth
We find that organizations that adopt AI in at least a pilot phase outperform peers 2X financially, compared to those who haven't. AI adopters report 5-6 percentage points of direct revenue gains from their AI investments. The more mature a company's level of AI adoption, the higher that revenue advantage.
On average, companies report 6.3% points of direct revenue gains attributable to AI.
Other results from the new survey provide even stronger evidence of a direct positive relationship between AI adoption and business performance. For example, organizations report a 6.3% increase in business unit revenue directly attributable to their AI initiatives, on average, and a 5% median rise. (Note these gains offset revenue erosion for those hit hard by the pandemic or help capitalize on new growth opportunities for those impacted more positively, financially speaking.) Fewer than 10% of respondents report a decline.
Organizations in the AI piloting and implementing phase report a 4-7% revenue boost from specific AI initiatives, on average, while those in the operating and optimizing phases report an impressive 10-12% gain. Virtual agent technology alone may be contributing 3% revenue gains, on average, as another recent IBV study confirms.
The impact AI has on revenue increases with maturity level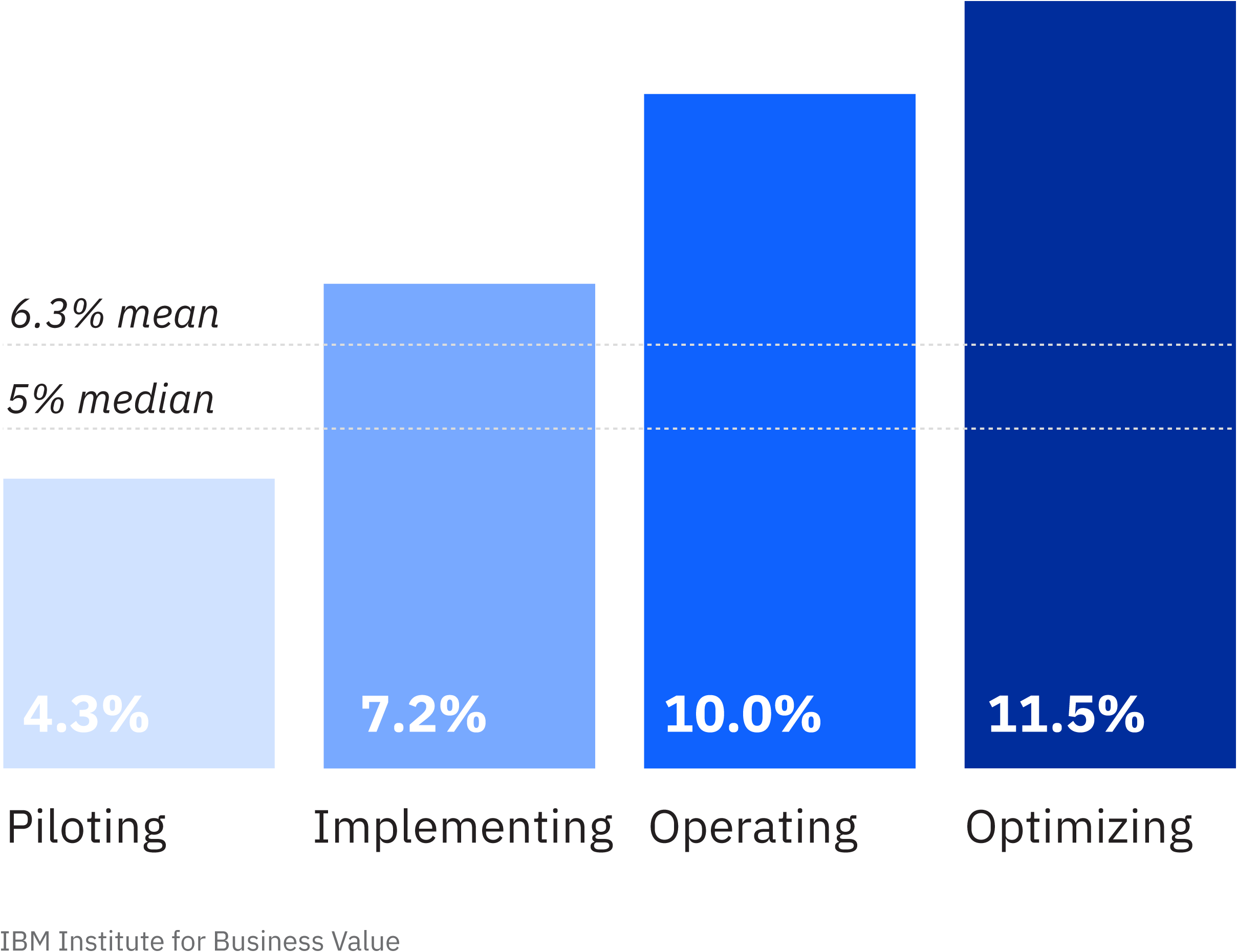 Read the full report to see how AI adoption can help boost profitability and deliver a competitive advantage during the pandemic and beyond.
---
---
---
Meet the authors
Brian Goehring, Associate Partner, AI / Cognitive and Analytics Leader, IBM Institute for Business Value
Anthony Marshall, Senior Research Director, IBM Institute for Business Value
---
Download report translations
---
Originally published 20 November 2020
---