Artificial intelligence (AI) is the shiniest car on the lot: Everyone seems eager to take it for a spin—yet many traditional enterprises are still learning to drive.
That much is evident in society's unbridled enthusiasm for AI, when juxtaposed with the high rate of missteps and misunderstandings. At organizations that are working with AI, respondents expect an average of 35 projects in place by 2022, which represents a nearly nine-fold increase from just 4 projects in 2019. And yet, studies consistently show that only about half of AI projects actually make it from prototype to production.
Still, AI can bear real fruit. In its third biennial survey on enterprise AI, the IBM Institute for Business Value (IBV) finds that over 85% of advanced adopters are reducing operating costs with AI, and that organizations report an average revenue gain of 6.3% from AI deployments. Given the potential economic benefits at stake, business strategists and technology futurists at traditional enterprises can play an important role by framing the approach, steering clear of obvious pitfalls, and guiding their organizations along the path to realizing tangible business value.
Organizations need to be strategic about AI—but they don't necessarily need an "AI strategy."
An often-overlooked capability that separates AI exceptionalism from AI experimentation is a strategic approach. But strategy is a double-edged sword. Wielded correctly, it can help. Handled poorly, it can cause harm, instead.
While it may sound counterintuitive, one of the ways that many public and private organizations misunderstand
 AI is by developing a so-called "AI strategy." Although the intention is to elevate the importance of AI, and to embolden it with focused attention and resources, the reality is quite different: You may advance AI, but may fail to advance the organization. And what doesn't eventually advance the organization ultimately ends up costing it.
"Data wealth" versus AI strategic importance: These dimensions can help you determine your approach to AI.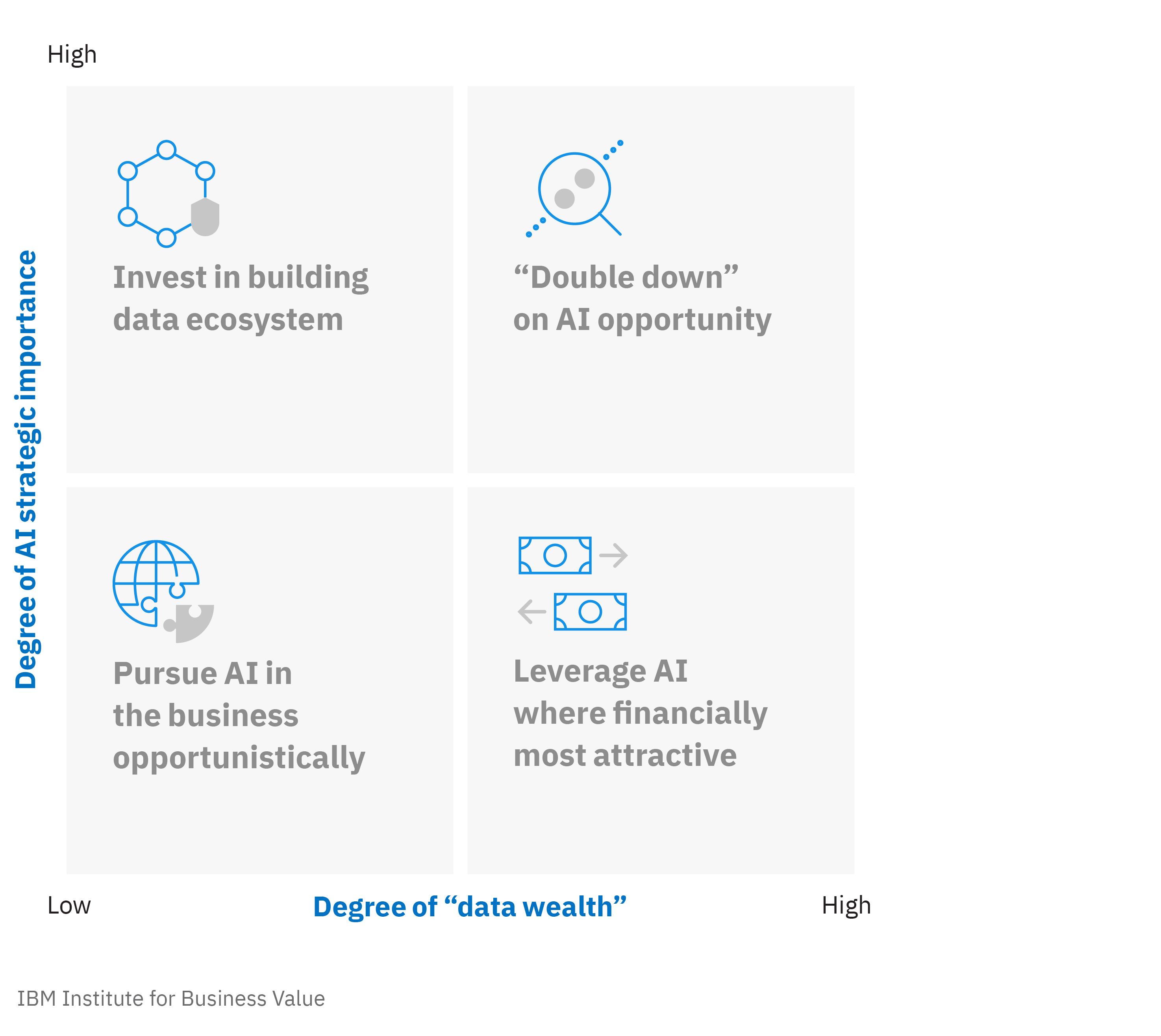 The business leads. AI follows.
Instead of an AI strategy, successful enterprises start with their business strategy. With that as their North Star, they identify key opportunities where technology can help drive or enable the business strategy. Then leaders deliberately evaluate where AI can play a meaningful role alongside other data-driven analytics solutions, and potentially even complementary non-technical approaches. AI can be a catalyst for new thinking—a means to accelerate top-line impact, address disruption, and unlock new market opportunities, including those enabled by platform economics. But it may not alter the business fundamentals on which organizations operate.
Achieving deep integration between AI and overall business strategy is not a novel approach, even though AI is a novel technology. That much is clear when you consider AI's competencies relative to human cognitive abilities. As one researcher summed it up at the prestigious NeurIPS conference in December 2020,
 "For the last 40 years we have programmed computers; for the next 40 years we will train them." And thoughtfully approach how they augment and enhance the people that work with AI.
"For the last 40 years we have programmed computers; for the next 40 years we will train them."
Being successful, however, requires resisting the urge 
to indulge in what fantastical things AI can do. Instead, organizations need to stay grounded in what practical things AI can help them achieve. Even as AI opens up new avenues for realizing economic value, the organization ought to lead and technology ought to follow—while still articulating new ideas for what's possible and constraints on what's not.
Download the report to learn how the three E's—engagement, education, and ethics—can help your organization take a strategic approach to AI that will deliver more business value.
---
---
---
Meet the authors
Aparna Prabhakar, Vice President, Corporate Strategy, IBM
Veena Mosur, Associate Partner, Enterprise Strategy, IBM Consulting, IBM
David Cox, Director, MIT-IBM Watson AI Lab, IBM Research
---
Download report translations
---
Originally published 15 September 2021