What's an hour of shop-floor downtime worth? For almost nine in ten firms surveyed recently, it could be as much as USD 300,000. And one in four say that a single hour could cost upward of USD 1 million to as much as USD 5 million. When production is disrupted or hampered by process inefficiencies, engineers and operators are the first to know. The problem is, it's typically after the fact and without the understanding of why it occurred or how to prevent it in the future.
A lack of shop floor connectivity and obsolete manual processes often stand in the way of getting products out the door more quickly. And, from a systematic perspective, many machines are isolated and disconnected. According to unpublished IBV research, 39 percent of manufacturers state that one of their greatest challenges in achieving intelligent automation is the misalignment of processes and workflows that could support automated decision making.
Connecting Internet of Things (IoT) devices and using cognitive capabilities to align workflows and processes are crucial capabilities of intelligent manufacturing plants. But these plants don't depend on just one or two technologies to work their magic. Intelligent plants are created by leveraging potent combinations spanning automation, artificial intelligence (AI), the IoT, edge computing, cloud, 5G, additive manufacturing, and digital twins to transform their operations. Deploying this vast array of technologies is complex and requires both IT and OT skills to architect and execute.
The results can be worth the effort. Intelligent manufacturing can facilitate improvement in production defect detection by as much as 50 percent, and improvement in yields by 20 percent. And in one unpublished IBV study, surveyed manufacturers also report intelligent automation has increased revenues by almost 8 percent.
Optimizing the intelligent plant floor: What's your ultimate goal?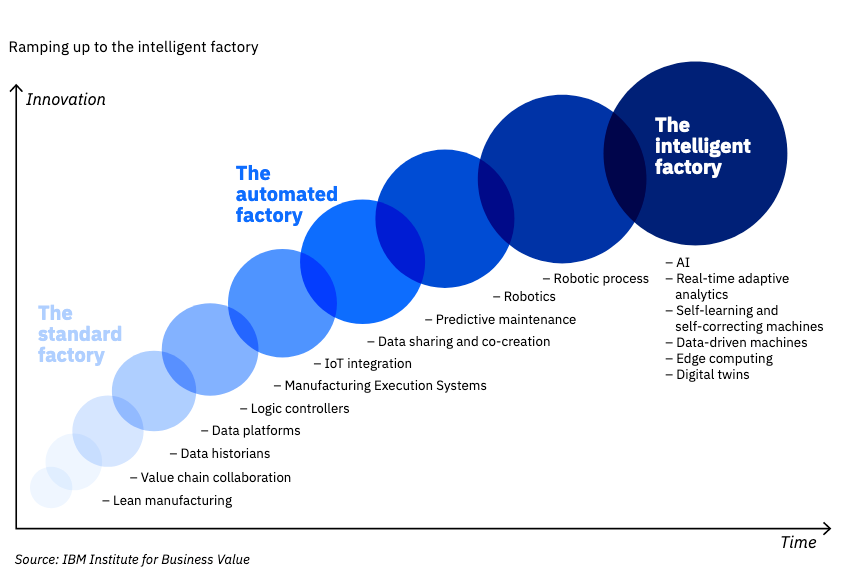 Organizations need a clear strategy to realize the benefits of intelligent manufacturing. Without crisply defined business objectives for the intelligent factory, ambitious projects—such as IoT-based data collection and advanced analytics—can wander into oblivion. Not only that, but advanced analytics, if not implemented correctly, could fail to achieve the expected return on investment and could even increase costs and risks. Knowing where an organization is going and what benefits to expect is essential. But to start, management needs to ask: what is the current state of our manufacturing plant?
In this paper, we identify three stages of manufacturing sophistication— standard, automated, and intelligent (see figure above). We discuss developing a human-machine partnership that can evolve into smart manufacturing. And we share how to overcome three common stumbling blocks.
---
---
---
Meet the authors
Skip Snyder, Vice President, Partner, and Growth Leader, IBM Consulting
David Meek, Partner and Global Manufacturing and Industry 4.0 Leader, IBM Consulting
Tomipekka Lehtonen, Executive Partner Connected Manufacturing Global Leader, IBM Consulting
Plamen Kiradjiev, Global CTO for Industry 4.0 and IBM Distinguished Engineer for IBM Global Markets
---
Download report translations
---
Originally published 12 May 2020