---
The media and entertainment (M&E) industry, which has provided us all with so much comfort during this time of sheltering in place, will never be the same again. Companies that can adjust quickly to the new realities of a post COVID-19 world will be the ones best positioned to thrive as the economy recovers.
The industry is experiencing a crisis like never before. The pandemic has forced entertainment companies to "pause" their business. Theme parks, movie theaters and other venues are closed. As of right now, Broadway is dark until June. Many sporting events, such as the European Football League, NBA, MLB, Masters Golf, Wimbledon, and the Olympics, have been cancelled or postponed. And production (except for news and weather) is on hiatus, which means no new TV shows and movies are being made. Many companies are showing re-runs of classic sporting events and other programming.
The financial and human impact is profound. In the US, 37 percent (approx. 83,000) of the March job losses due to COVID-19 were in the entertainment industry. Disney is facing a potential USD 3.4 billion revenue loss to its theme park business alone. According to ad firm MediaRadar, the pandemic could cause approximately USD 1 billion in lost advertising for broadcasters of the top three US pro-sports leagues (NBA, NHL and MLB). And if the NFL season is delayed or cancelled later this year, data shows losses of up to USD 6 billion from 3,000 advertisers.
However, there are some bright spots. Consumers are returning to trusted media brands in news. Local news and broadcasting are attracting new viewers and have become the medium of choice for information. Nielsen viewership data indicates a 10 percent spike in year-to-year growth in the coveted 25- to 54-year-old market. A window of opportunity has been created for broadcasters and news organizations to capture a new group of loyal audiences.
As people stay home and are social distancing, in-home entertainment is becoming more important. Disney recently signed over 50 million subscribers in only five months for its streaming service Disney Plus—far ahead of analysts' predictions that it would take until 2022 to reach those numbers. We are also seeing innovative virtual events, such as the iHeart Living Room Concert for America hosted by Elton John, which attracted 8.7 million viewers, according to Nielsen ratings.
In other examples of flexibility and ingenuity, studios are eliminating theater-to-digital release windows for some movies, like The Invisible Man. And eSports is quickly becoming mainstream. According to Zach Lavine, Chicago Bulls point guard, "It's pretty much the only thing that people are allowed to be competitive with." NBA fans who are missing their favorite athletes can watch them compete in the NBA 2k Players Tournament live, complete with banter on ESPN. Other sports leagues like Formula 1 are also creating eSports experiences, such as virtual racing.
So, what is the path forward? Although it has been hit hard, this industry is familiar with disruption. Apple disrupted the music industry by changing the way we consume music. Netflix disrupted the motion picture industry in similar fashion. Companies must adopt a disruptive approach to the post-COVID-19 world, developing or expanding three important capabilities:
Digital with agility: The entertainment venue of choice right now is in the home—a trend that was building prior to the pandemic. I expect that COVID-19 is a watershed event, and that the in-home entertainment trend will continue even stronger after the crisis passes. So, for some to survive, an accelerated shift to digital is essential as in-home entertainment becomes the main growth engine. That means creating new digital and mobile services and revenue streams—for example, by digging deep into studio archives and creating original digital content and services using existing material. Speed and agility are important here: the digital world is an environment of constant change, where new experiences are offered up all the time. Audiences expect it.
Smarter operations: To accomplish this, the industry must transform business processes into a data- and digitally driven operating model. At the same time, it must aggressively reduce operating expenses to compensate for expected losses in traditional entertainment and to invest in new in-home entertainment services. Both can be accomplished by smarter operations and intelligent workflows based on automation, AI and cloud. A modern back office will empower the professionals who are creating the new digital services to innovate and deploy quickly.
Deep consumer engagement: Finally, many must move beyond their traditional "one-to-many "comfort zone and start building personalized platforms and capabilities. As we come out of this crisis, society will continue to look for entertainment to relieve us of the daily grind and reconnect us to our families and friends. Now is the time to engage with consumers to re-capture their advocacy, time and wallet share.
These actions will not only allow M&E companies to survive this crisis, but also position them well for the next generation of exponential technologies, such as AR/VR, 5G and NextGen TV that will impact our industry in the longer-term.
Entertainment has been a fabric of our society from the beginning. It brings joy to our lives by diverting our attention from our demanding lives. It brings our families and friends together. COVID-19 will most definitely transform the industry landscape. However, if they move quickly to transform, entertainment companies will survive and will remain essential to our society.
IBM continues to innovate with our clients to deliver the new data-driven digital and cloud enabled business processes required—for example, our work with Fox Sports on remote sports production. To support our clients, IBM has developed best practices and recommendations for actions to take now and after the pandemic. Click here to access our COVID-19 Action Guide and related resources.
---
---
---
Meet the author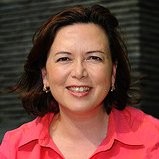 ---
Janet Snowdon
Director, IBM Media and Entertainment (M&E) Industry Solutions
---
Send E-mail
---
LinkedIn
---
---