Community zones are the social hubs for IBM team members to unwind, reset and converse. The spaces can accommodate spontaneous or planned events that are intended to inspire and support the creative process while building relationships with teammates. The reference images and guidance here are a kit of parts designed to meet a variety of project needs. The goal is to maintain a cohesive experience for our team members and guests.
Signature moments
Community zones are centrally located. They can house events, programs and light refreshments to spontaneously bring team members together. The central purpose of this zone is to provide a sharp contrast with the work areas and support the freedom to have a change of pace within the workday.
---
For Community zones, bolder patterns can be featured on surfaces, including area rugs and furniture upholstery.
---
As a backdrop to the collaboration and co-creation activities with clients that happen in Collaboration zones, a wider color palette should be used with restraint and for specific emphasis. Although we lead with blue in the Welcome zone, a richer spectrum of accent colors across architectural finishes, furniture and textiles in the Community zones can help fuel active, creative interactions.
Community zones can incorporate more color and pattern to imply enhanced social activity. A broader spectrum of accent colors in textiles, finishes and graphics reinforces our sense of diversity and underscores inclusion within our Be Equal® program.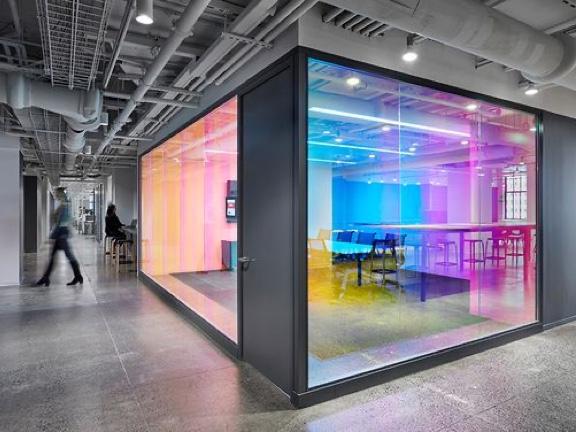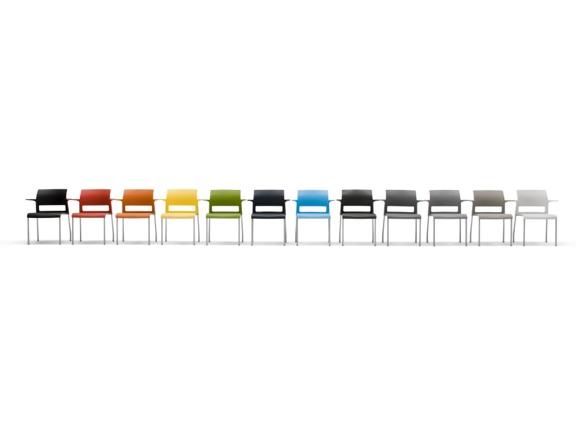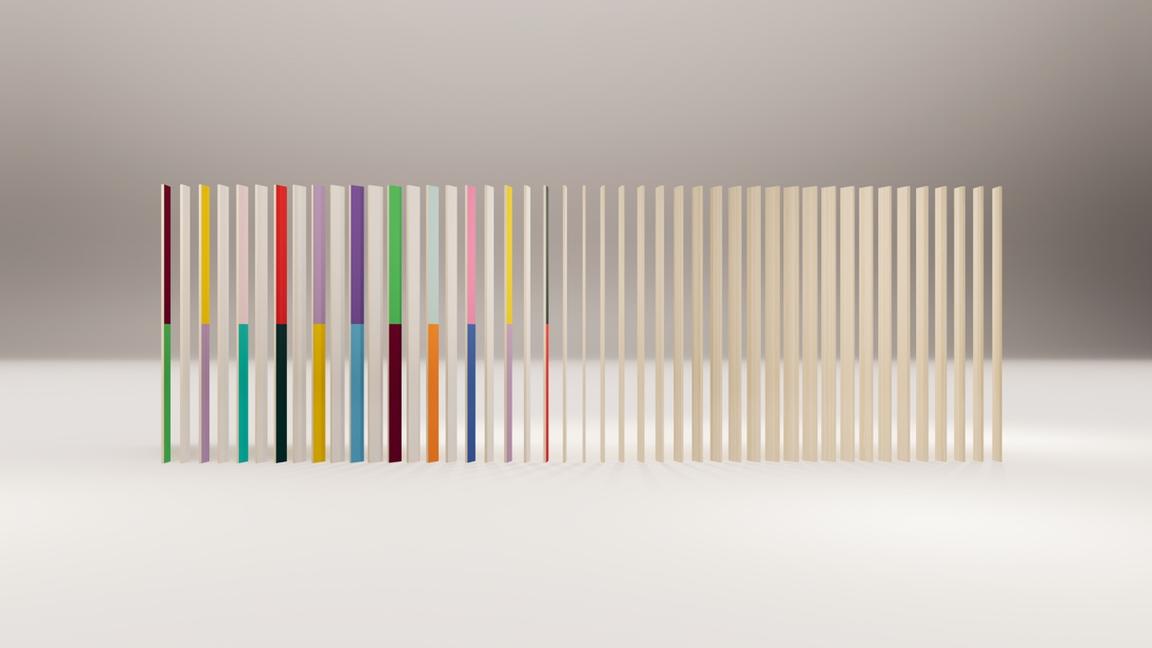 ---
Connect zones cover a broad spectrum of space types, from more formal, enclosed spaces, to open co-creation workspaces, where clients and IBM employees can innovate together. Calibrate the brand expression to fit these varied environments. For example, the formal space may use less overt brand elements, such as texture and pattern, but consider more playful, expressive elements to energize the co-creation environment.
These communal spaces are ideal locations to reinforce IBM's commitment to diversity and inclusion. Be Equal is an internal and external program designed by IBM to expand, enable and ensure equality for everyone. Be Equal can be expressed in the environment in a variety of ways, both large and small. We invite IBM employees and clients to make their own pledge of commitment within the program.
Other elements can also complement Community zones, such as our iconic Think® identity, typographic patterns or rebus symbol. Learn more about environmental elements and branding.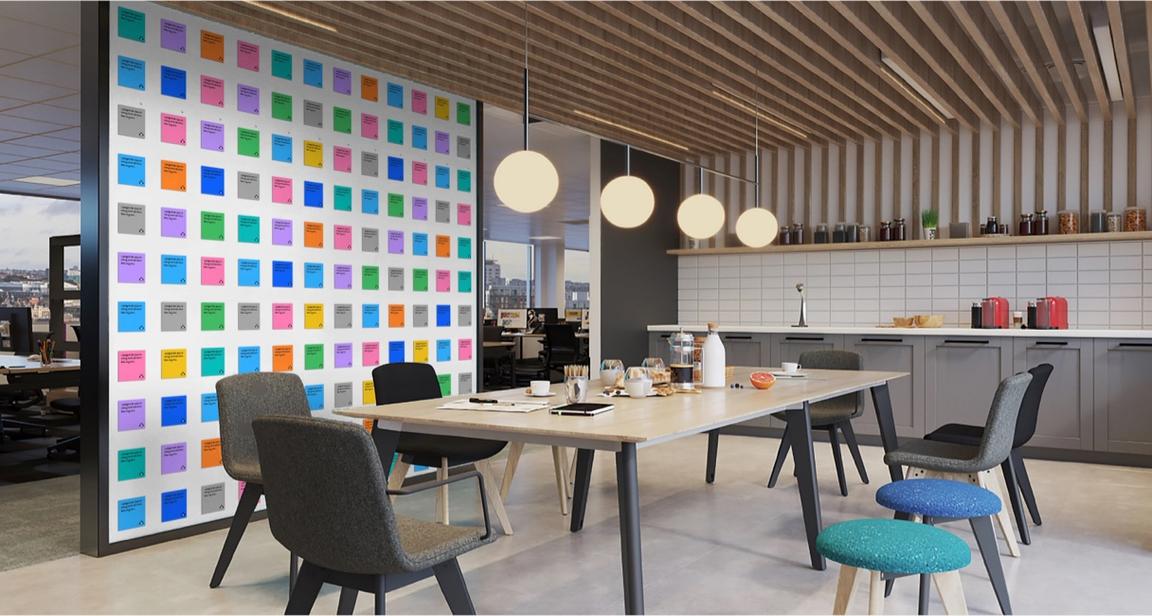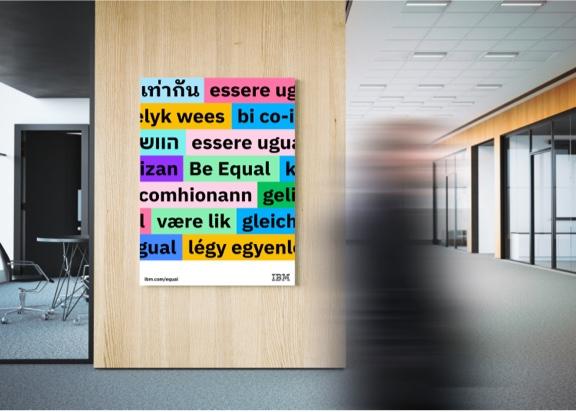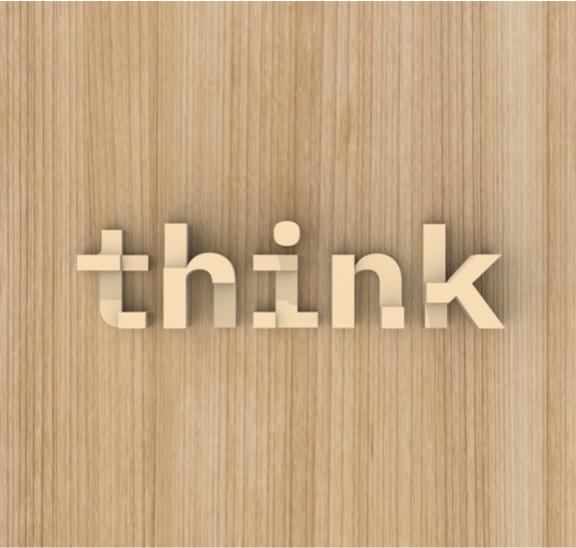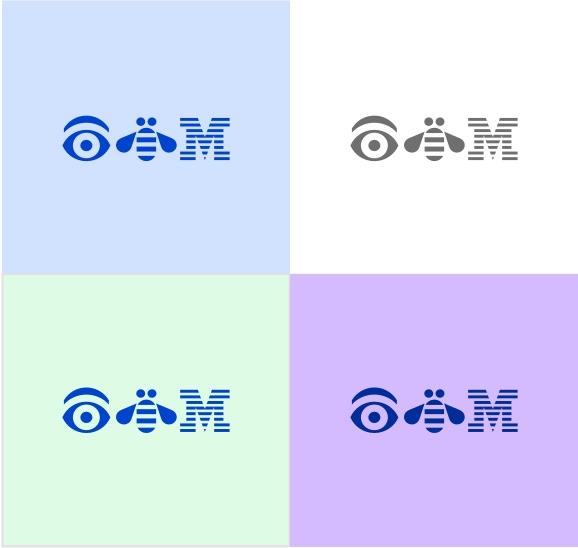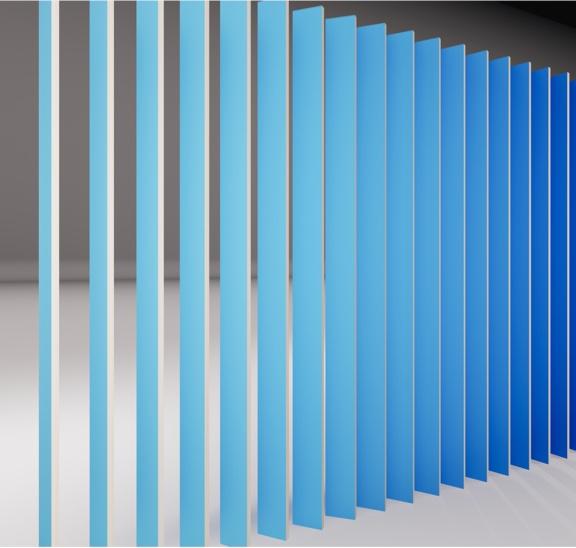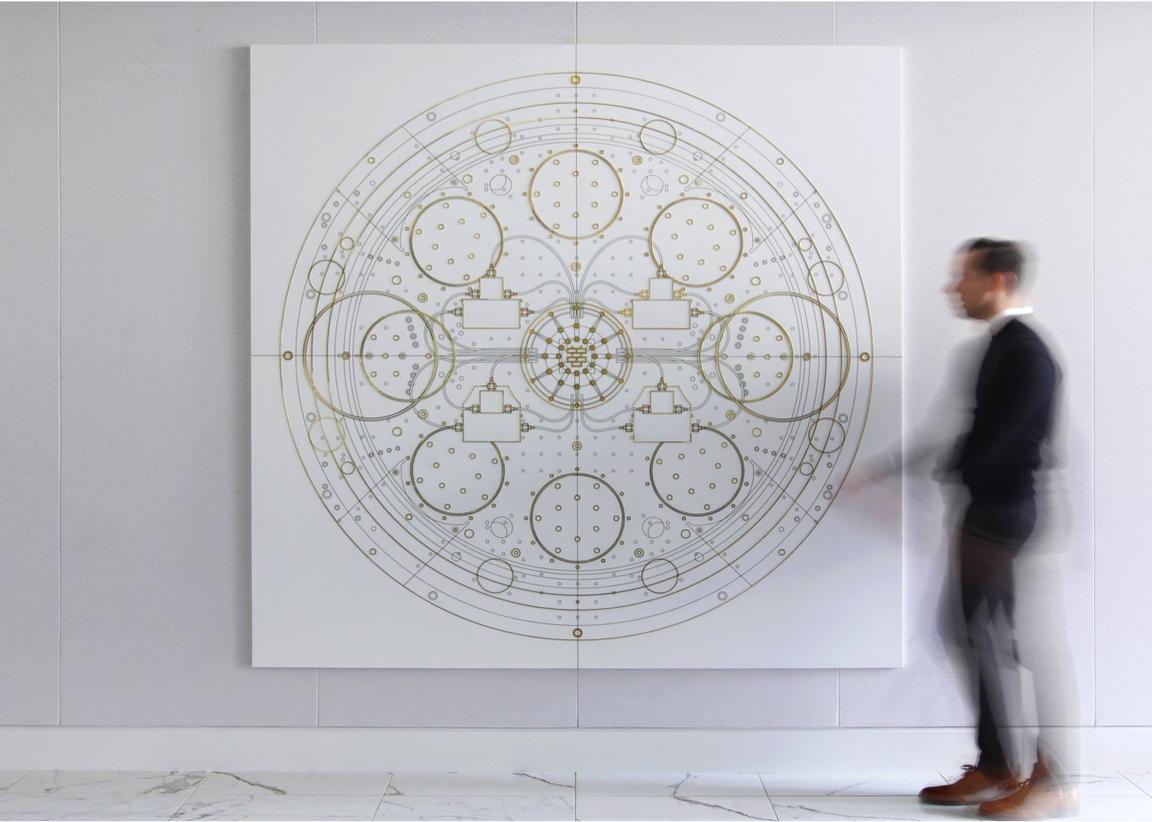 ---
The environment should offer a broad range of seating. Choose furniture that invites a variety of engagement opportunities. For example, mix intimate settings, such as banquettes or booths, alongside more open conversation-supporting furniture, such as sofas, benches and lounge chairs.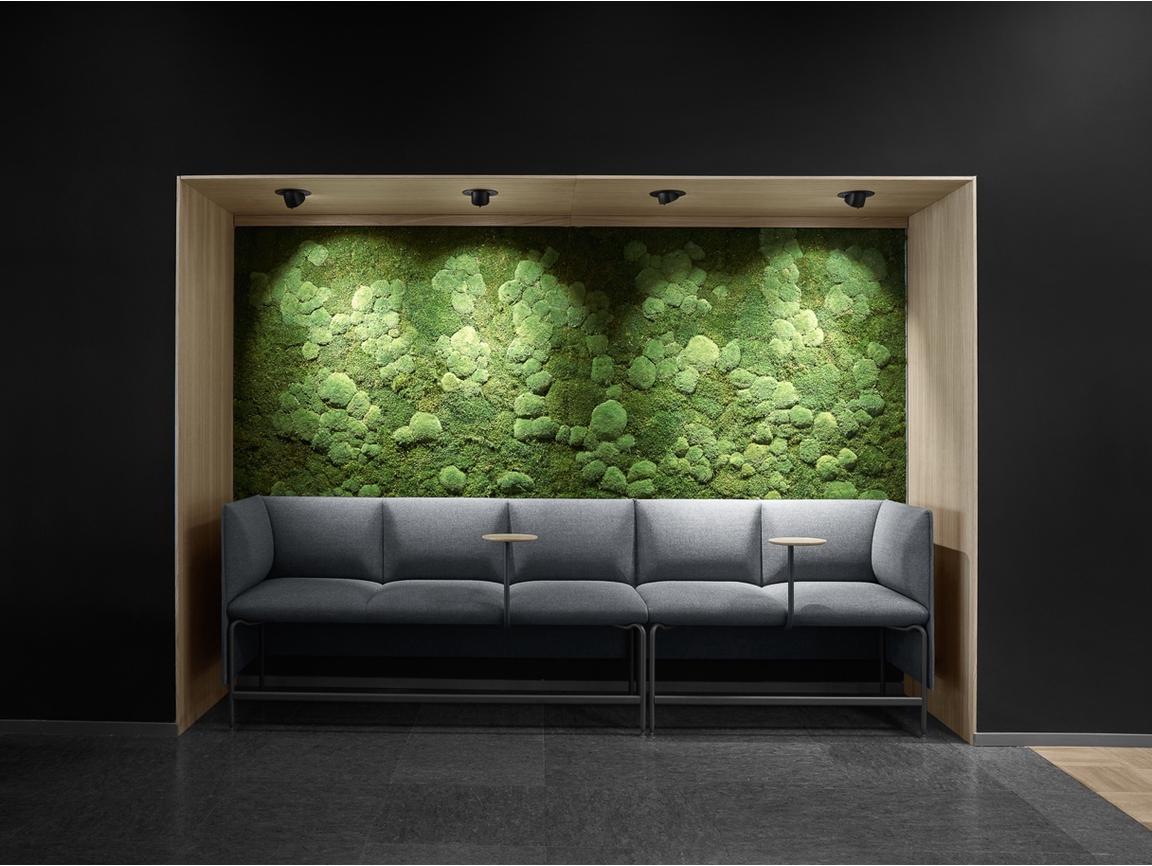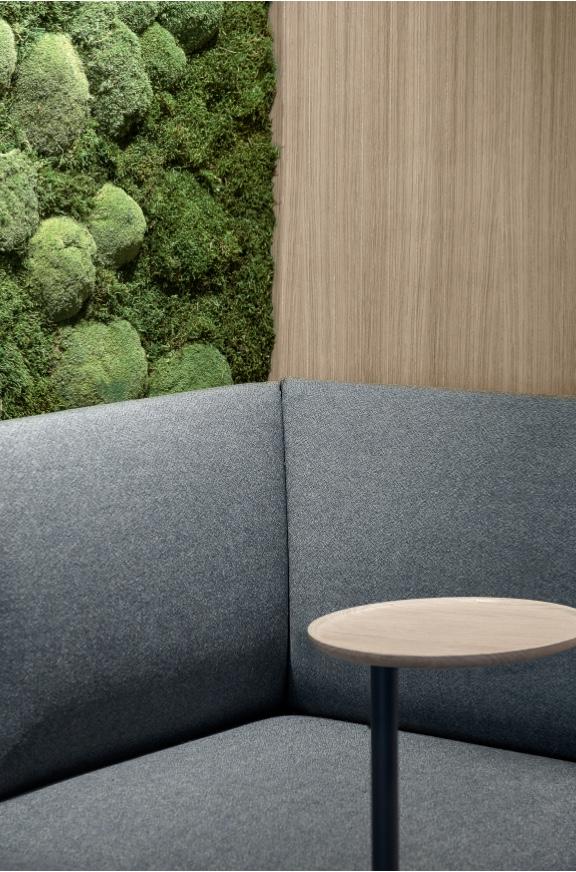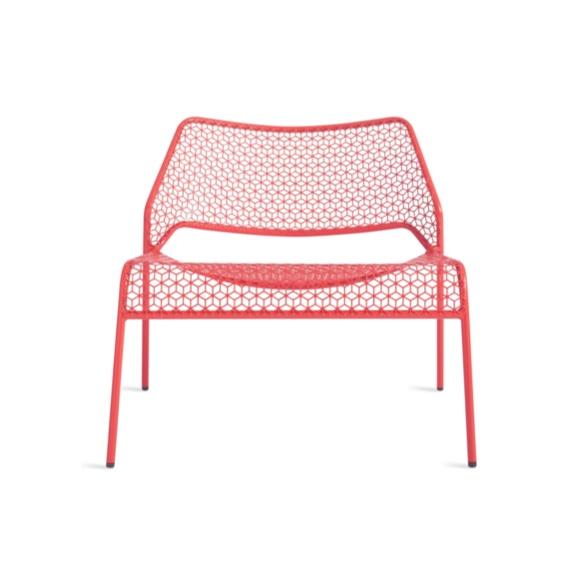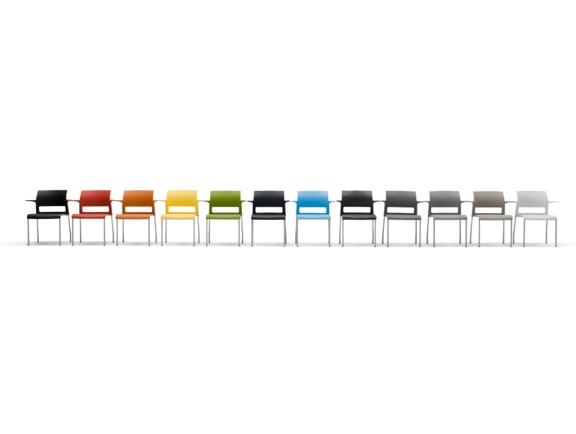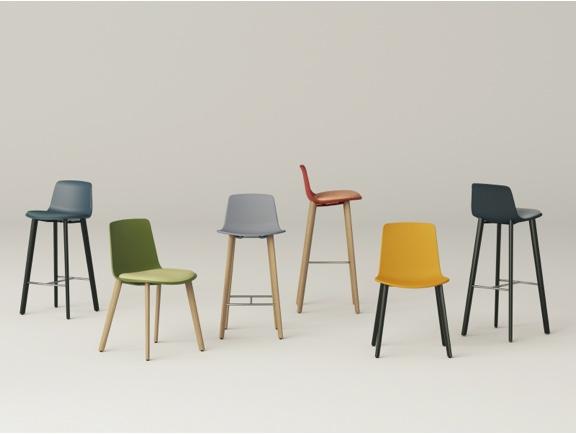 ---
Concrete flooring is appropriate for the Play zone. Care should be used to provide an appropriate floor surface for the activity of the space. The use of specialty felt ceiling systems or open ceilings can be used to help define this zone.
The lighting in the Play zone should complement the ceiling elements in this space. A combination of linear fixtures and downlights should work to illuminate special Play zone features and game activities. Decorative pendants should be suspended over the bar-height counters.