Flooring choices address more than practicality. They communicate function and atmosphere. In keeping with IBM's goal to pursue third-party sustainability certification for all major office construction and renovation projects, each flooring option presents specific sustainability and wellness recommendations for its materiality based on LEED credits and WELL features.
Application diagram demo
Flooring application varies by the intended use of the space. Consideration should be given to the overall effect flooring contributes to the energy of each zone. Study the diagram and table here for more information on typical use cases by flooring type.
| Type | Usage |
| --- | --- |
| Feature flooring | Feature flooring should be placed in the the Welcome and Connect zones, to delineate their unique functions and create differentiation in the space. |
| Carpet tile, enclosed spaces | Increase visual interest by using a different carpet tile in enclosed collaborative or individual rooms to help emphasize the separation between open and closed settings. |
| Carpet tile, open spaces | Use carpet tile in open work areas to reduce noise levels and separate paths of circulation from work areas. |
| Area rugs | Area rugs can highlight key plan areas and integrate brand colors into the physical environment. |
| Resilient flooring | Use resilient flooring for storage or intermediate distribution frame (IDF) rooms for maximum durability where heavy machinery is located. |
| Ceramic tile | Ceramic tile can be used in shower rooms for waterproofing and to aid drainage. |
| Concrete | Exposed concrete offers enhanced traction, wear resistance and energy efficiency in primary-circulation and high-traffic areas. |
| Core area floors | Core area floors fall within the purview of landlord specification. |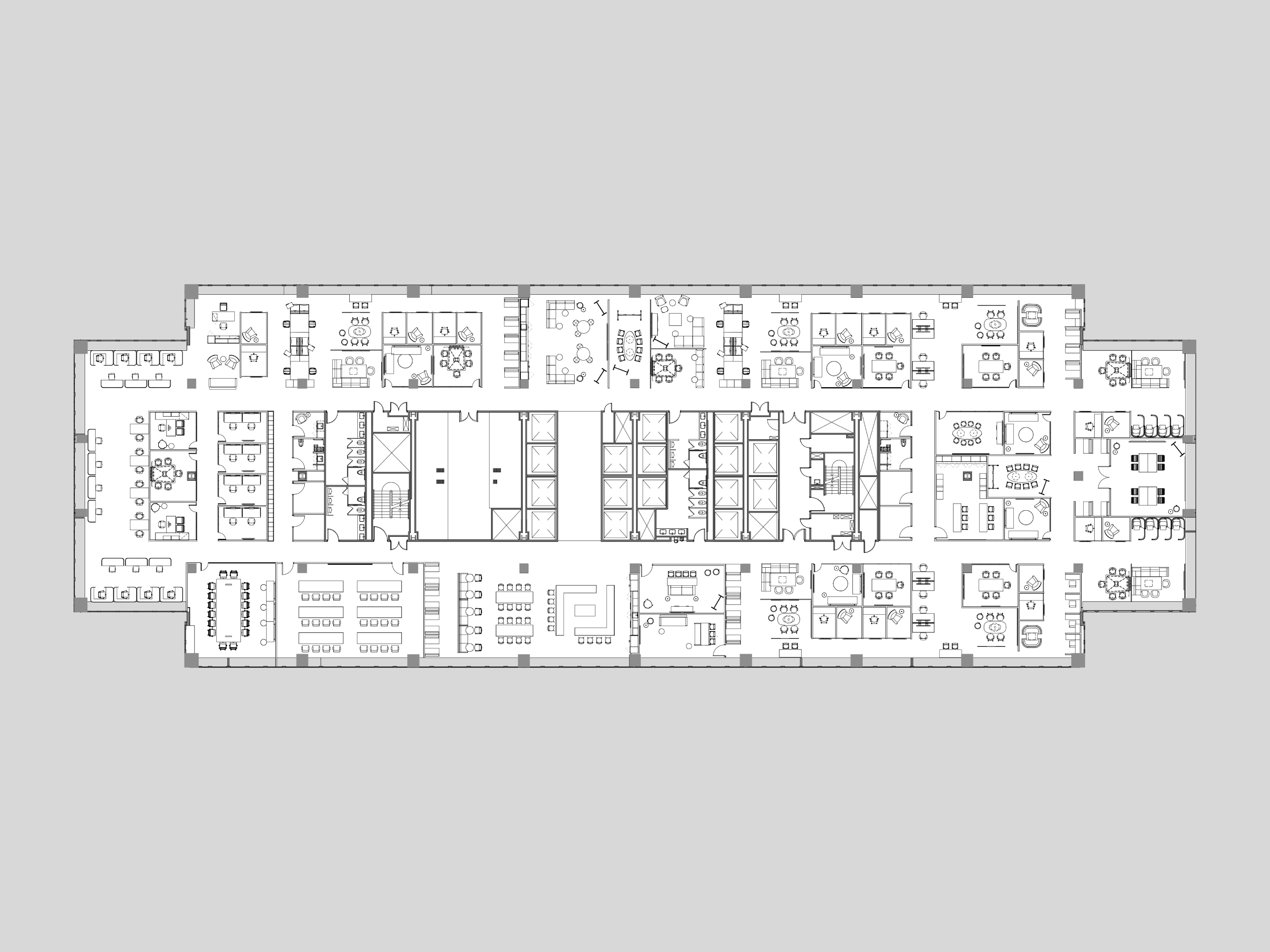 Concrete
Concrete speaks to energy and industry and adds a durable, yet progressive, look. The raw, natural characteristics of the material, juxtaposed with more refined details throughout the environment, support the design principle of duality. When using polished concrete isn't feasible, luxury vinyl tile (LVT) or other hard flooring with a similar appearance may be used. Use a neutral gray tone that complements the visual identity color palette.
Existing concrete floors should be lightly sanded and polished to enhance the natural characteristics of the material. Avoid highly polished and glossy finishes. Concrete flooring works well in Community zones, open Collaborate zones and major circulation pathways.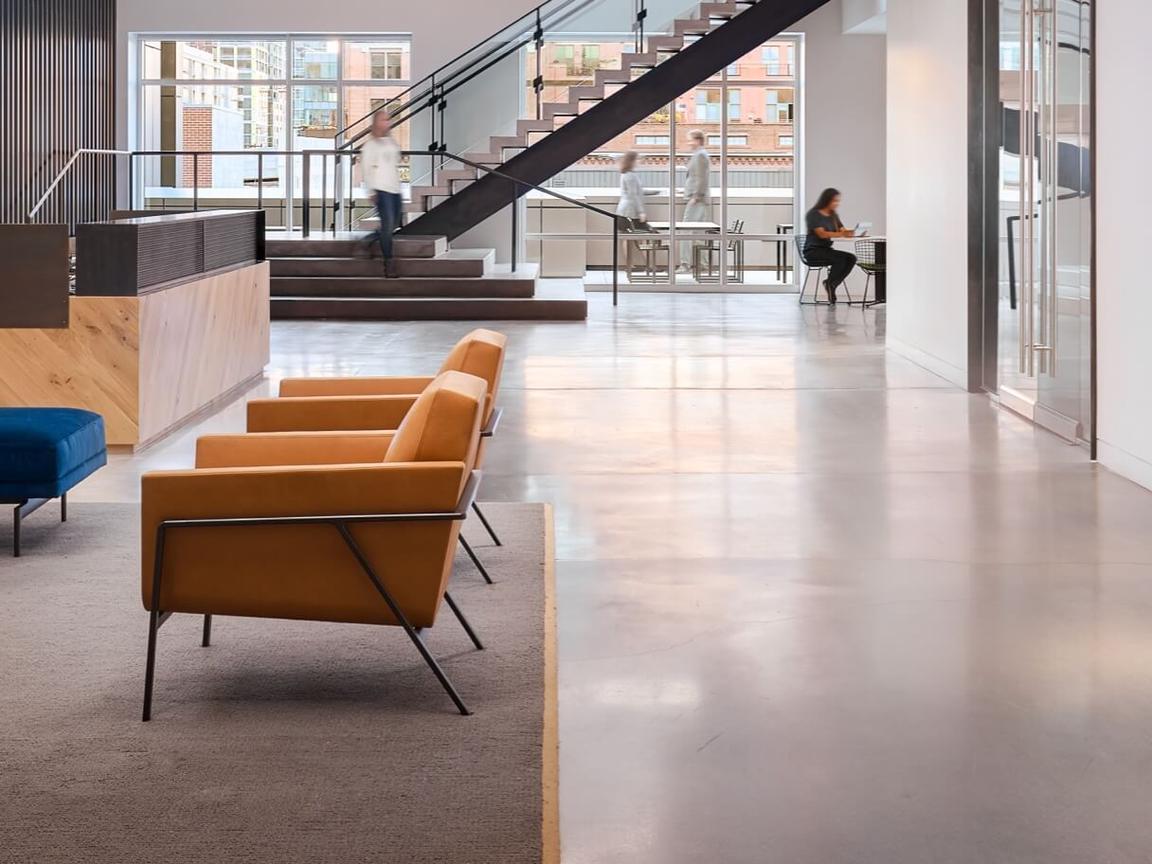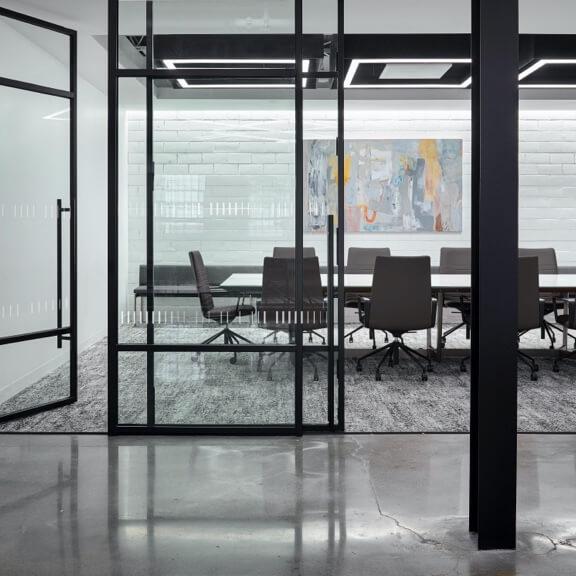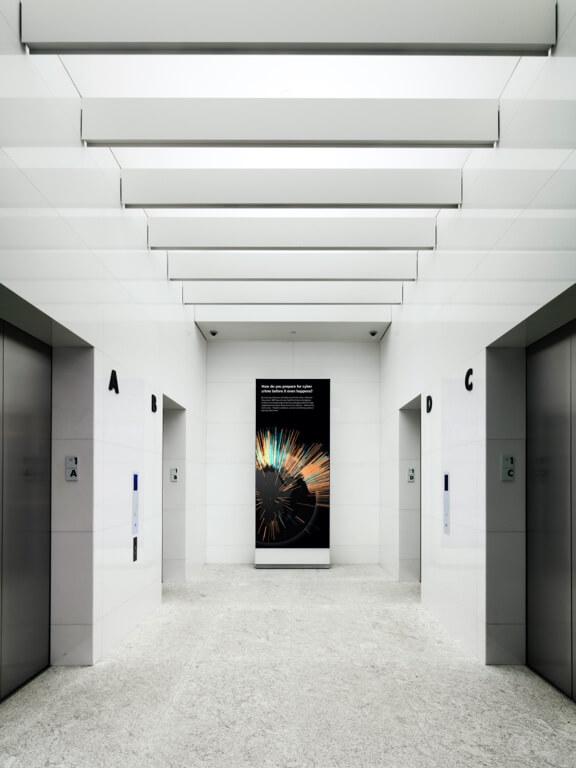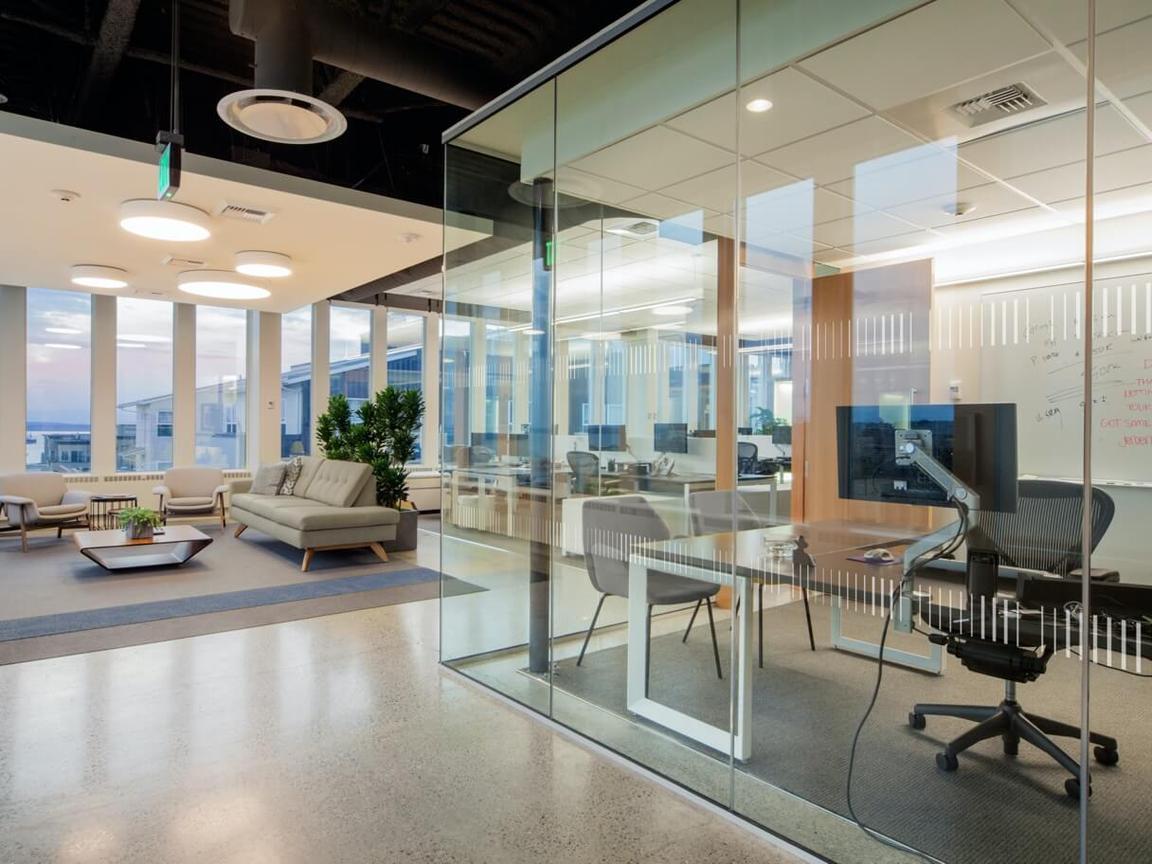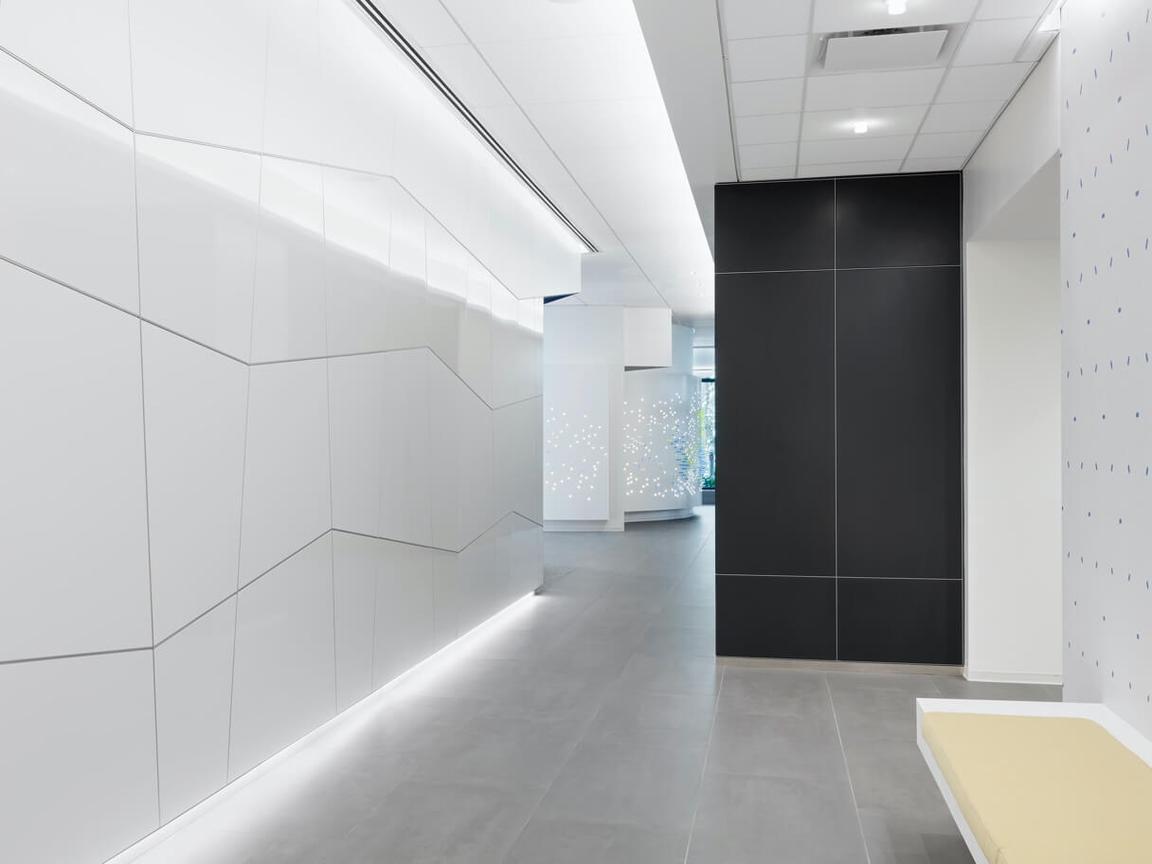 Sustainability and wellness recommendations
LEED and WELL:
Specify accessory products, such as finishes and sealants with certified VOC emission testing results to contribute to LEED credit EQc2 low emitting materials and WELL features X06 VOC restrictions.

Consider a LEED v4.1 substitution for EQc2.
Additional recommendations:
Preserve existing concrete when possible.
Avoid polishes, finishes and sealants with high VOC content and hazardous materials.

Prefer finishing treatments with ingredient transparency.
Luxury vinyl tiles (LVT) and vinyl tiles are not recommended substitutions. Including PVC-free and phthalate-free vinyl tile that don't provide transparency into their ingredients.
Carpet
A variety of carpet tiles within the environment help delineate zones and circulation paths. The style should look refined and elegant.
Choose a neutral palette of grays, ranging from dark to medium. Choose a small-scale pattern, remembering to keep to 3 or fewer patterns within a space. Subtle linear and grid-like patterns can be used to create more movement when needed.
Carpet works well in open offices, interior enclosed meeting rooms and lounges, and phone and focus rooms. Generally, the open workplace area receives a different carpet tile than the enclosed rooms. All carpet tile should be specified from the current IBM-approved flooring supplier list. Any deviation from this list must be approved by IBM Global Real Estate.
Use colorful and patterned area rugs layered on top of carpeted areas, concrete or other hard flooring to ground collaborative furniture arrangements and delineate space.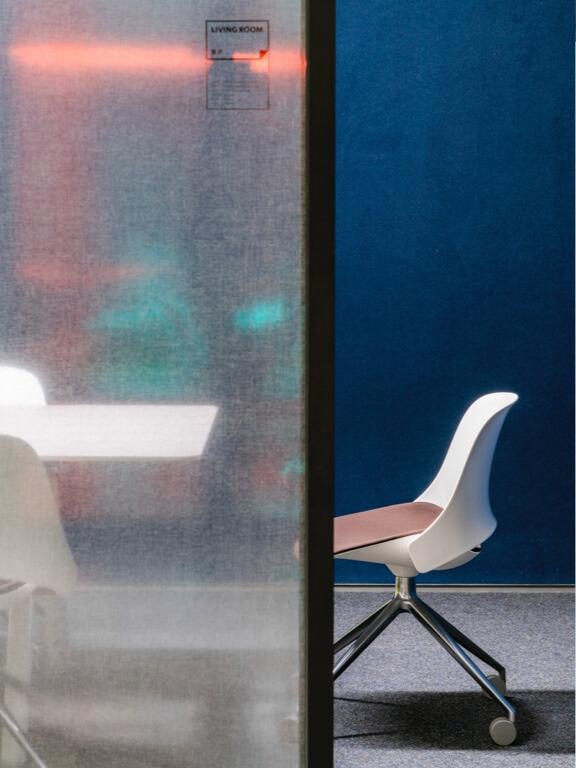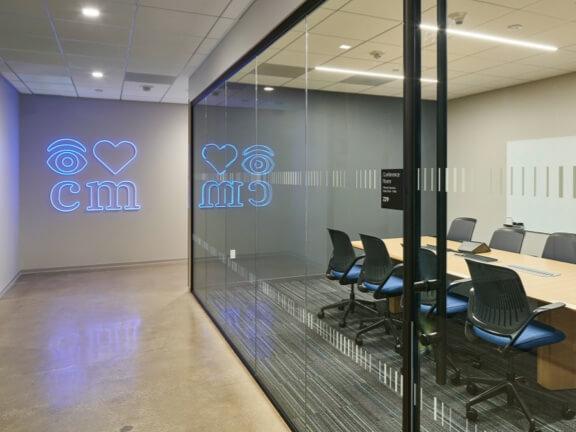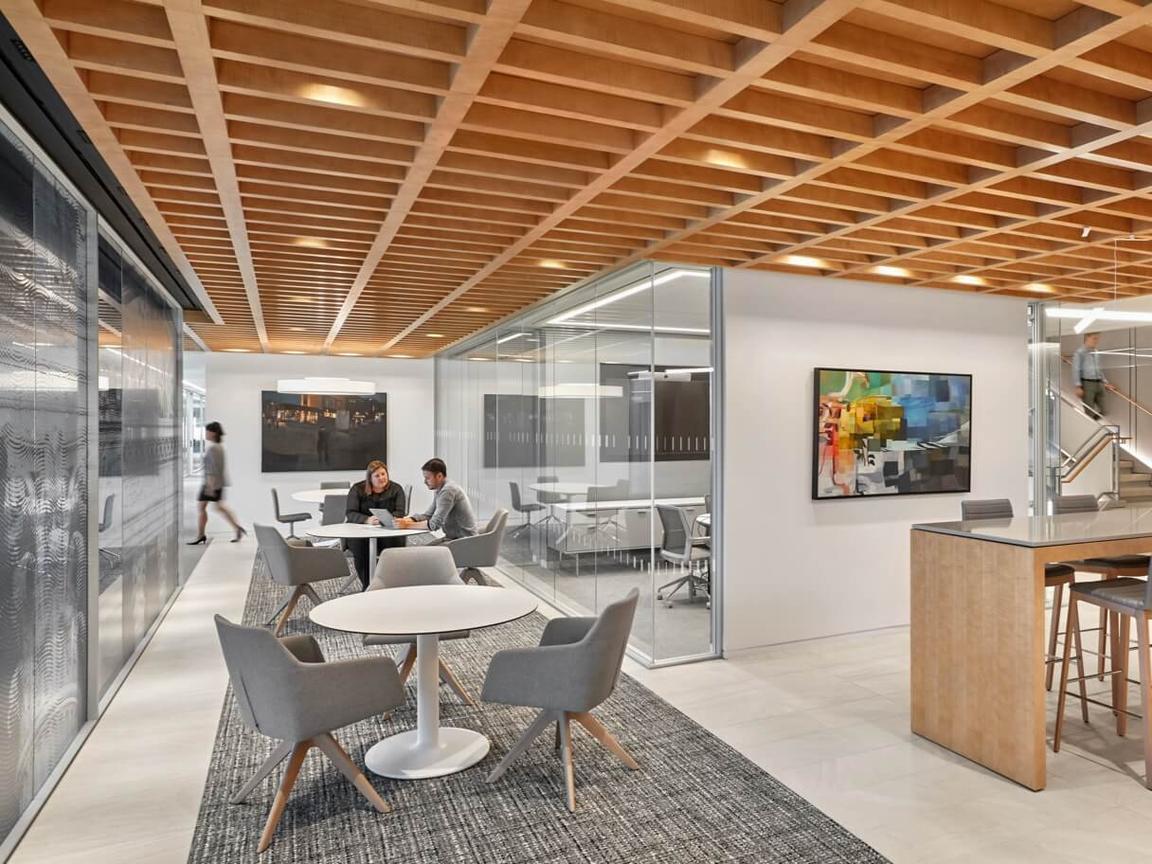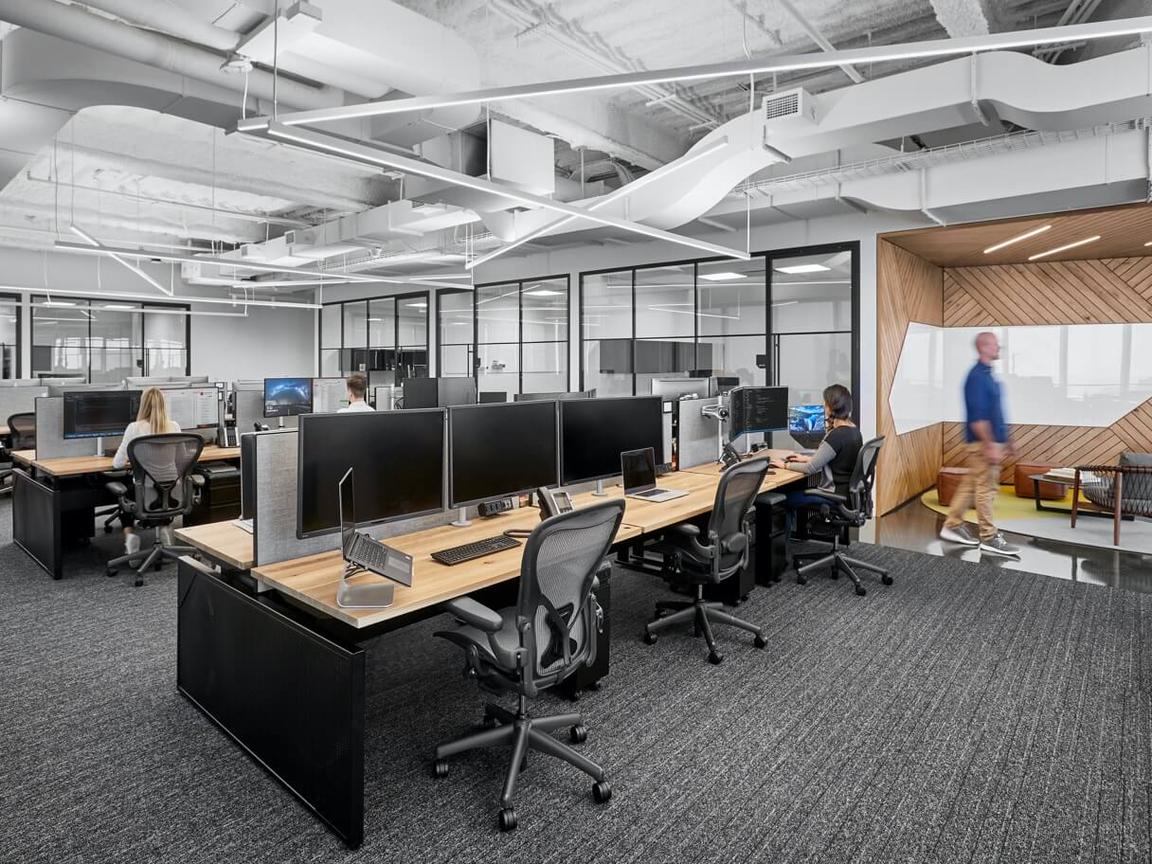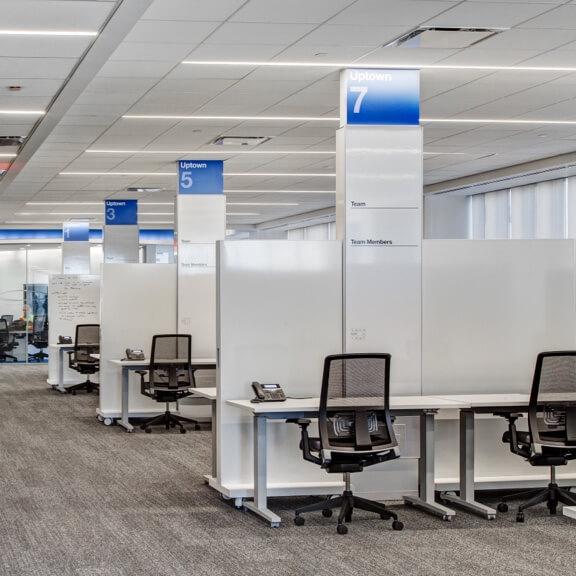 Sustainability and wellness recommendations
LEED and WELL:
Specifying carpeting from a single manufacturer can streamline the sorting, storage and recycling process and simplify the development of a demolition waste management plan. These practices are required by LEED prerequisite MRp2 construction and demolition waste management planning.

When pursuing high rates of diversion of demolition and construction waste from landfill, include this requirement in bidding documents for preconstruction services to ensure any applicable costs are incorporated into the initial budget.
Prefer adhesives with ingredient disclosures and certified VOC emission testing results to contribute to LEED credit EQc2 low emitting materials and WELL feature X06 VOC restrictions.

Consider a LEED v4.1 substitution for EQc2.
The carpet industry has made substantial strides in terms of VOC emissions testing, recycled content and product transparency, so finding products that meet these requirements should not significantly limit manufacturer selection.
Additional recommendations:
IBM's goals for environmental sustainability stipulate that nonhazardous waste be diverted from landfills. Additionally, LEED and WELL encourage all projects work to properly recycle materials where possible. Carpet tiles, rather than broadloom, generate less waste by being easier to remove and replace worn down or damaged sections.

Specify carpet tiles to reduce the amount of waste generated by workplaces.
Many manufacturers offer take-back and recycling programs that support efforts to divert waste from landfills or waste-to-energy facilities.

Specify carpet tiles from manufacturers with established take-back programs.
Carpet tiles with high recycled content reduce the amount of new synthetic fibers being produced from fossil fuels and other resources but may contain trace levels of certain undesirable containments, such as bisphenols and phthalates.

Prioritize carpets with recycled content that disclose their ingredients at 100 ppm and are third-party verified.
Glue-down carpet tiles may release potentially toxic chemicals from the adhesives used to adhere the tiles. Adhesives also have the potential to make recycling difficult or not possible.

Prioritize tack or nail down installations whenever possible.
Advocate to manufacturers to disclose the ingredients in their recommended carpet tile adhesives.
Stain repelling and water-resisting treatments frequently contain PFAS. Research has associated PFAS exposure with numerous adverse health effects, including increased risks for some cancers.

Avoid carpets that mention added stain-repelling or water-resisting treatments.
Wood
While concrete or resilient flooring capably serve the practical needs of high-traffic areas, the aesthetic of hard-surface floors can seem austere in smaller interiors. Where hard-surface flooring speaks to energy and industry, the warmth of wood floors speaks a quieter, more subdued language. For Community zones, particularly in historical buildings, wood recalls the original industry of the structure. For Collaborate zones, it brings a refined, almost academic feel to spaces where detailed engagement occurs.
A natural finish on white oak or other minimally figured wood highlights the intrinsic authenticity of wood, complementing and enhancing the gray tones of the IBM palette and our brand colors.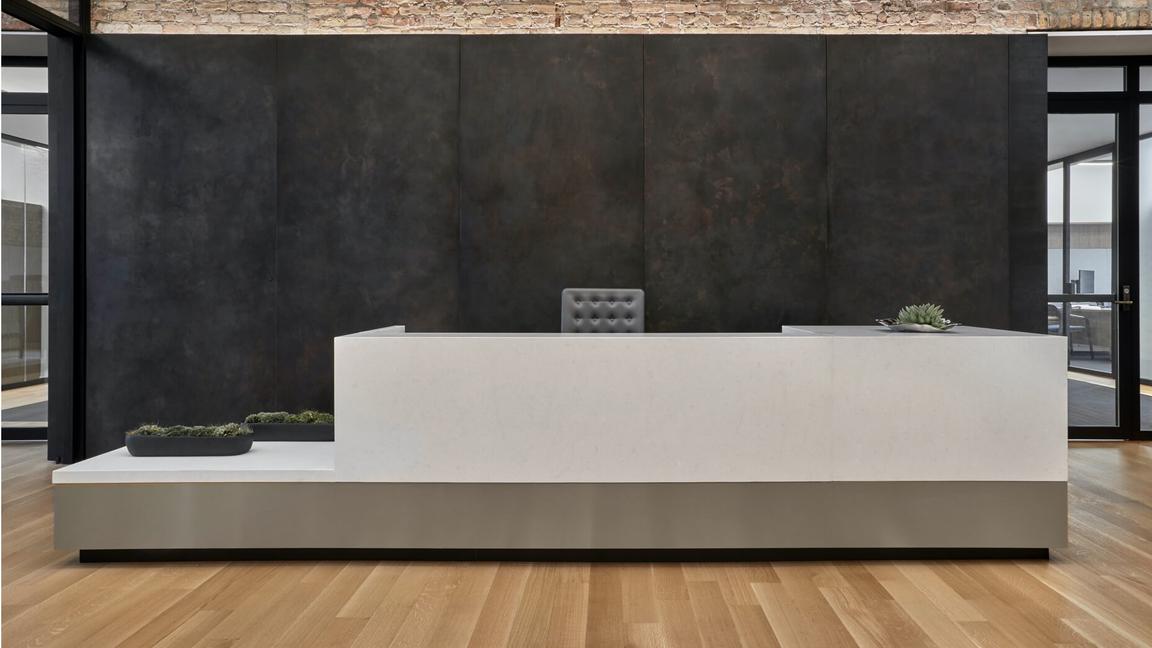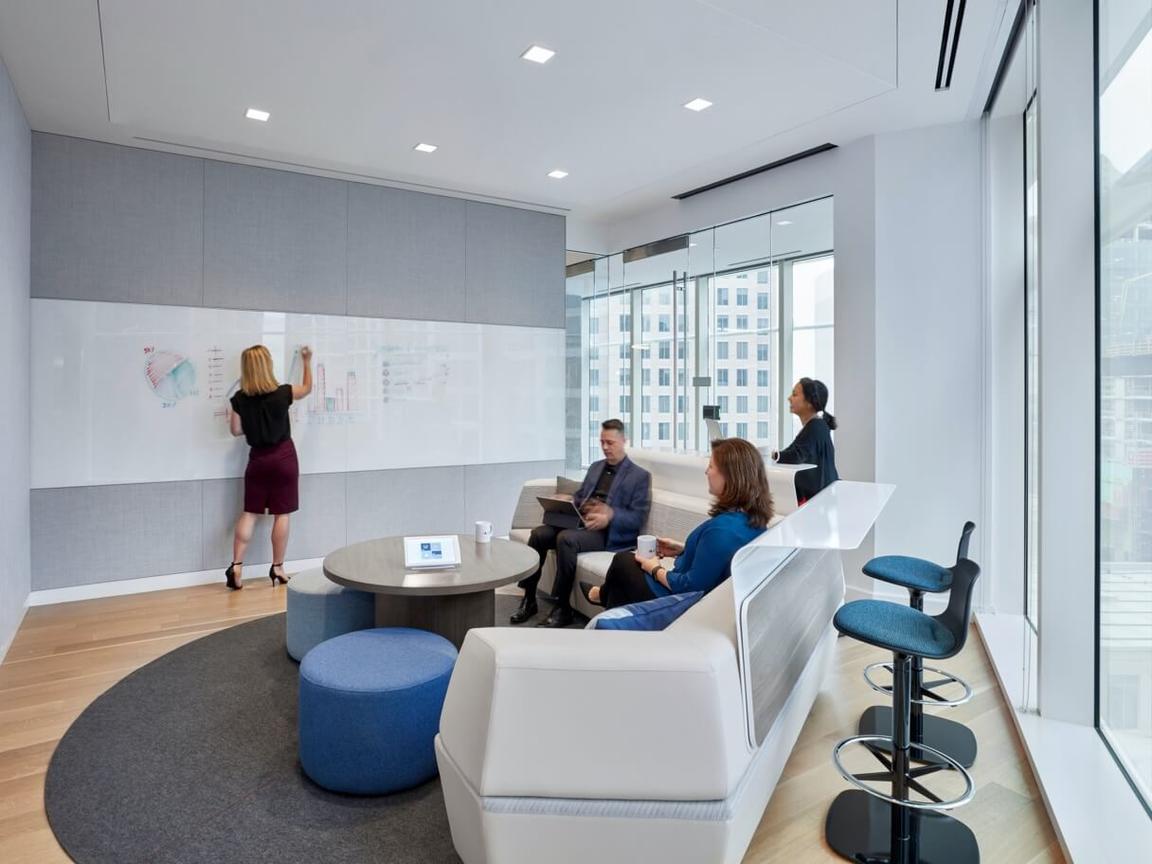 Sustainability and wellness recommendations
LEED and WELL:
Specifying FSC-certified wood flooring presents an opportunity to earn points towards LEED credit MRc4 building product disclosure and optimization – sourcing of raw materials, which specifically looks for responsible extraction practices.

Consider option 2 for MRc4.
Using materials, finishes and sealants that meet VOC emissions thresholds may contribute to WELL feature X06 VOC and LEED EQc2.

Consider a LEED v4.1 substitution for EQc2.
Earning points towards WELL feature S07 impact noise management may require the addition of insulation between subfloors and wood flooring. Minimum Impact Insulation Class (IIC) for enclosed offices and open workspaces in WELL feature S07 are 50 IIC and 45 IIC respectively.
WELL feature M02 Nature and Place awards points to projects that use nature-inspired patterns and biogenic materials, such as wood. The inclusion of biophilic elements to interior spaces can enhance occupant well-being.
Additional recommendations:
In the event that FSC-certified woods are not an option, still look to specify products from sustainably managed forests.
Specifying reclaimed wood contributes to sustainable forestry and preservation efforts. However, older wood materials may be treated with now banned materials, such as lead.

Ensure reclaimed materials are free of hazards with the supplier or manufacturer.
Wood products, especially wood composites, may contain adhesives that contain added formaldehyde. Formaldehyde has the potential to off-gas into indoor environments in amounts that may exceed health-based guidance values.

Specify composite products that disclose their ingredients.
Look for composite products with NAUF, NAF or ULEF resins.
Sealants and finishes are common sources of toxic and VOC-emitting materials.

Avoid polyurethane sealants or finishes that contain isocyanates and prefer waterborne finishes.
Ceramic and porcelain tile
Ceramic or porcelain tile come in a nearly limitless array of shapes, colors and coatings, making them ideal options for brand expression or a continuation of motifs present elsewhere in the space. Because of their hardness, they are easy to maintain and don't attract allergens or dirt. For Community and Support zones, including restrooms, tile provides the necessary durability to align with the use of the space.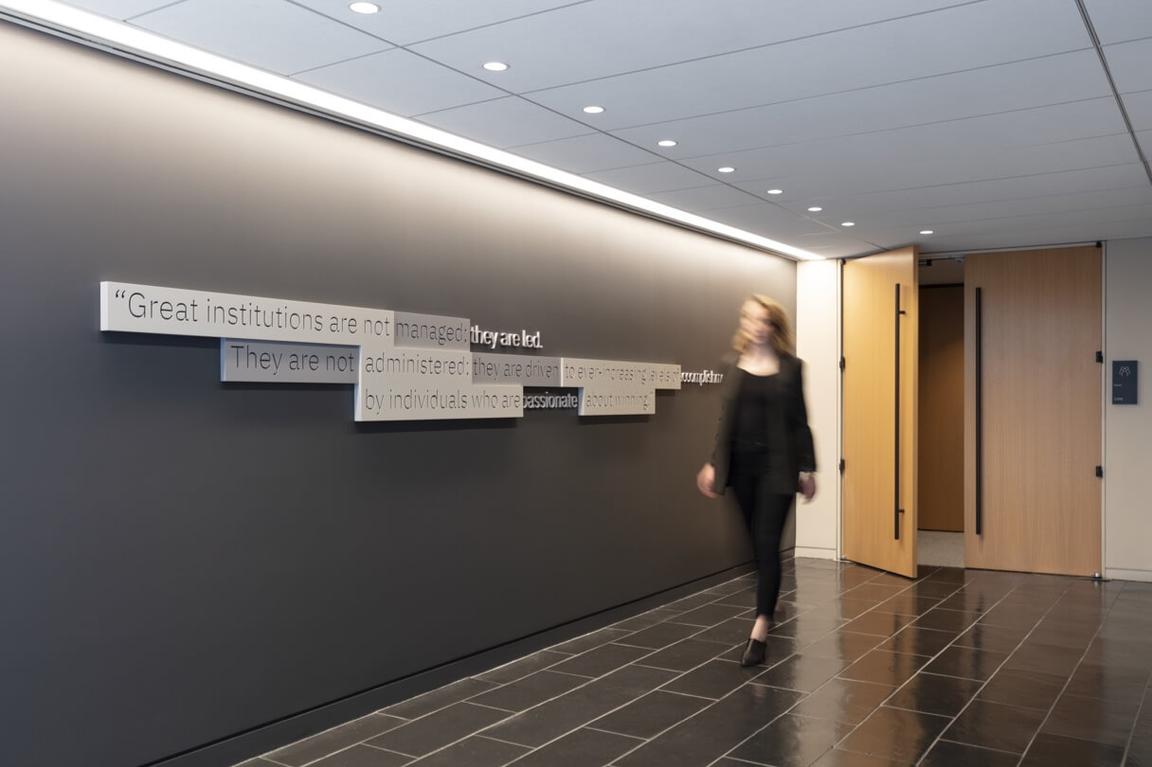 Sustainability and wellness recommendations
LEED and WELL:
Glass tiles can contain a significant amount of post-consumer content which may contribute to LEED credits MRc4 building product disclosure and optimization – sourcing of raw materials.

Consider option 2 for MRc4.
Although tile is inert, many producers disclose tile ingredients. Specifying tiles with Declare labels or HPDs will contribute to LEED credit MRc5 and WELL feature X07.

Consider option 1 for MRc5.
LEED awards points under credit MRc3 to projects that specify a percentage of products with EPDs. These documents are available from many tile producers.

Consider option 1 for MRc3 and an innovation point for exemplary performance.
Additional recommendations:
Tiles require accessory products that can be a source of toxic substances.

Avoid coatings, sealants and grouts that mention antimicrobial properties or contain PFAS and epoxy resins.
Although tiles are produced around the world, prioritizing locally made products will reduce the impact of your project by minimizing emissions generated from the transportation of raw materials and finished products.
Some tile-producing regions do not have restrictions on the presence of lead and other hazardous materials.

Prioritize products with ingredient transparency declarations and encourage noncomplying manufacturers to participate in such programs.
Resilient flooring
In support spaces, such as storage and IDF rooms, resilient floors are desirable for their flexibility, ruggedness and long life span. For areas with AV, IT or specialty equipment, static, dissipative and resilient flooring systems, with associated ground bars and arrays, should be considered.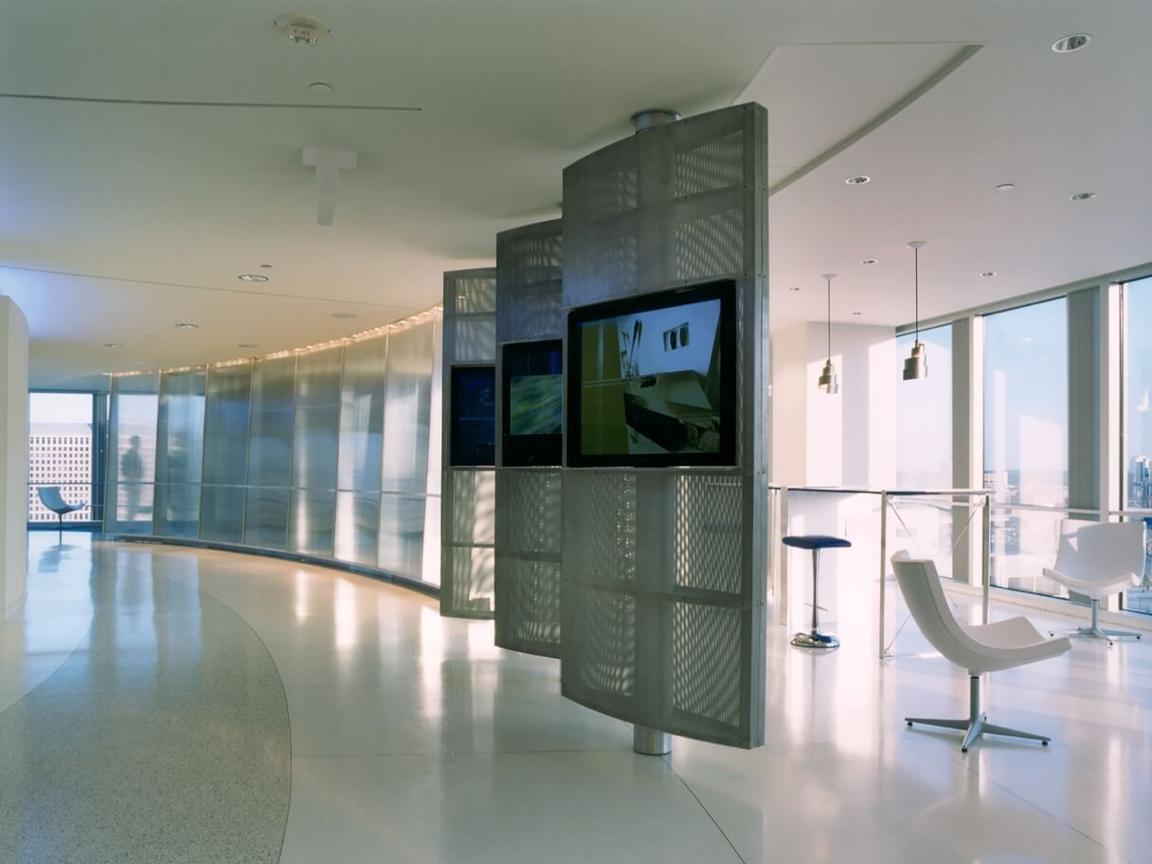 Sustainability and wellness recommendations
LEED and WELL:
Look for PVC-free resilient flooring options that disclose their ingredients through HPDs or Declare labels to earn points towards LEED credit MRc5 and WELL feature X07.

Consider 0ption 1 for MRc5.
For LEED and WELL accreditation, VOC emission levels must comply with the California Department of Public Health Standard Method v1.2.–2017. VOC content levels are not to exceed the California Air Resources Board (CARB) 2007 plan or the South Coast Air Quality Management District (SCAQMD) Rule 1113. Compliance with these standards will contribute to LEED EQc2 and WELL X06.

Specify accessory products, such as adhesives, sealants and coatings, that have undergone VOC emissions and content testing.
Consider a LEED v4.1 substitution for EQc2.
Look for FloorScore certifications that include VOC emissions testing for sealants and adhesives.
Additional recommendations:
Research indicates that LVT and other products containing polyvinyl (PVC) use plasticizers to enhance longevity and performance qualities. Some of these plasticizers, such as phthalates, may adversely impact reproduction and development.

Due to the toxicity potential of PVC, avoid LVT and other resilient floorings that contain PVC, such as Vinyl Composition Tile (VCT) and Vinyl Tile (VT)
Avoid products that contain phthalates. Some of the most common phthalates in PVC are di(2-ethylhexyl)phthalate (DEHP), diisononyl phthalate (DINP), di-n-butyl phthalate (DBP), diisodecyl phthalate (DIDP), di-n-octyl phthalate (DnOP), butyl benzyl phthalate (BBP).
Many LVT and resilient flooring products that contain PVC hold sustainability documents, such as Environmental Product Declarations (EPDs), despite being found to have a significant impact on the environment and containing potentially toxic chemicals.

LVT and resilient flooring with PVC are not recommended as resilient flooring options.
Products containing PVC are largely unrecyclable due to their chlorine content. The incineration of these products releases harmful dioxins and furans into the atmosphere.

Look for PVC and phthalate-free resilient floor products from manufacturers with take-back programs.
Specify more environmentally preferable resilient flooring options, such as linoleum, cork, rubber and biobased resilient floors.