Data Goes Into the Cloud, Customer Delight Comes Out
Data Goes Into the Cloud, Customer Delight Comes Out
Data Goes Into the Cloud, Customer Delight Comes Out
Data Goes Into the Cloud, Customer Delight Comes Out
Abstract: Consumers are taking control of their customer experiences. Instead of creating those experiences, retailers must now focus on contributing in thoughtful and personalized ways. Innovative approaches allow brands to artfully engage with their customers, transforming the customer experience to customer delight.
The customer experience is something brands have controlled for a long time. But today's savvy customer is flipping the script. They're dictating to retailers what sort of experiences they want to have. They're taking control of their own customer experiences.
"It used to be that we competed with the person who made a product like ours. Not anymore. Now we compete against the best customer interaction that they've had, with any brand." -Deborah Leff, Global Leader and Industry CTO for Data Science and AI, IBM
Your customers know you have their data, so they expect you to personalize their experiences. Then, they expect your customer service to be quick, effective, and as knowledgeable as they are.
Essentially, you have to evolve customer experience into customer delight. Here are six different areas of your customer experience you can evolve for a new customer experience:
Bring your data together to predict trends and personalize customer experience through next-gen applications
Create seamless customer experiences across all channels through better collaboration
Focus on elevating each customer service experience through AI enhancement
The common theme among these different customer experience elevations is how bringing disparate sources of data together allows your company to go beyond customer experience into customer delight.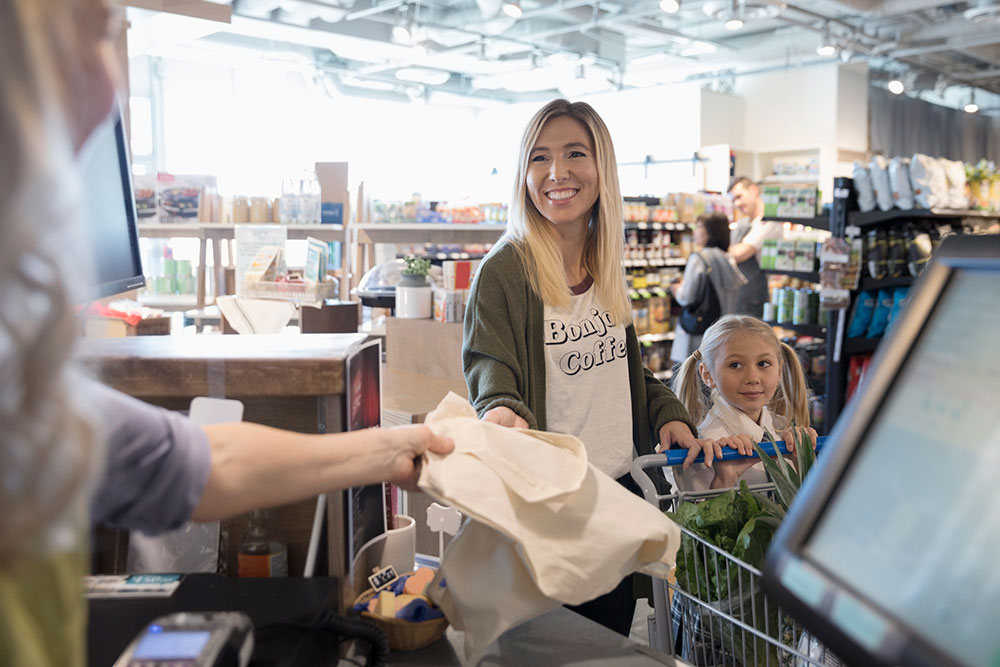 Data + Artificial
Intelligence = Personalization
at Scale
Data + Artificial
Intelligence = Personalization
at Scale
Data is the key to personalization. Today's technology lets you go far beyond inserting a customer's name into an email. All customer touchpoints are a wealth of data that allows you to take that extra step in providing a unique customer experience, to each customer.
Don't Just Analyze, Predict Your Customer's Future Needs and Actions
Predictive intelligence, or predictive analytics, doesn't just assess past customer actions. Predictive intelligence brings together a variety of analytic capabilities such as:
Ad-hoc statistical analysis
Data mining
Predictive modeling
Real-time scoring
Text analytics
Machine learning
The powerful combination of these tools allows retailers to use what has happened to predict what will happen, with startling accuracy.
Using Data to See What's Next
When you collect information about your customers' behavior, you can use predictive analytics to create personalized experiences for them on your website.
Besides changing any ads and offers you may display, your website can serve up hyper-relevant content as well. 84% of customers want you to lay out choices based on their preferences. The data gathered from publishing can then be used to further predict trends and customer interests.
When that collected data is aggregated into data sets, data visualization can show customer trends thanks to cross-tabulation. The same data set can be organized and sliced in different ways to identify important trends that may not be immediately evident. Predictive intelligence technology can sift through this data almost instantaneously, providing real and timely feedback.
When you throw in loyalty program data into the mix, you can harvest a treasure trove of data to help you discern buyer intent indicators.
Customer behavior data can also help you identify and circumvent logistics and performance issues. For example, if your website sees an increase in traffic towards the end of the month, but also more abandoned carts, perhaps there are webpage speed issues due to higher traffic.
Increased web traffic could also signal a coming increase in customer service calls. If that pattern becomes apparent, you can increase temporary staff in customer service centers. Not only would this create a better customer experience, but your employees' experiences would improve as well.
The key to any of these insights is pulling your data together first, organizing it, and getting it to an accessible, secure environment, so you can leverage predictive intelligence capabilities to gather the knowledge you need to inform your business decisions.
If You're on the Phone, You're in Their Lives
81% of Americans own a smartphone of some kind. That means if your app is entertaining or useful enough, you can be in each of your customers' pockets.
How do you provide a personalized customer experience through a phone app? AI and data analytics can process information quickly enough to answer customer product questions. Now customers can pick the perfect product for their situation any time they feel like it. You can increase sales by allowing customers to research and buy when it feels right.
North Face and IBM Watson have brought cognitive tech to retail. North Face customers can now find out which product is best for their outdoor plans. The customers receive highly personalized responses based on the information they provide. Planning a hiking trip in June in Yosemite Park? North Face customers will receive a small number of gear recommendations that factor in a variety of circumstances, even typical weather.
Smartphones offer all of the data touchpoints you need to get inside of a customer's head. Retailers are using customers' own phones to further personalize their in-store experience. Target's app pinpoints a customer's position in the store. Through geolocation and an uploaded store map, customers can receive notifications about products and deals right next to them.
Not to mention, Target's app supports BOPIS and mobile POS, so customers can buy wherever they want to.
What if we take it further? Instead of a blanket loyalty program, what would a personalized loyalty program look like?
Just ask Walgreens. Their loyalty app uses AI to serve up hyper-relevant deals and offers to its members. When consumers grow accustomed to seeing deals that matter to them, they're more likely to pay attention.
Subscription Retail is Surprise and Convenience in a Box
The subscription retail market is booming, and has been for the past several years. From 2013 to 2018, subscription retail grew 100% year over year.
One problem noticed in many subscription companies is flash popularity, and then a decline in sales. After Blue Apron's IPO in June 2017, their shares dropped by as much as 80%. It can be difficult for subscription box companies to maintain the excitement box after box.
Brick-and-mortar retailers can help customers subscribe to more than just a box by offering the store as well.
Product demos and exclusive events can add to the excitement of a curated box while allowing you to control more of the experience. Sephora's PLAY subscription offers a box of curated items, but also one-on-one tutorials in-store.
How do subscription boxes help retailers? Customers expect to provide their opinions and preferences in order to help build the best box for them. This is data that the customer willingly hands over. As they continue to receive boxes, you continue to receive information that you can use to curate a better experience.
What's the next step for subscription boxes? Tying experiences to what comes in the box. Hunt a Killer is a subscription box that provides an experience month after month. The box comes ` e3sewith realistic-looking "clues" to help the customer solve a murder.
Could you create an experience with a subscription box of your products? Maybe it's bringing them in-store for demos, like Sephora. Maybe you tie your subscription box to seasonal or holiday in-store events. Could you provide regular surveys to your customers to gather data you can then use to personalize their box?
The options are endless. Customers may come for the curated items, but they'll stay for the curated experience.
For a step-by-step guide to creating delight in customer experience using the cloud, download the playbook here.
Move Over BOPIS, Make Way for the Unified Shopping Experience
Move Over BOPIS, Make Way for the Unified Shopping Experience the Unified Shopping Experience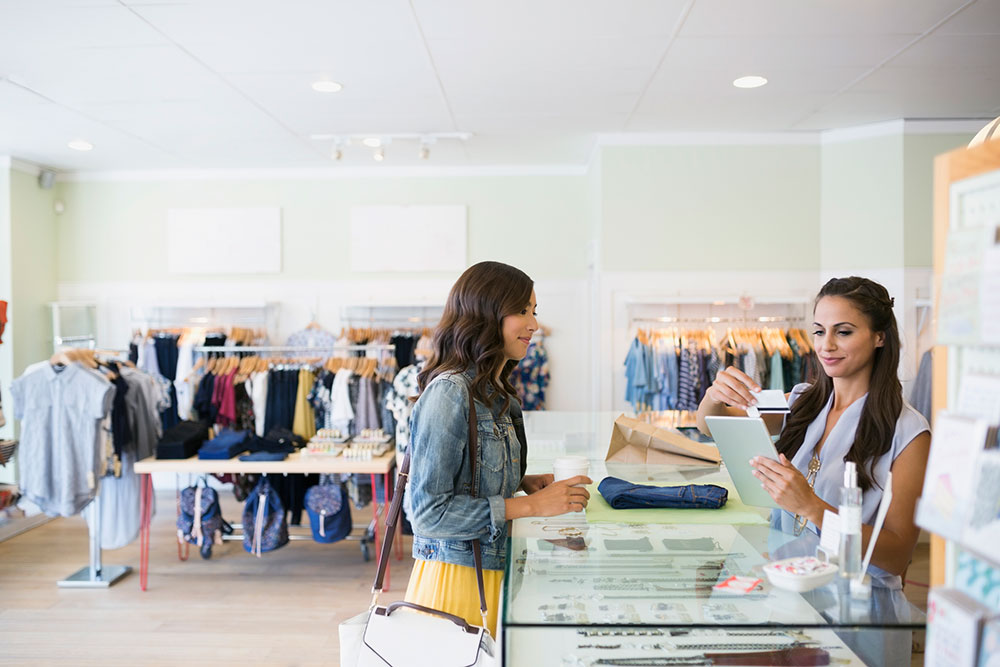 Buy Online, Pickup In-Store (BOPIS), also called click and collect, is growing in popularity. About 67% of US shoppers have used BOPIS according to a 2018 consumer trends report.
85% of those BOPIS users love the fact they can pick up their purchases when it's convenient, as opposed to waiting for a package to arrive. This same desire is likely what has fueled the creation of startups like GoFleetly. Gofleetly connects retailers with same-day delivery couriers. Retailers who can't afford to organically incorporate delivery service can partner at scale to improve the customer experience. More than 60% of consumers are willing to pay more for same day convenience.
One particular segment of retail faces challenges when it comes to BOPIS, and that's grocery. 63% of consumers reported that they did all or most of their food shopping in a brick-and-mortar store.
The cause behind this reluctance to use BOPIS for groceries? 64% miss the tactile experience of selecting their produce, and 62% don't want someone else picking out their fruits and veggies.
This is good news for grocers now, but it isn't the future. Especially with larger retailers like Target and Walmart riding the innovation wave. These retailers sell food and non-food products. In order to provide a delightful customer experience, you can bet they will continue iterating until their customers are comfortable buying their entire shopping list online to pickup later.
You're Sold on BOPIS. Here's How to Up Your Game
49% of click and connect customers purchase additional items when picking up their online order in-store. How do you optimize for this tendency? By creating a pickup area that aligns with your customers' inclinations. You can facilitate further purchases while creating a smoother shopping experience.
What about incentivizing additional purchases for BOPIS customers? Retailers, including Kohl's and Macy's will offer BOPIS customers a discount for in-store purchases, up to 20%.
Do the BOPIS Twist
Consumers are using technology to change their customer journey. As a result, we're seeing deviations of the "traditional" BOPIS model.
Customers often see products in-store and research them at home later. If they buy those products, they probably aren't coming back to your store unless it's convenient for them. They might Buy Online, Pickup In-Store, but we're seeing Delight In-Store, Checkout Online happening more now too.
Of course, you have to focus on the "Delight In-Store" part, or else they may "Checkout Online" with your competitors.
How do you "delight in-store"? Retailers like Nordstrom are experimenting with showroom or concept stores. In these concept stores, there's often little to no inventory.
Besides allowing Nordstrom to cut down on supply chain costs, customers can plan clothing ensembles with stylists, get manicures, and enjoy the convenience of having their purchases delivered to their homes.
Retailers can't control the customer journey anymore. There are too many possible paths for customers to travel. You have to move beyond just collecting customer data. Instead, analyze that data to understand what would really elevate the customer's experience at a variety of points.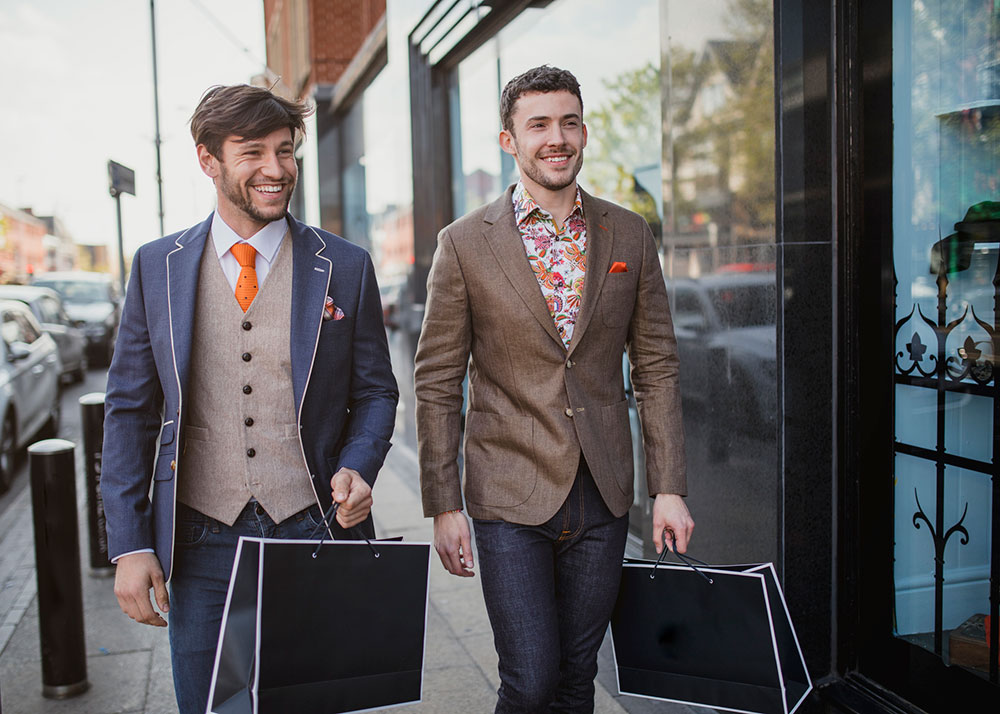 For a step-by-step guide to creating delight in customer experience using the cloud, download the playbook here.
Customer Service: When They Need
Your Best
Customer Service: When
They Need Your Best
Customer service can start or close out delightful customer experiences. Or it can do the opposite. Your customers want to talk to real people, except when they don't. How do you handle the many customer demands flooding your customer service department?
By heading off the ones that don't need to go there, and preparing your human reps for the ones that do.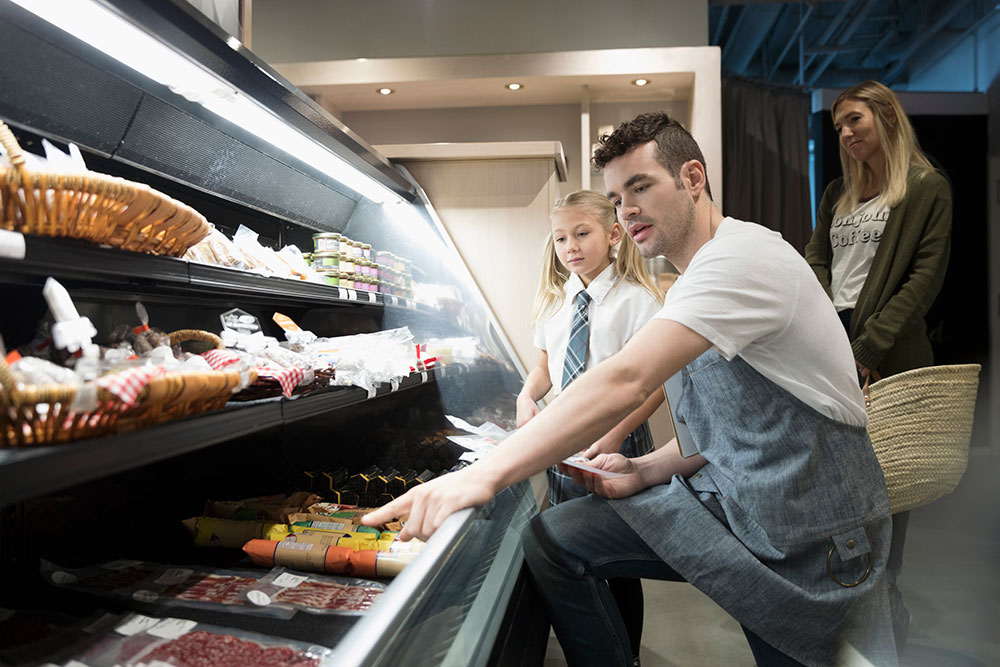 AI Augmented Chatbots Can Handle the Little Stuff
Today's customers are moving away from in-person help for most routine tasks. Picking up the phone to dial an 800 number just seems like such a chore when you can Google your question and likely get an answer.
These days, customers are more likely to seek out self-service options to resolve their issues. Or they'll send a tweet or message. Satisfying this new consumer trend doesn't just help relieve your customer service department. It meets your customers where they are.
But how do you scale a message based solution? Through AI-powered chatbots, like those implemented by LivePerson with LiveEngage. LiveEngage uses AI enhanced chatbots to handle customer inquiries. If the chatbot isn't equipped to handle the customer's needs, a human service rep is seamlessly brought into the conversation.
The LiveEngage platform uses IBM's Watson Virtual Agent technology, so retailers can employ chatbots that are constantly learning. You can even customize chatbots with information like product manuals and common customer service questions.
"LiveEngage with Watson is designed to meet the needs of today's 'always on' consumers and deliver the sort of timely, high quality brand experience that they expect," said David Kenny, senior vice president, IBM Watson and Cloud Platform.
Chatbots can satisfy your "always on" customers with instant answers, 24 hours a day. These are the top benefits of incorporating chatbots into your customer service operations.
Get away from the analog phone interactions that people don't like. It's time to move towards a faster, more efficient, and more satisfying way of engaging with your customers.
What About the Big Stuff?
If chatbots are handling the routine issues, then your service reps typically get the doozies. Call center employee turnover can range from 30-45%. Natural language processing could be what call centers need to put some empathy back in their operations. Additionally, LivePerson reports that their clients see a much lower turnover rate when they gave their call center employees some AI chatbot help with LiveEngage.
Humana partnered with Cogito to employ a conversation analysis program. For six months, 200 of Humana's call center employees used this tool and experienced astounding results.
Customers whose calls used the Cogito program were 28% more likely to recommend the brand.
Issue resolution increased by 6%.
Call time and escalation both decreased.
Cogito helps service reps by providing real-time feedback on their customer conversations. It's like a little customer service shoulder angel letting you know how the interaction could be better.
Sales Reps Armed with Data Are Truly Helpful
By now, you probably understand that consumers don't mind self-service, and in many cases, they prefer it. That doesn't mean you can afford to have ill-equipped sales representatives in your stores. Customers expect sales reps to be as well-informed as they are, if not more so. Thankfully, the technology is here to give sales reps more influence over the customer experience.
Have you ever gone to a store to purchase a pair of shoes, only to wait several minutes for the sales reps to go back and check if they have your size? Angst only grows as each minute slowly eeks by. Finally, the rep is back, and what do you know? They don't have your size in stock. You leave empty-handed, feeling like you wasted your time.
This scenario could go a completely different way. You find the shoes you like, and ask an associate if they're in the store's stock. He takes the box from you and scans the barcode.
He sees that they're currently out of stock in the store, but they're available online. "Would you like to order this shoe right now? The order qualifies for two-day shipping." he asks. You're starting to feel better already.
Another quick glance at his mobile device, and the associate sees that you have some loyalty program points to redeem, and asks if you'd like to apply them to this order. You confirm the use of the points, and leave the store with another pair of shoes that were in stock. You bought two new pairs of shoes, and experienced helpful customer service.
Retailers are seeing the benefits of equipping store sales reps with tablets, inventory information, brand app data, and mobile POS capabilities. When you empower your sales representatives, they can turn customer service into customer delight.
For a step-by-step guide to creating delight in customer experience using the cloud, download the playbook here.
Conclusion
Conclusion
When did creating great customer experiences become hard? When you started competing with every customer experience your customers have ever had. Marketers painstakingly chart out the buyer's journey. But what if your customers' go off the path you created? Are you prepared to meet them there?
How can you create a seamless and frictionless customer experience? How can you turn customer experience into customer delight? Your first step is bringing all of your data together into the cloud. Some questions for you to consider:
What do you want your customer experience to look like in the next year? In five years?
Which applications and capabilities will help you get there? Where are those apps best run (on-premise, in-cloud, etc.)
Are you missing data analysis opportunities in your current customer interactions?
How can you create easily repeatable migration processes? Do you have the qualified staff to support these processes?
Where are you expending resources on rote processes that could be automated? How much capital can you save through thoughtfully automating and augmenting the customer experience?
To find out more about how the cloud can pull all of your customer data together to help create more delightful customer experiences, download four-step playbook here.