---
Organizations that lead on sustainability and impact do not approach them as secondary objectives.
Even before the pandemic, a new focus on sustainability and environmental, social, and governance (ESG) goals for business was emerging. Against that backdrop came lessons from the COVID crisis about the interconnectedness of the globe and the role of nature and its relationship to humanity. We have seen that the shifts to more virtual work, less travel, and lower levels of urban activity and global physical trade have made a meaningful impact on carbon in the atmosphere.
This is all happening against a rising focus on stakeholder capitalism where the purpose of the enterprise has been extended to its societal impact. All the big issues that the world faces—from health, climate, and food security to inequality—are now being targeted by growing partnerships and ecosystems.
Business leaders express more concern about people and the planet than ever before.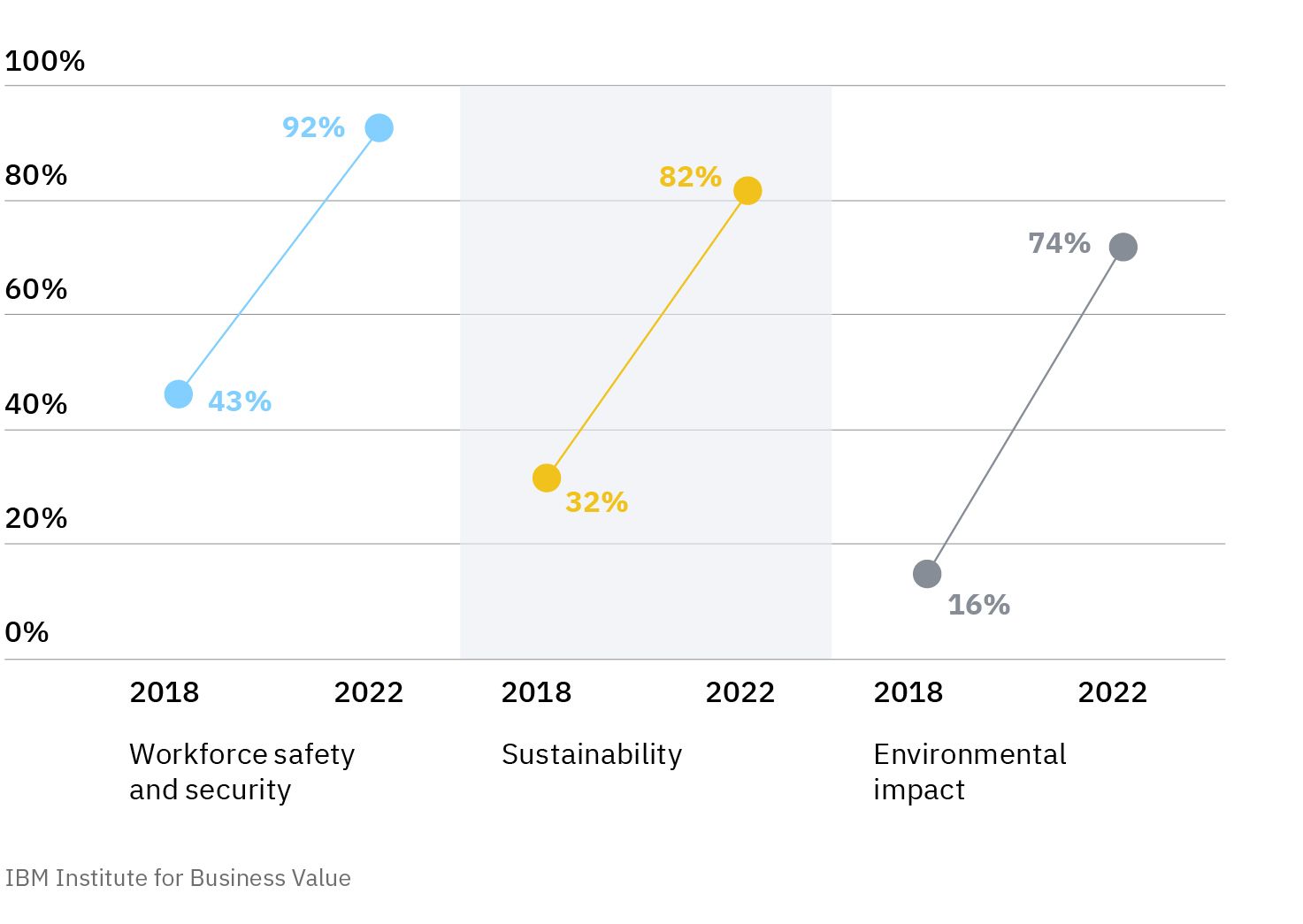 With companies vying to take the lead in shaping new transformative platforms and models, the Virtual Enterprise is the perfect vehicle to facilitate these moves. Its open approach enables the integration of sustainability into a company's fiber—its DNA.
Organizations can weave sustainability into value propositions, business partnerships, and customer engagement strategies to influence how humans treat each other and the planet, encouraging behaviors that contribute to a positive ecological footprint. Relying on new exponential technologies, they can create innovative products and services linked specifically with sustainability efforts.
Deploying technology for societal good can be good for business.
What differentiates sustainability leaders
A focus on sustainability can strengthen both corporate purpose and customer and employee engagement. In addition, digital technologies can help companies combine improved sustainability performance with better business outcomes.
We found that successful sustainability leadership depends on 4 priorities:
Commitment: According to surveyed executives, the #1 leadership hurdle in developing a post-pandemic workforce is fostering a culture rooted in empathy, adaptability, and innovation. Leaders are embracing sustainability and purpose as a corporate imperative, embedded within their organizations' business strategies and value propositions.
Deployment: One in three executives report that increasing sustainable operations is one of their most important business priorities. Tapping digital technologies and data insights can help align operational improvements with better sustainability outcomes.
Collaboration: Platform-enabled ecosystems can facilitate open innovation focused on building a more sustainable future. Recognizing the need to support such synergy, 65% of executives say their organization will leverage digital command centers to enable ecosystem collaboration within the next 3 years.
Transformation: According to 60% of executives, customers and citizens will access and consume their products and services remotely over the next 3 years. To meet societal and business needs, transformation itself must be an ongoing, sustainable practice—not simply a step, action, or plan.
The Virtual Enterprise brings these priorities to life. We identified 3 key insights that serve as a foundation for responding to and advancing the urgency of sustainability and impact. They are focused on:
Stakeholder motivation
Business and societal outcomes
Open innovation
Download the report to see how the Virtual Enterprise can help your organization open up to new economic opportunities, solve complex environmental challenges, and provide purpose to customers and employees.
---
---
---
Meet the authors
Sanjay Tugnait, Chief Market Maker and Global Managing Partner, Sustainability Practice, IBM Consulting
Sheri Hinish, Global Executive Partner, Enterprise Sustainability, Sustainable Supply Chain, IBM Consulting
Manish Chawla, General Manager, Global Industrial Sector and Chemical, Petroleum, and Industrial Products Industries, IBM Consulting
---
Download report translations
---
Originally published 11 November 2021
---