---
Extended Intelligent Workflows power business transformation by optimizing operational efficiency, speed, and agility.
With agility at the heart of the Virtual Enterprise, Extended Intelligent Workflows have become the mechanism for transmitting experiences, information, and relationships across ecosystems to drive better, faster experimentation and decision making and to unlock exponential value.
Leading organizations are shaped by a goal of speed and efficiency. They are building digital Intelligent Workflows that are streamlined and optimized, leveraging protected data for seamless any-to-any and end-to-end frictionless connectivity. AI-powered and automated, these workflows balance the continuity of operations—operational effectiveness— in response to surges in customer demand.
Executives say intelligent automation improves customer experience, efficiency, and decision making.
They are embedded with predictive intelligence, such as dynamic customer response, preventative maintenance, and real-time inventory status. This automation enables digitally supported decisions for rapid identification, prioritization, and recommendations for next-best actions.
Transforming work, ecosystem thinking, and virtualization
The benefits of intelligent automation are transformational. Executives from a recent IBM Institute for Business Value survey say intelligent automation affords their organizations numerous advantages, with improved customer experience at the top of the list, followed closely by efficiency gains (reduced operational costs) and improved decision making. Additional benefits include improved reliability and reduced risks—often undervalued in pre-pandemic days but now more broadly apparent as companies address workforce dislocation, supply chain challenges, and customer service disruptions.
What's more, reinvention of Extended Intelligent Workflows can move beyond that of the virtual knowledge worker into the world of engineering and manufacturing. IoT and sensing bring information from the edge of the enterprise—or within the heart of the machines that make things—into the workflow for further automation, insight, and prediction.
The Virtual Enterprise relies on Extended Intelligent Workflows to facilitate hyper- interconnectivity.
When physical meets digital, automation and Intelligent Workflows can drive velocity with low- or no-touch operations in customer service, manufacturing, distribution, transportation, and field services. Computer modeling yields new discoveries, supported by unprecedented advances in sensor technology, AI, edge access, and even quantum processing.
These benefits rely on secure yet flexible connectivity and interoperability: machines that connect readily to other machines and to a full range of exponential technologies. AI and machine learning algorithms have become more efficient, making it easier to program these devices, devise innovative use cases, and reduce energy requirements.
Extended Intelligent Workflows integrate virtual components and ecosystems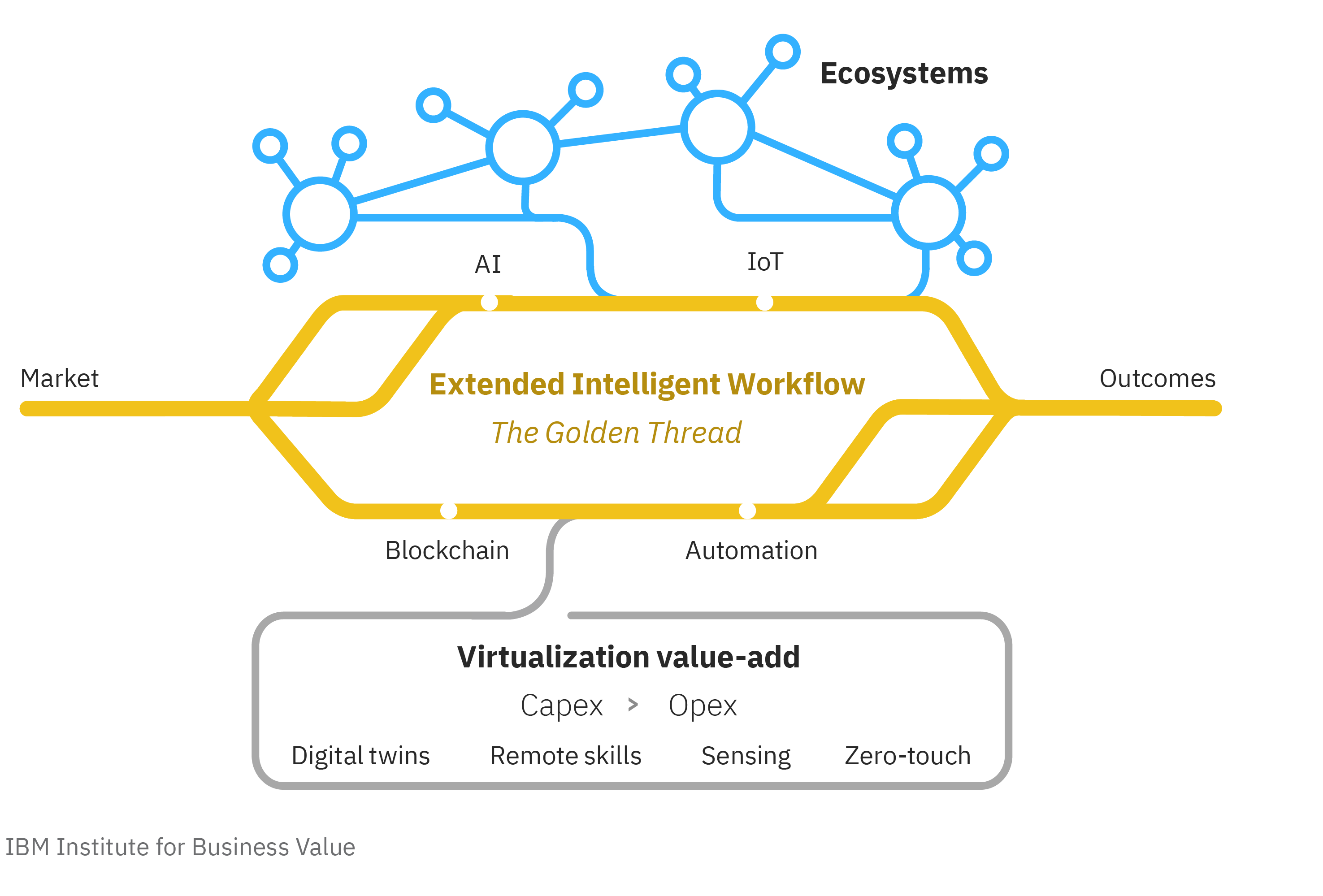 What differentiates workflow leaders
What does workflow leadership look like? Organizations that have embraced Extended Intelligent Workflows distinguish themselves through new insights, flexible operations, and constant learning that yields significant value. Analysis of customer data might prompt the reshaping of a service proposition. Continual monitoring of activities and performance within an operational process can expose areas for ongoing improvement and prompt automated or human intervention. As AI and machine learning are applied to huge new universes of data, the potential for pattern recognition and workflow optimization is enormous.
Overall, successful workflow leadership depends on four priorities, according to IBV research:
Openness: Just 36% of executives say they outperform competitors or similar organizations in openness and transparency; yet over 50% report that transparency and visibility will be a critical area of advantage over the next 3 years.
Innovation: 42% of executives agree that over the next 3 years, most of their organization's innovation will be based on an open approach that involves partnering with customers and ecosystem participants.
Agility: Almost half of executives cite improved operational agility as an important business priority and say that over the next 3 years, agile operating models will compliment fluid work teams.
Automation: 78% of executives whose organizations are scaling automation say that intelligent machine decisions will advance from routine to complex or mission-critical decisions in the next 3 years.
Download the report to see how the Virtual Enterprise brings these priorities to life by enabling new ways of working, ecosystem thinking, and virtualization.
---
---
---
Meet the authors
Jonathan Wright, Managing Partner and Service Line Leader, IBM
Paul Papas, Global Managing Partner, Business Transformation Services, IBM Consulting
Mie Matsuo, Managing Partner, Business Transformation Services Japan, IBM Consulting
---
---