Insurance products and services have been tested on an unprecedented scale by the COVID-19 pandemic. In October 2020, Lloyd's of London anticipated that insurers may have to pay out as much as $100 billion on pandemic-related claims. And this might be an underestimation. Courts have since ruled many contract exclusions invalid and reinstated claims, especially those made by small businesses.
As the pandemic unfolded, customers were reminded about what is both vulnerable and precious to them, from health to wealth, property, business, and beyond. With customers emerging from this experience more attuned to their real insurance needs, demand for next-generation insurance, such as on-demand or usage-based products and parametric insurance, is rising. Customers like paying only for what they use, or only when an insured item is in use, by "switching" protection on or off as needed.
71% of insurers have data-centric products and services in their portfolios. However, many still lack a cohesive data strategy.
Meanwhile, insurers have judiciously reviewed their portfolios to revise or withdraw products or services that cease to be viable. Some insurers have capitalized on the situation by rapidly launching niche products, such as coverage for working from home, private vehicles making deliveries, and shuttered businesses. Many insurers began offering support for customers and communities, ranging from premium rebates and free or enhanced coverage for health workers to funding the development of infectious disease treatments. They acted quickly and sought creative ways to help customers during the times that matter most.
Although the immediate COVID-19 crisis has diverted priority and capacity away from product development, insurers can begin positioning themselves now for improved customer engagement in the future.
Disrupting the status quo with data
Simpler insurance products and clear coverage descriptions can help build customers' trust and understanding. Seeking personalized coverage, customers are inviting insurers to respond with a new generation of insurance centered on connecting with customers and limiting losses. Technological advances related to sensor capabilities, analytic insights, and data accessibility make it feasible to put data at the heart of products and services.
While data-dependent types of insurance like on-demand, usage-based, and parametric are not new, the emergence of new types of data and technologies has made them much more viable and relevant. For example, on-demand insurance lends itself to personalization and convenience, with customers purchasing coverage online whenever or wherever they choose and for specific possessions during specific timeframes. While usage-based coverage was a familiar option for travel, the evolution of telematics has made it an appealing alternative for automotive. And advances in data mining, machinery diagnostics, and monitoring systems enabled by AI have created new opportunities for parametric insurance, which is based on predefined triggers and predetermined indemnity.
While 95% of insurers rely on third-party risk and customer data, only 45% are harnessing the power of real-time data.
Furthermore, data-centric products and services are a gateway to new business models based on insurance platforms and extended ecosystems. For insurers, platform involvement can afford new capabilities and the ability to reach markets they couldn't otherwise easily reach. For customers, platforms can provide access to products typically sold "as-a-service," which tend to be more personalized and readily available through digital channels than traditional coverage products.
Platform perks: Insurers developing platform offerings excel in new product profitability.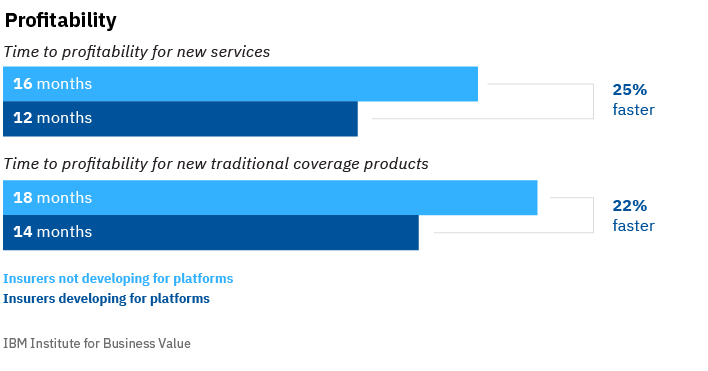 How is the increasing shift toward platforms influencing the industry, particularly product and service development? Prior IBM Institute for Business Value (IBV) research established that insurance executives are strong proponents of a "build once for shared benefit" philosophy. However, we wanted to dive deeper to uncover whether data and platforms are visibly changing portfolios, improving product and service development outcomes, and unlocking new possibilities. For answers, we surveyed nearly 600 insurance executives about platform participation, specifically its impact on development cost, speed, and effectiveness.
Read the full report to see how insurance companies can use data to personalize their products and services, as well as how platforms can drive new revenue and faster profitability.
---
---
---
Meet the authors
Christian Bieck, Europe Leader & Global Research Leader, Insurance, IBM Institute for Business Value
Andrew Ellis, Global Solutions Leader, IBM Global Insurance Industry
Wendy Newlove, Senior Managing Consultant, IBM Institute for Business Value
---
Download report translations
---
Originally published 11 March 2021