2020 was a watershed year for women. The number of female CEOs in the Fortune 500 hit an all-time high. Billie Eilish became the first woman to sweep the Grammys. And Americans voted a record number of women into the US Congress —which will be led by the country's first female Vice President, Kamala Harris.

Even amidst the chaos of COVID-19, women broke records and made history. But, in many ways, these are the exceptions that prove the rule. In 2020, women in the US saw massive job losses—with women accounting for all of the 140,000 net job losses in the US in December. In total, more than 5 million women left the US labor force in 2020, putting the female participation rate at 57%—the lowest it's been since 1998, according to the National Women's Law Center.
More than 5 million women left the US labor force in 2020—and female participation in the workforce is lower than it's been since 1998.

Add the pandemic impact to historical disinterest in advancing gender equity, and you reach the conclusion highlighted in our recent study on women and leadership: the pipeline of qualified women is shrinking—fast.

After so many decades of struggle and progress, why are women backsliding? And why do times of crisis continue to hit them harder than their male peers?
To better understand the experiences of women in the workforce, the IBM Institute for Business Value (IBV) interviewed nearly 7,000 people in August 2020 and January 2021, including equal numbers of men and women in the sample. No respondents self-identified as non-binary.
What we found was less than empowering. Most women (53%) believe women are less successful than the general US population, and 58% believe they have had to work harder to succeed due to one or more aspects of their identity. Nearly 7 in 10 say they've been discriminated against because of their gender.
Room to grow: Most women feel that gender bias and discrimination has held them back.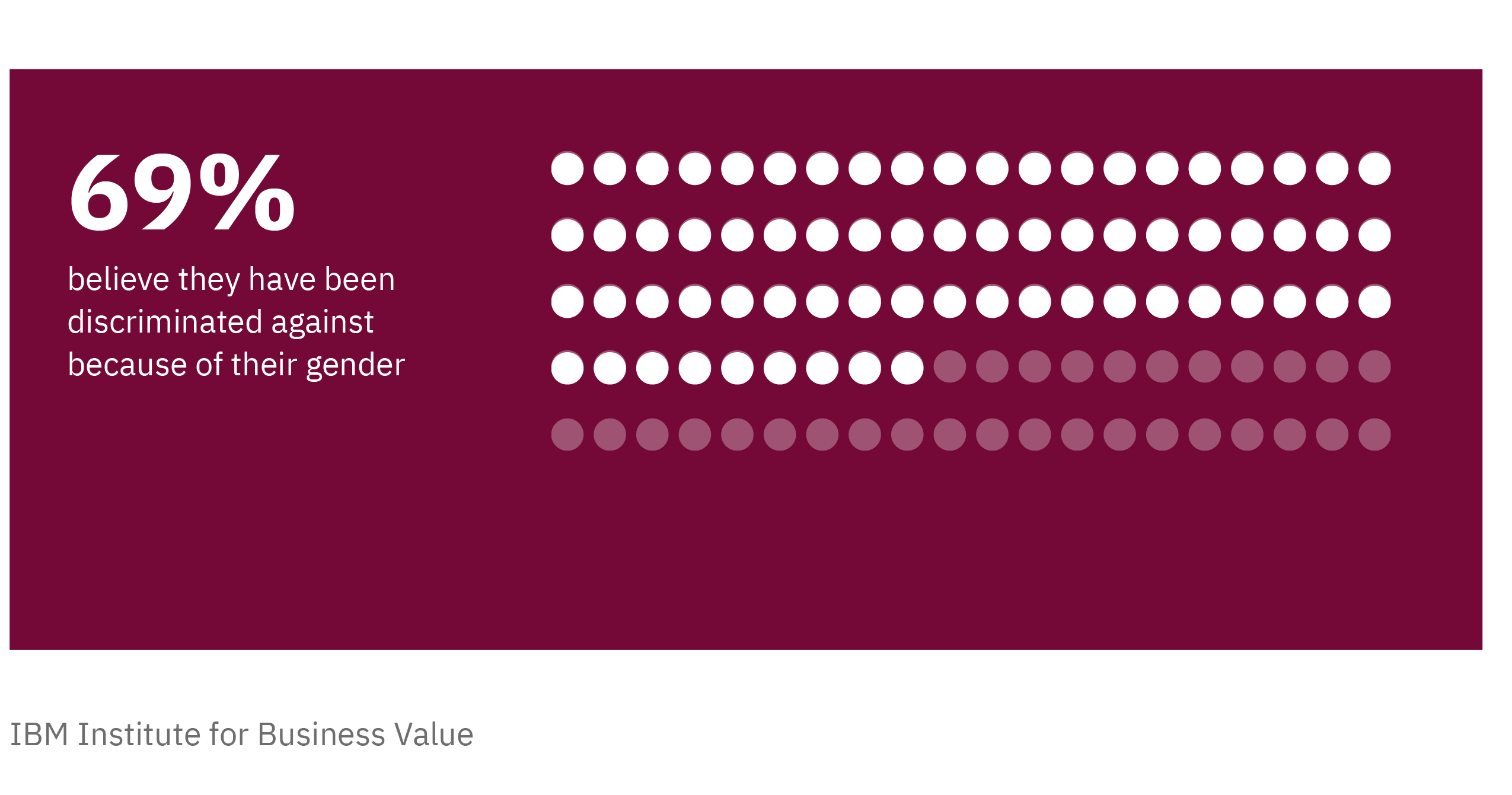 From unconscious bias to outright misogyny, women have to overcome an exhausting set of unique obstacles on their road to success. And those living outside the gender binary face unique challenges all their own. But each barred door can be unlocked—as long as someone in power is willing to turn the key.
What would it look like if those doors were opened? To find out, IBM hosted a Women's Leadership Jam, in collaboration with the National Organization for Women–NYC, to explore the barriers to gender equality in the workplace.
More than 3,000 business leaders, subject matter experts, and thought leaders—women and allies—came together to discuss obstacles to women's advancement and how organizations can remove them. Jam sessions covered topics ranging from how technology can help eliminate gender biases to allyship and the role men play.
"It's critical that women see other women in their organizationsin key leadership positions."
What Jammers said was powerful. And the solutions they offered weren't as elusive as one might think. Pairing the results of the IBV gender discrimination survey with comments from Jam participants, we've identified 6 key actions organizations can take to level the playing field for women and create a more equal workplace for all.
Help women maintain work-life balance
Understand the impact of gender bias
Empower women of color
Train men to be allies
Use technology to reduce discrimination
Make STEM careers more accessible and inclusive
Read the full report to learn how organizations can make more meaningful progress toward advancing gender quality in the workplace. And watch for additional gender diversity reports, focused the intersectional challenges women and non-binary people in different identity groups face, to be released later this year.
---
---
---
Meet the authors
Joanne Wright, Vice President, Enterprise Operations and Services, Finance and Operations, IBM
Cindy Anderson, Global Executive for Engagement and Eminence, IBM Institute for Business Value
---
Download report translations
---
Originally published 26 March 2021