Download Tech-savvy organizations are outperforming their peers during the pandemic

Download Each industry's unique mix of technologies

An uneven response to the COVID-19 pandemic has taught us that to operate effectively in the presence of an unanticipated crisis, organizations need to be agile, robust, and secure. They need to be able to seamlessly engage customers and employees in both physical and digital domains. However, current events have been challenging —even painful—as industries and enterprises react and adapt.
Which technologies make a difference between high performing and struggling businesses in this extraordinary period of crisis and change?
Challenges also present opportunities. Recognizing the necessity and opportunity to transform, 60 percent of executives surveyed by the IBM Institute for Business Value (IBV) indicated that they are using this time to dramatically accelerate their company's digital transformation. And fully two-thirds said that the pandemic has allowed them to advance specific transformation initiatives that previously had encountered resistance.
Digital transformation is really all about leveraging technologies to re-invent and improve your business. We know technology is now a core strategic foundation for most enterprises and can be a key determinant of organizational survival and success. So, we asked ourselves how much of this is proving to be true during the pandemic. Which technologies make a difference between high performing and struggling businesses in this extraordinary period of crisis and change?
The technologies making the greatest impact on revenues have shifted dramatically during the pandemic.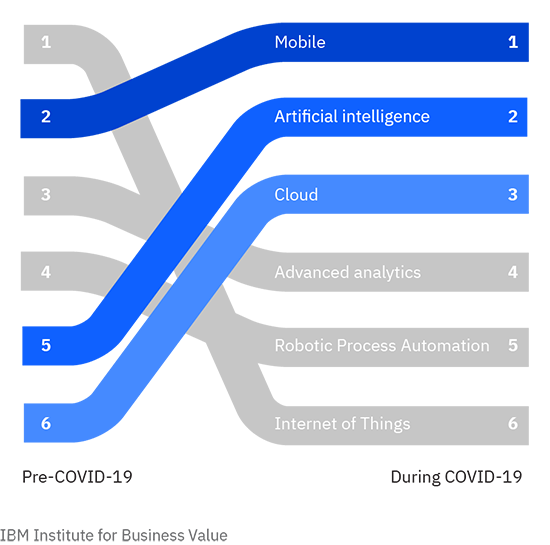 We used our extensive research data combined with the latest financial performance (H1 2020) to develop a new ground-breaking approach and answer the following questions:
Are some industries more sensitive to technology adoption than others?
Are there some key technologies that provide greater impact on performance? Do different technologies play different roles in different industries?
How has the mix of differentiating technologies in each industry changed during this time of crisis?
Does the impact of this technology mix vary by key business capabilities? What are the combinations that optimize performance returns?
Here are a some of the key take-aways from our analysis across 18 industries:
Technology adoption has become a far more important performance differentiator during the COVID-19 disruption. Tech-savvy organizations outperformed their peers by 6 percentage points on average across the 12 industries where technology acted as a performance differentiator.
The "technology mix" recipe for success is changing. Increasingly, cloud and AI are becoming performance differentiators.
Each industry has a unique "fingerprint." Technologies that benefit one industry are not always differentiating for another.
Explore the full report to learn which combination of technologies is making the biggest impact on revenues in your industry.
---
---
---
Meet the authors
Jean-Stéphane Payraudeau, Managing Partner, Offering Management, Assets, IBV, and Industry CoCs IBM Consulting
Anthony Marshall, Senior Research Director, IBM Institute for Business Value
Jacob Dencik, Ph.D, Global Economic Research Leader, IBM Institute for Business Value
---
Download report translations
---
Originally published 09 November 2020