Changing market dynamics are compelling industrial products companies to take another look at every aspect of their business. Empowered customers have increasingly high expectations of their supply base. According to a worldwide survey of over 6,700 buyers, nearly 70 percent of business buyers expect an "Amazon-like" buying experience from their business vendors. Customers demand product customization and rapid delivery turnarounds for the products they've ordered. In fact, 72 percent of business buyers expect vendors to personalize engagement to their needs.
While the proliferation of connected devices and Internet of Things (IoT) technologies has enabled automation, remote monitoring, and even new partnerships, it also has created overwhelming amounts of raw data. For example, one production line at a modern plant might have 2,000 different pieces of equipment. Each piece could have 100 to 200 sensors that collect data continuously, generating 2,200 terabytes of data each month. Insights based on the aggregation, classification, and analysis of this data through AI and predictive analytics could increase productivity and reveal opportunities for data monetization.
72 percent of industrial products executives surveyed say digital initiatives will be critical to the success of their organization in the next three years.
However, analysis of a Gartner Group survey measuring businesses' current and intended technology investments revealed that construction and manufacturing/natural resources organizations have the largest gaps between expected and actual spend on emerging technologies across all industries. While construction and manufacturing/natural resources industries claim to be interested in digital technologies, their actual investments fall short of intentions.
The return on digital investments
This environment requires organizations to reshape their strategies and continually adjust how they compete and operate. Scaling digital transformation is a necessity. To understand how industrial products companies are faring with digital transformation, the IBM Institute for Business Value and Oxford Economics surveyed 600 industrial products executives in 18 countries about their organizations' digital strategies and/or enterprise initiatives.
Forty-one percent of the industrial products executives surveyed tell us digital initiatives are important to the success of their organization today. And that number is expected to increase to nearly three-quarters in just three years. Digital transformation can help these organizations address their most important business objectives: reducing operational costs (cited by 64 percent) and growing market share organically (stated by 61 percent).
For an average USD 5 billion company with a 10% margin, investments in digital technologies produce an additional USD 425 million in profit.
In fact, existing digital investments have generated value for industrial products organizations, with averages of 15 percent return on investment, 5 percent expense reduction, 4 percent increase in revenues, and a 62-day reduction in time to market for new products/services. For an average USD 5 billion company with a 10 percent margin, this translates to an additional USD 425 million in profit. These benefits clearly point to the essential nature of digital transformation in helping organizations address their most important priorities.
As part of our research, we identified a small group of industrial products "frontrunners" who rate their organizations as very effective at addressing their most important business objectives. Eighty-eight percent of frontrunners report having outperformed their competitors in revenue growth over the last three years versus 55 percent of other respondents. For profitability, 88 percent of frontrunners tell us they outperformed the competition compared to 52 percent of others.
Industry frontrunners have seen significant results from their digital investments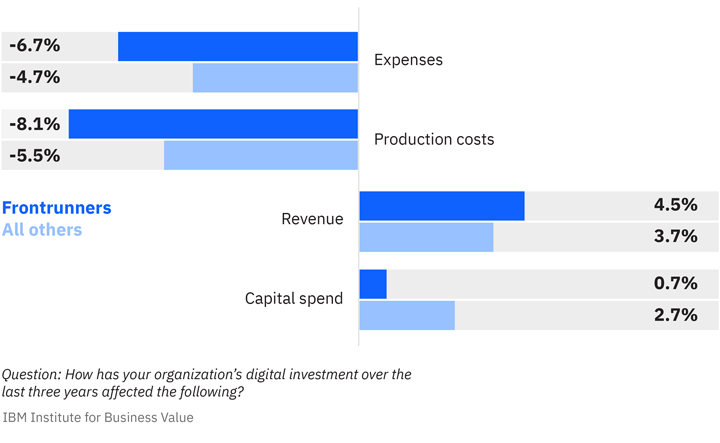 Learn what separates frontrunners from their peers—and where your organization should invest to gain the competitive advantage that comes with digital transformation at scale.
---
---
---
Meet the authors
Gaurav Garg, Business Development Executive and Associate Partner, IBM Consulting
Wilco Kaijim, Executive Partner, Global Industrial Products Engineering, Construction, and Operations
Spencer Lin, Global CFO Lead for the IBM Institute for Business Value
Pritam Pritu, CP&IP Center of Competence, IBM
---
Download report translations
---
Originally published 21 September 2020