IBM 5G and edge computing
Executive
summary
5G and edge computing are on the rise
The growing number of smart devices, the need for faster processing and the increased pressure on networks drive the edge computing market.
Edge computing, combined with 5G, creates opportunities to enhance digital experiences, improve performance, support data security and enable continuous operations in every industry. Edge computing brings computation and data storage closer to where data is created by people, places and things.
Gartner estimates that by 2025, 75 percent of data will be processed outside the traditional data center or cloud.1
Forward-looking companies want to unlock the potential of untapped data created by the growth of connected devices to seize new business opportunities, increase operational efficiency and improve customer experiences.
Edge computing can help address Industry 4.0 challenges and enable connected experiences.
Imagine that you're a manufacturer and you're trying to deal with the potential cost of outages in your production line—costs that might occur if any of your equipment goes down and stops the production process. Or imagine that you are an automobile manufacturer trying to engage your clients with a better driving experience. These industry examples can be enhanced and extended using edge computing.
In the past, the promise of cloud and AI was to automate and speed innovation by deriving actionable insights from data. However, the scale and complexity of data created by connected devices may strain network and infrastructure capabilities.
IDC predicts that by 2023, half of the newly deployed on-premises infrastructure will be in critical edge locations rather than corporate data centers, up from less than 10% today.2
Edge computing, combined with 5G, creates opportunities for new products, platforms and experiences in every industry
By leveraging the computational capacity of edge devices, gateways and networks, you can continue to take advantage of the principles of dynamic allocation of resources and continuous delivery that are inherent to cloud computing.
With edge computing, today's businesses have the potential to virtualize the cloud beyond the four walls of the data center. Workloads created in the cloud, including some of the more modern forms of AI and analytics, can now be migrated out toward the edge. Where appropriate, data generated at the edge can be cleansed and optimized and brought back to the cloud.
Edge computing enables:
Better data control and lower costs by minimizing data transport to central hubs and reducing vulnerabilities
Faster insights and actions by tapping into more sources of data and processing that data at the edge
Continuous operations by enabling systems that run autonomously, even when disconnected to reduce disruption and lower costs
IBM has a view of edge computing that spans many industries and multiple tiers, and includes open technologies and standards like Docker and Kubernetes.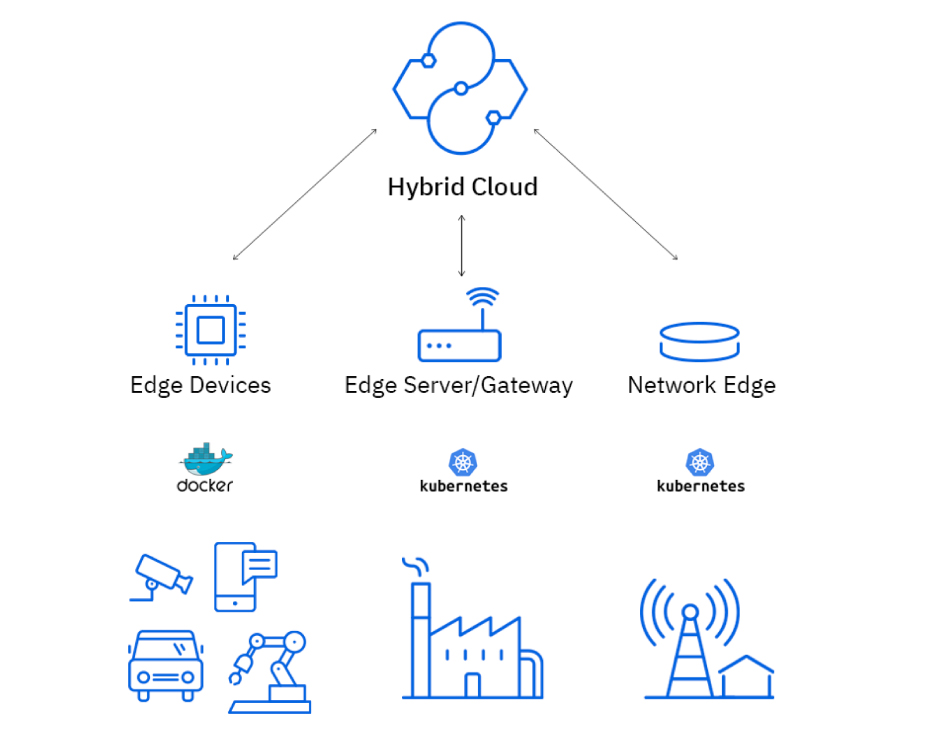 The edge computing platform from IBM spans private cloud and enterprise environments and network compute spaces as well as on-premises gateways, controllers and servers, and intelligent devices such as robots, connected vehicles or other products.
Centrally, hyper-scale public clouds, hybrid clouds, colocated managed data centers and traditional enterprise IT data centers will continue to serve as aggregation points for data, analytics and back-end data processing.
Public, private and content-delivery networks are transforming from simple pipes to higher-value hosting environments for applications—a form of edge network cloud.
Edge computing risks and responsibilities
Enterprises with edge environments must deal with the issues of massive scale, variability and rate of change
Edge computing breaks down the neat physical boundaries of the cloud data center—forcing us to think about issues such as security, scale, management, ownership and compliance. More importantly, it multiplies the scaling issues of cloud-based management techniques.
Edge networks increase the number of compute nodes by an order of magnitude. Edge gateways increase that by another order of magnitude and edge devices increase the number even more. If DevOps is critical to managing a hyper-scale cloud infrastructure, then zero-ops (that is, operations without any human intervention) is critical to managing the massive scale that edge computing represents.
At that scale, change is constant and explosive. Networks are being reconfigured to work around congestion on a continuous basis. Edge gateways are being updated with new features and processes. Edge devices are being moved around, changing ownership and being repurposed or reprioritized. This level of churn is practically business as usual. Moreover, intelligent equipment, or edge devices, are often shared, so a user cannot be expected to manage the compute available on them.
What's involved in edge computing?
It must be possible to deploy, update, monitor and recover edge compute space without human intervention
Edge management processes must be fully automated, so enterprises can make decisions on their own about what work needs to be placed where, and recognize and recover from changing conditions without intervention.
The system must have a deep awareness of the nature, location and purpose of different devices with different capabilities and different uses—and be able to use that awareness to make informed, policy-driven decisions.
These are all issues that need to be considered and addressed to enable the other advantages of edge computing.
Terms and trends:
Hybrid cloud computing:

Traditional hyper-scale, public clouds—such as IBM Cloud® and other cloud offerings from providers like Microsoft, Amazon and Google—as well as private clouds deployed in data centers on-premises and off-premises.

5G network:

During the transition to 5G, many public network providers are expanding their infrastructures to include general-purpose computing services. The edge network itself is potentially multitiered and composed of regional data centers, central offices and hub micro-data centers. Telcos are transforming these tiers in their core network to host application workloads using cloud technologies within the network edge.

Edge servers:

Servers, gateways and controllers acting as edge servers are often deployed in factories, warehouses, hotels and retail stores to provide local compute capacity for operations. These resources may or may not be clustered, but still support critical business processes.

Edge devices:

The number of devices that contain enough computational capacity to do work is growing rapidly. These devices commonly have sufficient CPU power, RAM and local storage to run a Linux® operating system.

IoT devices:

Most traditional IoT devices are closed, fixed-function devices. They are typically integrated with sensors for collecting data that is transmitted upstream to other aggregation points—traditionally the cloud.

Mobile devices:

Mobile devices play an important role in edge networks. They are distinct from other edge devices because they typically belong to an individual who assumes personal responsibility for them. Mobile devices that run iOS or Android operating systems may refuse to run container software that was not acquired through their app stores.
Need a primer? Watch the video, What is edge computing? (10:39)
Extend cloud computing to the edge
Act on insights closer to where data is created
Edge and telco network cloud solutions from IBM run on Red Hat® OpenShift®, the leading open hybrid multicloud platform that runs anywhere—from any data center to multiple clouds to the edge.
With IBM you can:
Employ autonomous management to orchestrate the scale, variability and rate of change in edge environments—running anywhere.
Implement edge-enabled industry solutions that are built on IBM expertise.
Modernize networks so that telcos can deliver new services at the edge.
In addition, IBM offers extensive industry expertise and a robust ecosystem of telco operators, networking and IT providers—including equipment manufacturers, independent software vendors and systems integrators.
The convergence of 5G and edge computing will drive business in every industry and change how work gets done and how businesses operate. The adoption of an open hybrid multicloud architecture will help ensure you can deliver new connected experiences with data regardless of whether it's running in a centralized on-premises, public or private cloud data center to the network core out to the edge. IBM, our IBM Business Partners and Red Hat can help you deliver platform and edge-enabled solutions.