Why your organization needs IBM DevOps
Experience continuous delivery at the InterConnect Concourse DevOps zone
Simplify and scale your software delivery pipeline. Integrate your favorite tools into an open, scalable DevOps toolchain. Automate build, test and deployment, and add availability monitoring and security testing for your apps.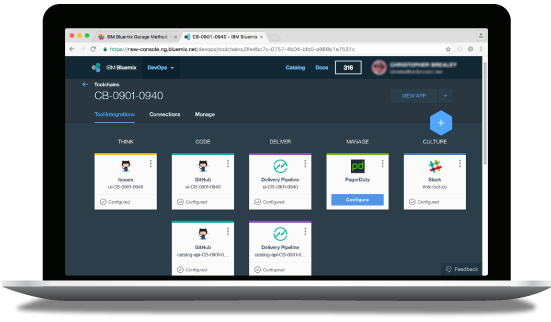 Breaking down barriers to DevOps
Silos get in the way of DevOps and create bottlenecks. With flexible and open tools for continuous delivery, software development and testing and application management, your team can relieve bottlenecks, automate manual work, manage applications and innovate, without disrupting your business.
The method to the madness of DevOps
IBM Bluemix Garage Method breaks down DevOps into everything your development, testing and operations teams need. It includes how-to guides on culture, as well as best DevOps practices, tools, self-guided or hands-on training—even sample code and architectures for developers.
IBM's method for DevOps can turn your organization from slow, siloed teams to a self-managing, solution-oriented, bottleneck-free, go-fast team.
Solutions and products
Continuously innovate with IBM DevOps tools and methodologies.
IT operations management
Monitor your IT operations to rapidly identify, isolate and resolve problems before they impact your business services.
Methodologies
Just getting started or growing your DevOps? IBM's methodologies can help.
Software development and testing
Develop quality software together, faster.
Nationwide Insurance gets to market faster with IBM DevOps
Nationwide needed to respond to changing market conditions and support new channels for customer interactions. The results were so positive that DevOps ensured a new way to work.
"Collaboration has become an expected part of our culture and is built into our office space and practices."

—Steve Farley, Vice President, Nationwide Insurance
Let IBM help reinvent your DevOps environment and your business
Visit to learn more: