Since the beginning of the first Industrial Revolution in the late 18th century, industrial machinery manufacturing has seen massive transformations. From the earliest days of Industry 1.0 there has been a rapid and steep technological ascent into the modern industrial era—Industry 4.0. However, many firms today have struggled to keep up with the accelerated pace of change. Demand shifts, low-volume orders, long-lead times, and specialized configurations have made it much more complicated to manage the flow of components, equipment, products, and services—also known as the supply chain.
Industry 4.0 demands digital supply chains
Today, many industrial-machinery supply chains are still largely analog, with processes that are mainly manual with only limited automation. Without real-time supply-chain coordination and execution, these companies have limited ability to forecast when manufacturing will be executed and schedule when components will be needed.
A digital supply chain is data-driven and digitally executed to create transparency, enable advanced planning, predict demand patterns, and leverage asset availability. It's predicated on real-time access to data across an enterprise and its collaboration partners and the use of advanced technologies. It integrates suppliers, manufacturers, and customers to create an end-to-end view.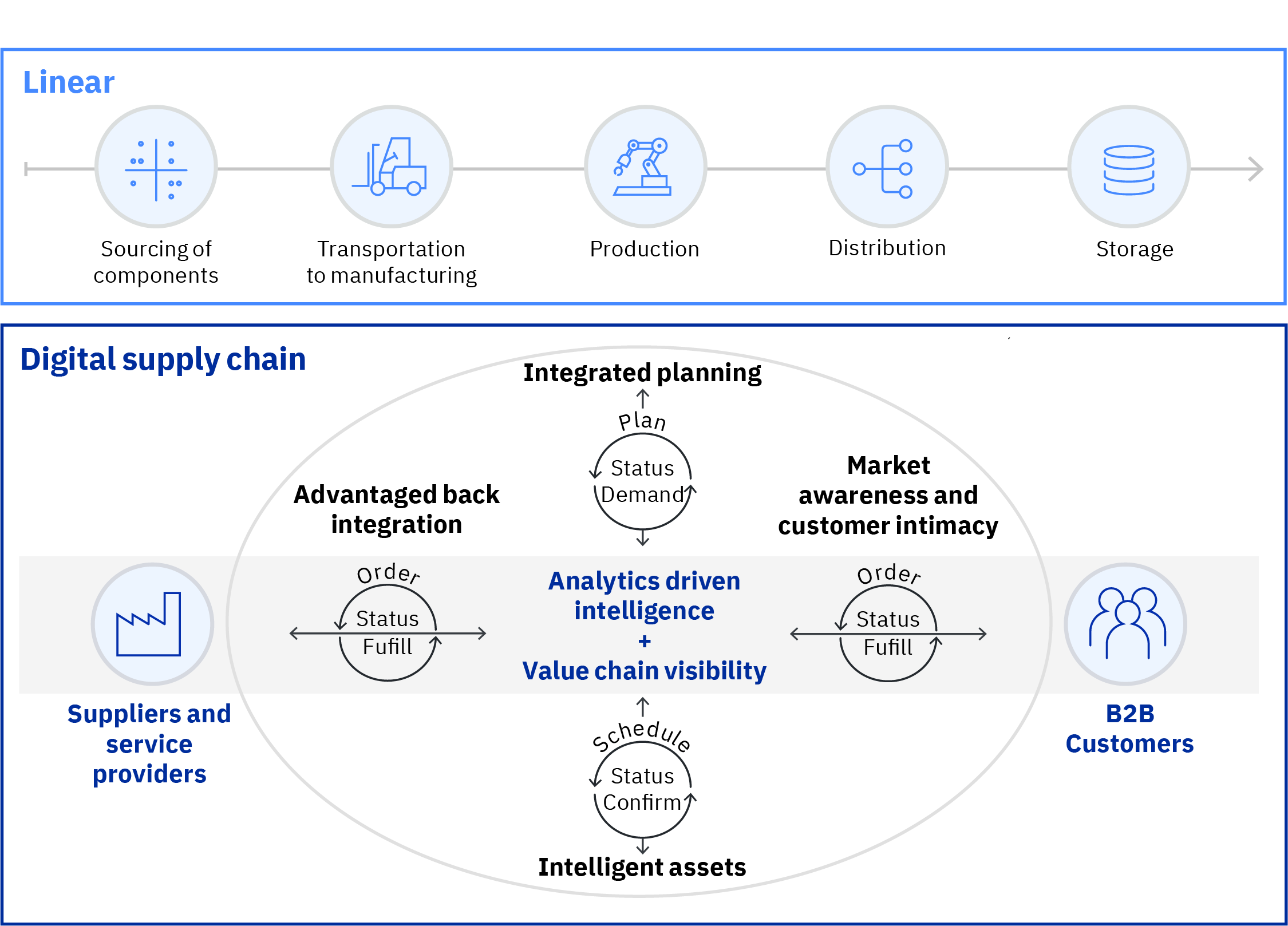 Successful industrial machinery companies will need to embrace advanced supply-chain technologies to shift to a digital model from the current linear one. While the linear model has discrete, sequential, and event-driven processes, a digital model can deliver end-to-end, orchestrated, and insight-driven processes.
Supply chains are falling short of expectations
With input from 250 industrial-machinery executives worldwide, we explore how leading organizations have developed digital supply chains through proper management, technology investments, partnerships, and talent.
We found large gaps exist between the importance that companies attribute to advancing imperatives—such as improving speed of response to changing requirements, determining unplanned event scenarios, and improving demand forecasting—and their current proficiency at acting on these requirements. Across the 14 requirements we identified for industrial machinery supply chains, the average effectiveness shortfall is 12 percent.
Download the report to read more about how industry leaders are harnessing the power of the digital supply chain to improve transparency, efficiency, and profitability.
---
---
---
Meet the authors
Gaurav Garg, Business Development Executive and Associate Partner, IBM Consulting
Spencer Lin, Global CFO Lead for the IBM Institute for Business Value
Jose Favilla, Director, Global Industrial Sector, and Industry 4.0 Leader, IBM Technology
---
Download report translations
---
Originally published 10 February 2020