News
Abstract
If you have questions about the Performance in IBM Navigator for i, check this list before you report your issue to support. These steps could solve the problem fairly quickly!

updated 9/8/2021
Content
---
General Problem-Solving Tips:
Verify you have the right Authority to properly use PDI

Specific problems that occur without proper authority are:
---
Expected Collections are not shown
If you are having trouble because collections that you expect to see on a system, but they are not listed in PDI, check the following:
1) Verify you have the right Authority and the user profile is in authorization lists to properly use PDI
2) Verify that you can see the collections in the Manage Collections list
If expected collects are not shown,  Rebuild the Collection Table.
3) Verify the configuration settings are doing what you expect:
A) Library is the library you are expecting and the same one selected in the PDI Collection selection Library field.
B) Database files are created during collection.  This setting creates the Collection Services database files (Type *CSFILE) required by PDI for viewing data.  Without this configuration setting, only the *MGTCOL binary objects are available until the database files are manually generated.  The database files are created from the *MGTCOL binary objects.
For further information, check this page on Collection Services Configuration.
C) Check that the Data Retention for Standard data is what you expect.  If set to 1 day for example, you will not be able to see any collections remaining in the configured library after they are 1 day old.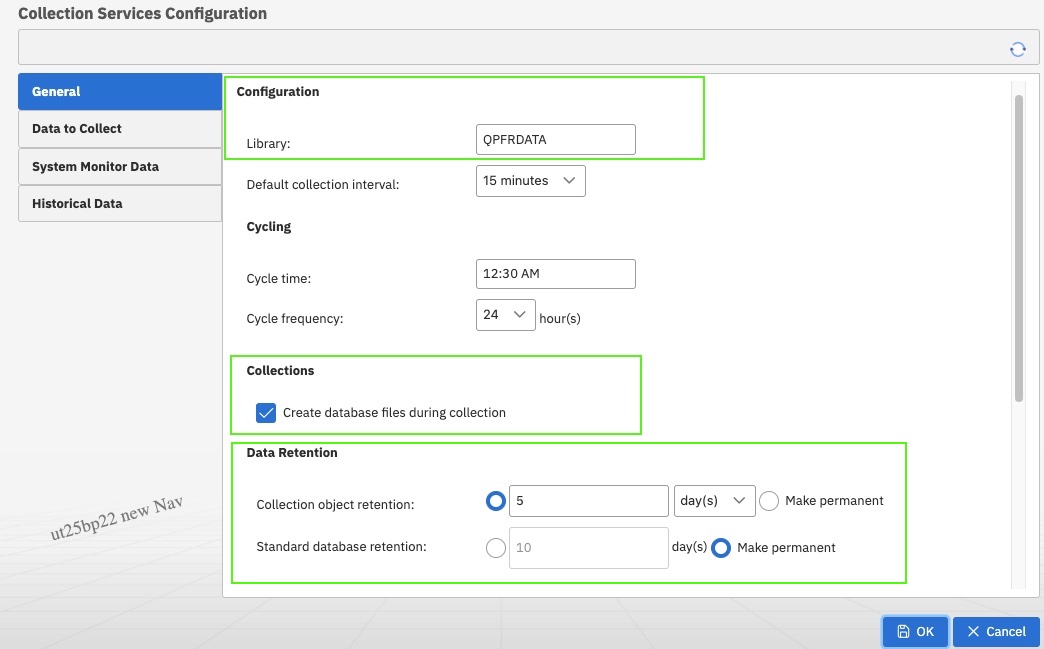 D) Check that Collection Services is Actively running (Status = "Active").
Collection Services Status:
Log files for Performance Data Investigator are found with the Navigator for i here:
/QIBM/UserData/OS/AdminInst/admin1/wlp/usr/servers/admin1/logs/messages.log
All of the pertinent log files can be gathered and sent in to service with the QMGTOOLS HTTP Admin collector:
---
[{"Type":"MASTER","Line of Business":{"code":"LOB57","label":"Power"},"Business Unit":{"code":"BU058","label":"IBM Infrastructure w\/TPS"},"Product":{"code":"SWG60","label":"IBM i"},"ARM Category":[{"code":"a8m0z0000000CH1AAM","label":"IBM Navigator for i"}],"Platform":[{"code":"PF012","label":"IBM i"}],"Version":"7.3.0;7.4.0;and future releases"}]
Document Information
Modified date:
08 September 2021