Passport Advantage Online provides secure sign in access to Site-specific Passport Advantage information and applications.
New to PAO? Take a tour
Tour Passport Advantage Online (03:05)
Passport Advantage Online (PAO) is your organization's private domain within IBM. Authorized users can sign in to download software, request media, set notification preferences, purchase new licenses, renew IBM Software Subscription and Support, manage entitlements, generate and view reports and manage account access, roles and privileges.
If you are an authorized Passport Advantage Online (PAO) user, sign in now to:
Download software, request media and set download and media preferences.
Subscribe to eNotifications – eNotifications are subscription-based e-mails that let you know when new releases of products matching your preferences are available for download. They can also be used to alert you when older versions of your software are approaching end of support.
Purchase new licenses and renew Software Subscription & Support and Term licenses
View and download order, migration and download history reports
View Proof of Entitlement (PoE) certificates
View entitlement inventory and allocations
Log, track and change deployed product entitlements
Manage contacts, user roles and access privileges
If you do not have access to your PAO Site, request access now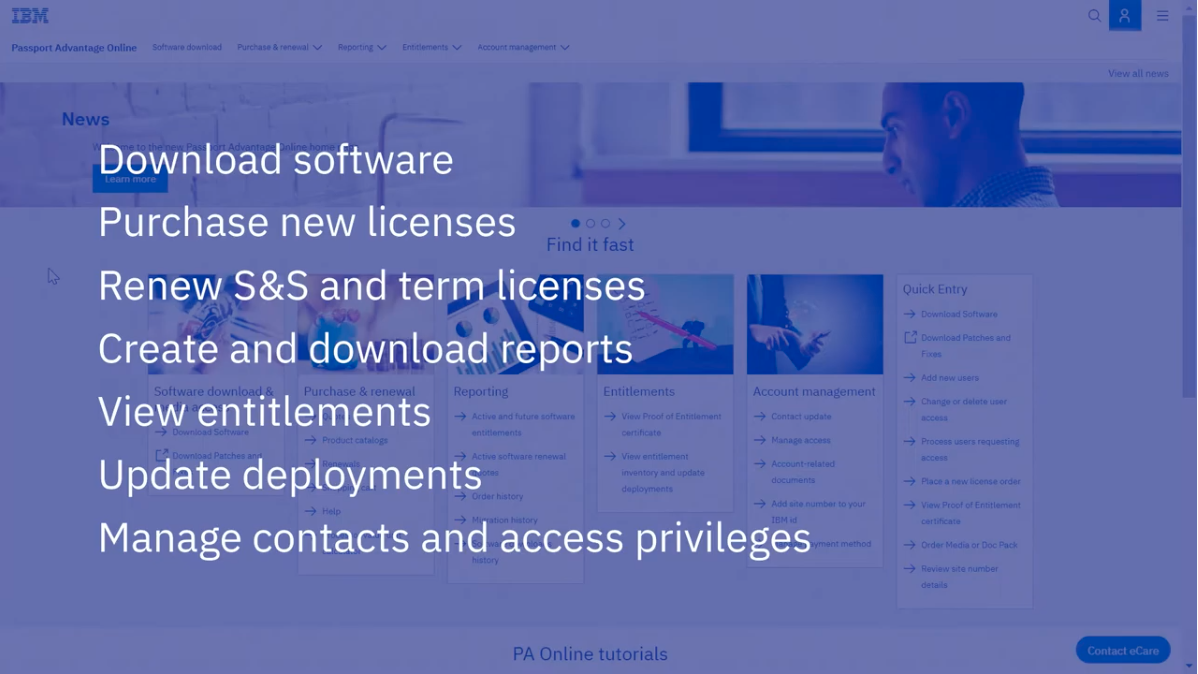 Learn how to request access now. (01:57)
Step-by-step instructions
Step 2
Enter your IBMid and password and click continue
Note: If you do not yet have an IBMid and password
Go to www.ibm.com/account
Click 'Log in to MyIBM'
On the Log in screen, click 'Create an IBMid' and fill in the required fields.
You will be notified when your IBM ID an PW are activated and you can return to Customer sign in to log in to complete your PAO access request.
Step 3
Complete a 'Self-nomination' form.
You'll be asked to enter
your Site number*
*If you do not know your Site number, reach out to your Sales organization for a copy of a recent Proof-of-Entitlement (PoE), invoice or sales order. All these documents should include your PAO Site number.
a Business Justification briefly explaining why you need access.
For example:
"I need to purchase software"
"I need to renew S&S"
"I need to download software"
"I need to generate reports or view proof of entitlements"
Your business justification helps your Site Primary Contact assign you the right role(s) and grant you the application privileges you need.
Roles
Applications
Privileges

All roles
Primary Contact (only one per Site)
Secondary Contact (up to 4)
User (unlimited)

All applications
Software download and media access / Purchase and renewal
Reporting (Software and service online access privileges)
Entitlement inventory and deployments
Contact update
Account-related documents

All privileges
None
Software download only
Software download and media access only
Software download, media access, quotes, product catalogs and license renewal
Step 4
Click SUBMIT
Your request for access will be forwarded to your PAO Primary Contact (sometime referred to as your Site admin) for processing and approval.
You will be notified when your request has been approved.
Need assistance? Contact your local eCustomer Care team