Eight new fellows join a distinguished tradition of
excellence and innovation
Program celebrates 50th anniversary
Ginni Rometty today marked the 50th anniversary of the IBM Fellows program by honoring eight new IBMers with the company's highest technical distinction.
Only 246 individuals have earned this designation in the company's history.  Eighty-five are active employees.  "As we have for half a century, IBM is today honoring its most outstanding technologists and their contributions to computing and society," said Rometty, IBM chairman, president and chief executive officer. "Like all IBM Fellows, members of the class of 2013 are recognized leaders in the global technical community. In 2013, this leadership will be focused on IBM growth markets, where each of this year's fellows will serve as an ambassador and resource to a different country."  These countries include Australia, Brazil, Egypt, Ethiopia, Kenya, Morocco, New Zealand, Nigeria and South Africa.
In the past, IBM Fellows, a group that includes five Nobel Prize winners, fostered some of the company's most stunning technical breakthroughs – from the Fortran computing language to the systems that helped put the first man on the moon to the Scanning Tunneling Microscope, the first instrument to image atoms.
In announcing the program 50 years ago, Thomas Watson Jr. said, "We want to recognize outstanding scientific, engineering, programming and systems people who have made a record over a long period of time for sustained achievement. "   The class of 2013 reflects Watson's vision. Together, they are adding to IBM's legacy of innovation leadership and laying the foundation for a smarter planet.  
Click on the photos below and meet the IBM Fellows, class of 2013.

50 years of IBM Fellows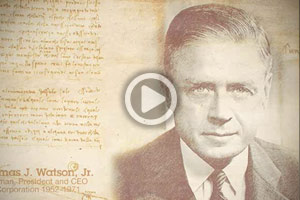 From its inception, the Fellows program has celebrated the "wild ducks" of innovation. Watch the video to learn more about the rich history.