Seven new IBM Fellows join a distinguished tradition of excellence and innovation
Ginni Rometty, IBM president and chief executive officer, has announced seven new IBM Fellows, the company's highest technical distinction.
Since the program's inception in 1963, only 238 individuals have earned this designation. Seventy-seven are active IBMers.
"Technology innovation is at the core of everything we do to help our clients make the world work better," said Ginni Rometty. "IBM's 2012 Fellows represent the very best of this culture of innovation and I'm honored to recognize their outstanding accomplishments."
In the past, IBM Fellows have provided the creative genius for some of the company's most storied technical breakthroughs—from the Fortran computing language to the world's first disk drive to the Scanning Tunneling Microscope to the Watson system. This year's class, credited with 273 patents collectively, represent the epitome of IBM technical eminence. They are driving technologies central to the smarter planet agenda, including real-time analytics, high-performance computing and intelligent storage.
Like IBM, the new Fellows represent an international and eclectic mix: a Ukranian émigré with a restless bone, a human calculator who learned his craft from Einstein's math mentor, the first Bengali to become Fellow and a man who made his mark outwitting the biggest cheaters in Sin City. But the through line running across all their remarkable stories is a commitment to tackling the world's biggest problems with bottomless ingenuity, invention and inspiration.
Click on their photos and meet the 2012 IBM Fellows.
Jeff Jonas
IBM Software Group, Information Management
Chief Scientist, Entity Analytics


Ruchir Puri
IBM Research
Manager, Logic & Physical Synthesis; Member, IBM Academy of Technology; IBM Master Inventor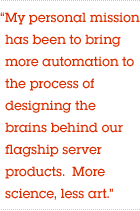 Balaram Sinharoy
IBM Systems & Technology Group, Technology Development
DE, POWER Processor
Hardware Architect: System on Chip (SOC)