What is big data?
Big Data is being generated at all times. Every digital process and social media exchange produces it. Systems, sensors and mobile devices transmit it. Much of this data is coming to us in an unstructured form, making it difficult to put into structured tables with rows and columns. To extract insights from this complex data, Big Data projects often rely on cutting edge analytics involving data science and machine learning. Computers running sophisticated algorithms can help enhance the veracity of information by sifting through the noise created by Big Data's massive volume, variety, and velocity.
Volume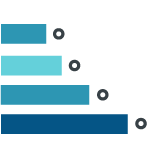 Scale of the data
The ability to process large amounts of data and what you do with that data.
Variety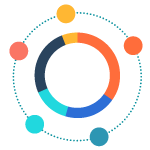 Different forms of data
Making sense out of unstructured data by trying to capture all of the data that pertains to our decision-making process.
Velocity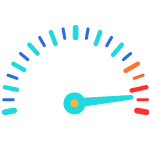 Analysis of streaming data
The rate at which data arrives at the enterprise and the time that it takes the enterprise to process and understand that data.
Veracity
Uncertainty of the data
The quality or trustworthiness of the data. The quality or trustworthiness of the data. Tools that help handle big data's veracity discard "noise" and transform the data into trustworthy insights.
What is changing in the realm of big data?
Big data is changing the way people within organizations work together. It is creating a culture in which business and IT leaders must join forces to realize value from all data. Insights from big data can enable all employees to make better decisions—deepening customer engagement, optimizing operations, preventing threats and fraud, and capitalizing on new sources of revenue. But escalating demand for insights requires a fundamentally new approach to architecture, tools and practices.
Browse all big data products
IBM Big SQL
IBM Big SQL
An industry standard Hadoop offering that combines the best of open source software with enterprise-grade capabilities. It helps organizations to cost effectively manage and analyze all kinds of data, including semi-structured and unstructured.

IBM Analytics for Apache Spark
IBM Analytics for Apache Spark
Increase your analytics agility with the power of open source Apache Spark. Process large data volumes at great speed in a hosted, managed, secure environment.

IBM Cloudant
IBM Cloudant
Give your application uninterrupted data access, offline and online, anywhere in the world, with a fully managed NoSQL database service. Let IBM manage the database layer so you can build more, grow more and sleep more.

IBM Streams
IBM Streams
Helps to capture and analyze streaming data, make decisions while events are happening. IBM Streams offers a complete solution with a development environment, runtime and analytics toolkits.
IBM Db2 Warehouse on Cloud
IBM Db2 Warehouse on Cloud
Analyze your data where it resides—in the cloud—with a fully managed columnar data warehouse service. Leverage in-database predictive analytics and massively parallel processing (MPP) to do more with your data.

IBM Data Science Experience
IBM Data Science Experience
Cloud-based, social workspace that helps data scientists consolidate their use of and collaborate across multiple open source tools such as R and Python.

IBM Compose
IBM Compose
Run web and mobile apps on fully managed, hand-picked open source databases with an integrated database-as-a-platform service. Gain flexibility and scale without losing cycles to database management.

IBM InfoSphere Big Match
IBM InfoSphere Big Match
Helps analyze big volumes of structured and unstructured data to provide complete and accurate customer information—without increasing risk of errors or data loss when moving data from source to source.

IBM BigIntegrate
IBM BigIntegrate
A data integration solution that provides connectivity, transformation, and data delivery features that execute on the data nodes of a Hadoop cluster.
IBM BigQuality
IBM BigQuality
Helps ensure information quality and provides the ability to quickly adapt to strategic business changes by stewardship and monitoring of data and application of data quality rules for your Hadoop data.

IBM Information Governance Catalog
IBM Information Governance Catalog
Provides comprehensive information integration capabilities to help you understand and govern your information.

IBM Informix
IBM Informix
A secure embeddable database, optimized for OLTP, IoT and is forging new frontiers with its unique ability to seamlessly integrate SQL, NoSQL/JSON, time series and spatial data.
The Data Warehouse Evolved: A Foundation for Analytical Excellence
Explore a Best-in-Class approach to data management and how companies are prioritizing data technologies to drive growth and efficiency.
Forrester: Big Data Fabric Drives Innovation and Growth
Learn how next-generation big data management enables self-service and agility
Making Sense of Big Data
A day in the life of an enterprise architect