Humanity is having an undeniable impact on the natural world. Our growing demand for resources is leading to land-use changes, loss of biodiversity and pollution. Climate change is one of the most pressing challenges of our time, impacting weather patterns, food security, water availability, human health and the economy. Worse, economic development interests are often at odds with conservation, making these challenges seem insurmountable.
Yet just the opposite may be true. These challenges are galvanizing a growing number of scientists, businesses and citizen activists to work even harder to protect the earth for our children and grandchildren. IBM Green Horizon Researcher Jin Yan Shao says that when she drives her five-year-old son around Beijing, he becomes very excited if he sees a blue sky. "Something so common for previous generations is currently a luxury in many cities," she says. Now, she and her colleagues in China are working on advanced cognitive Internet of Things (IoT) technology that will help provide a cleaner and healthier environment for China and the world.
---
" Cognitive computing can enhance our human ability to make better decisions for the entire breadth of environmental sustainability...air, water, waste, energy, natural resources, habitat conservation. "

– Wayne Balta, Vice President, IBM Corporate Environmental Affairs and Product Safety
---
Opportunities and challenges
With its ability to understand, reason and learn, cognitive technology could be a great ally in protecting our planet. Growing global attention to the urgency of protecting our natural world is leading to increasing regulations and deeper research into key challenges, multiplying the sources of information. Increased deployment of environmental sensing and mapping technologies is also expanding the types and volume of data we have about the environment.
Unfortunately, the information necessary to do tradeoff analyses and answer what-if questions is often disconnected and inaccessible. "Oftentimes, it's spread within and across various government agencies. In some cases, it's in the private sector. It's not easy to mass it all together," Balta explains. Today's complex supply chains make it even more challenging.
Sometimes, it's not the data but the actors involved that present a hurdle. Even if environmental science paired with cognitive technology can generate superior insights and recommendations, organizations may be reluctant to act without a high degree of certainty about the eventual impacts of their decisions. For example, since the availability of renewable energy isn't always as reliable as traditional energy sources, grid operators may opt for the safer choice (e.g., fossil fuel), even if it's less environmentally friendly.
---
" Faced with the perceived forecasting challenges, grid operators will often tell the owners of wind farms to turn off turbines because they cannot risk instability in the grid and must keep the lights on. "

– Lloyd Treinish, Chief Scientist Environmental Modeling and Deep Thunder, IBM
---
Conserving natural resources
The state of California declared a state of emergency in early 2014 due to the ongoing drought. The following year a statewide mandate was issued calling for a 25 percent reduction in water consumption over the next 10 months. Scientists at OmniEarth, a geospatial services company believed they could help water conservation efforts in California if they could pinpoint consumption at a land parcel level. That would enable water districts to work with property owners who were using above-average amounts of water. Their solution leverages satellite imagery and cognitive visual recognition technology to identify parcels where water appears to be going to waste. Water authorities can then target those areas or homes for conservation messaging. Some of OmniEarth's customers are already seeing up to a 15 percent reduction in water use.
When Vicki Vegis, a California resident, saw how the five-year-long drought was affecting her neighbors, she was inspired to launch foris.io. "Everybody was converting their backyards from grass to cactus, and it just hit me that I don't want my grandchildren to not know what it was like to play in the grass in the backyard." Her precision agriculture startup seeks to use cognitive IoT technology to preserve soil health and sustain vegetation – for both nutrition and enjoyment – while still conserving water.
The focus on soil was initially inspired by a landscape designer who had shared this tip: "It all comes down to dirt – all plants start and end with dirt." Foris.io assesses overall soil health by measuring variables such as moisture, salinity, pH value and temperature through sensors. Rising ocean waters is an encroaching threat to soil health, since saline leeched into the ground can have long-term effects on trees and plants. In other parts of the world, soil degradation can be driven by other factors like acid rain.
The company's next step is to develop a machine learning model that couples weather forecasts with the soil measurements to better predict salinity levels and water absorption rates. In addition to advancing sustainable land-use management, Vegis expects foris.io to provide agricultural advice to farmers, such as when and how much to water and fertilize for optimal growth based on current and forecasted soil conditions.
---
" If we can have a sensor that goes into our heart and tells us minute details about how the heart works, we should have sensors that can tell us about the soil and help us grow our food. "

– Vicki Vegis, Founder, foris.io
---
E&J Gallo Winery is another California company aiming to conserve water through cognitive technology. Gallo already had sensors in its vineyards and analytics models to help with precision irrigation, but the winery wanted to go one step further. It added machine learning capabilities that allowed the models to adapt and get smarter over time. In the past, events like extended droughts or flooding required human intervention to assess what happened in the field and adjust the irrigation model based on this new data. By combining satellite imagery and machine learning, Gallo was able to create a cognitive irrigation system that can deliver water in a way that's situational, hyper-local, automated and self-tuning, helping it cut water use by 25 percent over three years.
---
" Cognitive can help us deal with fundamental problems – such as climate change or the availability of food, water and energy – that are too complicated and interrelated for physics and science to tackle alone. "

– Hendrik Hamann, Research Manager for Physical Analytics, IBM Research
---
Fighting pollution through early detection
Air pollution is a major concern in China, causing more than one million premature deaths per year. The average level of harmful airborne particulates in Beijing is nine times higher than World Health Organization standards, and can spike to 30 to 50 times the standard. In an effort to improve air quality, the Beijing Municipal Government has developed a cognitive air quality management system to facilitate better decision making.
Because the previous system was unable to pinpoint sources of pollution at a sufficiently granular level, the government had to take drastic measures to protect air quality, such as factory shut-downs or traffic restrictions. The new solution, called Green Horizon, addresses these challenges by using advanced machine learning to identify smaller sections of the city that are at risk. Along with trade-off analyses, this enables more targeted mitigation actions, such as shutting down targeted industries, while minimizing socioeconomic disruptions. In addition to providing more granular predictions (at a 1km*1km resolution), seven-day forecasts are now available 72 hours in advance, giving the city more time to plan and communicate necessary actions. Since the solution automatically tunes itself every day from the new data coming in, it becomes more accurate over time as well.
---
" Using cognitive technology, the government can now pinpoint the source of pollution more precisely – for example, what percentage is from industry versus traffic. This helps the government take better actions, but it also helps citizens plan their lives better. If the air quality will be good tomorrow, they can arrange a trip to the park. "

– Hui Du, Research Scientist, Climatologist, IBM Research China
---
In North America, a major pollution concern is coming from a source that has ironically been considered relatively environmentally friendly – natural gas. The main component of natural gas, methane, is a potent greenhouse gas. Methane leaks from pipes can significantly undermine the climate benefits of using natural gas in lieu of higher carbon fossil fuels. The U.S. Department of Energy is developing a cognitive IoT methane-leak detection system to address this challenge, leveraging low-cost, low-maintenance sensors over an energy-efficient, self-organizing mesh network. The new system will help operators continuously monitor and more effectively locate and repair leaks, which could lead to reduced emissions and improved natural gas development and operations.
---
" The potential for cognitive technology to help people optimize business activity and stewardship for the environment at the same time is enormous. "

– Peter Williams, Chief Technology Officer, IBM Big Green Innovations
---
Creating sustainable choices for consumers
One of the biggest barriers to widespread use of renewable energy has long been forecast accuracy: How much renewable energy will be available at a given time on a given day? Cognitive computing is changing the game by enabling situational forecasting that is intelligent, automated and self-tuning.
---
" Physics-based prediction models already exist for forecasting things like weather, pollution, drought. But with machine learning, we can systematically understand which model performs better when, where and under what circumstance. "

– Hendrik Hamann, Research Manager for Physical Analytics, IBM Research
---
Already, cognitive technology has helped the U.S. Department of Energy improve its forecast for the availability of solar energy by 30 percent. The University of Michigan plans to use this cognitive forecasting technology in its solar car for the World Solar Challenge this October, an 800-mile race across the Australian outback in solar-powered cars.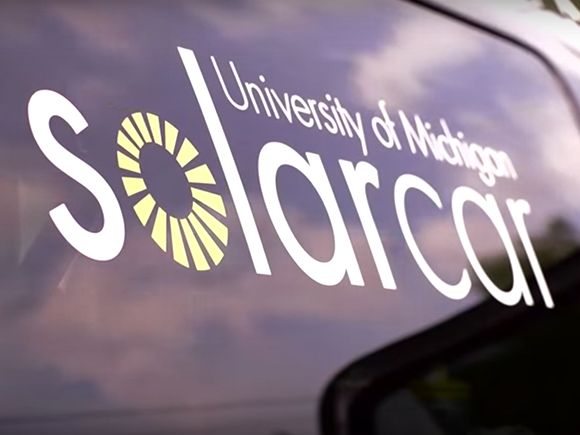 "Green culture" is particularly strong in Vermont, where solar power has doubled in the past year. "Towns are putting up small solar farms, and even individual citizens and businesses are putting solar panels on their properties," explains Lloyd Treinish. Since power grids aren't designed for this type of two-way flow, this new activity adds congestion and instability risk in grid operations and makes forecasting more difficult.
The Vermont Electric Power Company (VELCO) is addressing these challenges with the Vermont Weather Analytics Center (VWAC). VWAC combines advanced weather forecasting models based on physics with cognitive self-learning capabilities to develop a more precise, automated renewable energy forecast for solar and wind power. On the demand side, VWAC is using a similar coupling of physics and cognitive methods to estimate how much energy will be needed. Cognitive technology helps reduce uncertainty by training and improving the models over time as new data comes in. Before VWAC, the best three-day solar power forecasts covered a 12 kilometer area and were updated every few hours. Now, VWAC supplies a three-day forecast with less than 8 percent error that's far more granular (individual solar farms) and more timely (updated every 10 minutes). With new insights from its cognitive technology, VELCO also has plans to advise environmentally conscious citizens on which solar panels to use and where they should be positioned. In addition, VELCO recently announced a new joint venture with IBM Research that aims to provide open API solutions for improved energy forecasting on the grid using machine learning.
Cognitive technology can also assist with environmental regulation compliance - an important first step toward greater transparency and choice for consumers. Global companies often have such complex markets and supply chains – with thousands of partners spread across many different countries and legal jurisdictions – that it's difficult for them to keep abreast of all applicable regulations.
"First, you have to understand what the obligation is: what do we actually have to comply with?" explains Quentin Samelson, Senior Managing Consultant within the IBM Electronics Center of Competence. And that's no easy task, given the volume of regulatory material that experts must assess. But cognitive platforms equipped with natural language capabilities can read those large blocks of text and extract essential obligations, such as a local requirement for a specific label on a product.
---
" It's very difficult just to identify all the environmental and chemical regulations around the world and understand how they affect business operations. And if you don't know what's required, it's hard to comply with those laws. Cognitive platforms can help humans identify and analyze regulations more efficiently. "

– Edan Dionne, Director, IBM Corporate Environmental Affairs
---
As cognitive capabilities make their way into supply chains, it will pave the way for greater transparency, traceability and eventually consumer choice. These capabilities generate information that can help companies appeal to a growing market of buyers seeking sustainable choices, and empower consumers to take personal actions that help protect our environment.
Learning from nature's ecosystems
We still have a lot to learn from nature. For example, while we know that climate change and drought can have significant impacts on ecosystems, the reverse can also be true; some ecosystems are proving resilient in both natural and urban settings. Other recent research points to additional mysteries, such as trees cooperating and sharing resources via underground fungi networks.
Nature can be a catalyst for our own innovative thinking. As ecosystems change over time, organisms develop different strategies for handling some of the same challenges human society faces, such as how to produce energy or food, avoid disease or eliminate waste. Biomimicry is a discipline that seeks to emulate nature's time-tested patterns and strategies to create new solutions.
Ashok Goel, a professor at Georgia Tech's School of Interactive Computing, created a cognitive research assistant with similar principles in mind. After feeding a cognitive system several hundred articles from an interactive biology repository, his students were then able to pose questions, such as "How can I make a better desalination process for sea water?" (Animals have a variety of methods for this. For example, seagulls remove salt by filtering seawater through special glands.) Through interaction with this cognitive assistant, the students were able to draw inspiration from biological systems that they used to invent new technological solutions.
Sometimes, before we can apply cognitive technology to help solve a particular environmental problem, we need to study nature more deeply. Lake George, in upstate New York, is one site where such work is taking place. The area has no heavy industry or significant agriculture, and the water is clean enough to drink straight from the lake. Its pristine condition presents a unique opportunity for scientists to study an ecosystem that's much closer to its natural state to better understand and model basic physical and biological processes.
Through the Jefferson Project at Lake George, scientists are analyzing data coming from an IoT sensor network in and around the lake, and using that information to build and refine computer models of the lake's ecosystem. Over time, as more data is collected, machine learning will enable a better understanding of how stressors such as salt runoff from roads, invasive species, land-use changes and climate change impact the lake's water quality. Such insights could ultimately lead to additional uses for cognitive technology, such as advising policy makers about the economic impact of their road treatment practices, or helping other governments and communities manage lake resources more efficiently.
---
" Through machine learning and video analytics, cognitive technology can help us understand what the norms are and discover anomalies or problem areas. This will help us minimize deforestation, track urbanization, mitigate diseases and better understand and control ecosystems. "

– Rick Hamilton, Client Innovation Leader, Watson IoT, IBM
---
Looking ahead to a brighter future
While dire predictions remain about the future of our natural world, there is hope as governments, academia, businesses and citizen scientists worldwide come together to protect the environment for our children and grandchildren. With the help of cognitive technology, we're building a brighter – and greener – future, where environmental harm can be detected and acted on in real time, and more sustainable choices are available for consumers. "When I think about the ways that cognitive technology is going to help us protect and conserve our natural resources, really the sky is the limit," says Hamilton. "We're only at the beginning."