Elevate your plant performance to new levels
IBM Maximo Production Optimization uses insights from plant floor data to maximize the manufacturing performance. It uses advanced machine learning and AI techniques to learn continuously from plant equipment and processes to identify areas of loss, predict inefficiencies, and advise the operators on the right actions that would maximize throughput while reducing cost and waste. It surfaces hidden relationships and improvements that could save millions of dollars annually. Production Optimization is part of the Maximo family and integrates seamlessly with EAM systems. It offers deployment flexibility supporting both SaaS and on-prem.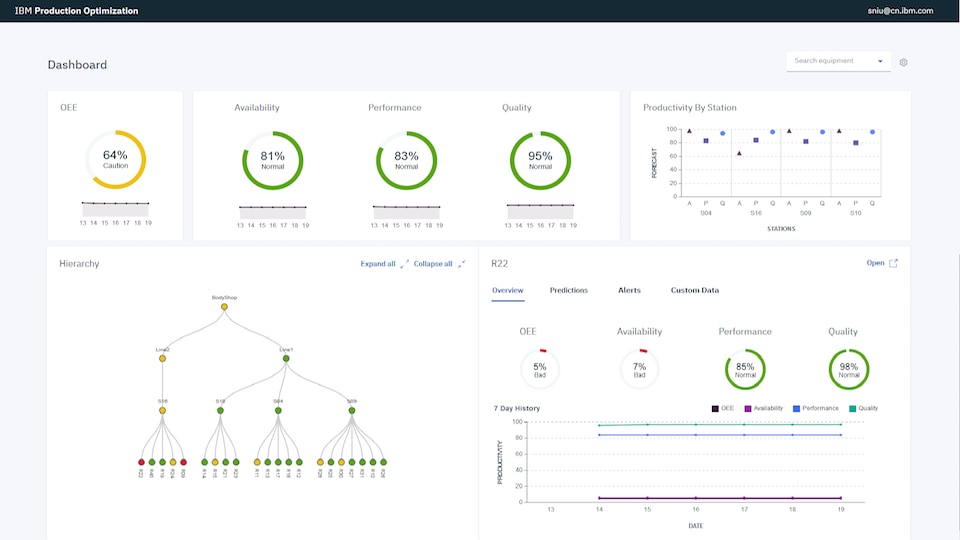 Achieve throughput potential
Predictive visibility into potential availability, quality, and performance constraints enables proactive and timely action that prevents production losses and achieve throughput to potential.
Get best-fit operating parameters
Let optimization algorithms prescribe the best-fit operating set points for control parameters based on historic data and expert objective models.
Analyze process inefficiencies
Determine the probable causes that adversely impact throughput, cost and quality by baselining and comparing process variables and predictions from different assets and processes.
Optimize maintenance plans
Analyze equipment data and maintenance records to predict equipment failure and recommend optimal repair time along with prioritized maintenance plans that minimize loss. Integrates with Maximo EAM
Reduce cost year after year
Consistently reduce energy costs from less than 1% to 15% based on the level of variances the plant experiences.
Accelerate time to value with SaaS
Enjoy the simplicity of a fully managed, global SaaS solution. Get started fast with no infrastructure experience needed. Built-in analytical models further enhance time-to-value.
Key features of IBM Maximo Production Optimization
Harness the expertise of your most skilled operators
Unlock insights hidden in your plant floor data
Monitors a variety of KPIs and process variables
Supports on-premises vs as-a-service deployment flexibility
Fast deployment with pre-built analytic models and templates
Out-of-the-box integration
Security and privacy in the cloud
IBM enables companies to scale and adapt quickly to changing business needs without compromising security, privacy or risk levels when using IBM cloud offerings.

Learn more about IBM Cloud security
Which option is right for you?
Basic

---

Limited capability and capacity that is ideal for targeted usecases and proof-of-concepts

Standard

---

Flexible pricing based on number of assets and complexity of deployment

On-Premises

---

On-premises deployment in your own data centers using IBM Private Cloud
Expert resources to help you succeed