News
Abstract
IBM i 7.3 - TR2 Enhancements
Content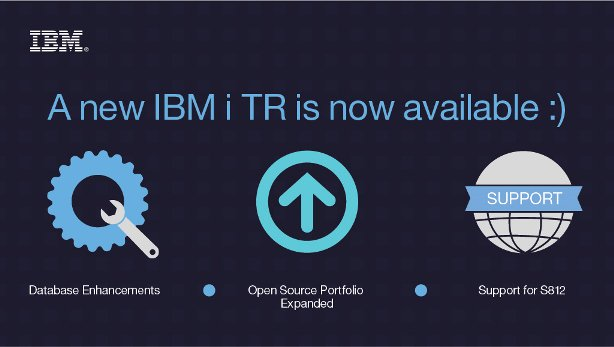 Note: The announcement materials for IBM i 7.3 TR2 can be found here.
The remainder of this landing page intends to make it easy to see the supporting detail for these enhancements, and more.
---
Db2 for i Enhancements
Db2 for i - Functional Enhancements
Db2 for i - Performance Enhancements
IBM i Services (new and enhanced)
Db2 for i Services (enhanced)
---
Db2 Web Query
---
Systems Management
IBM i Access Client Solutions (ACS) - Version 1.1.7.0
Run SQL Scripts enhancements
CL Prompting

Enhanced SQL Highlighting

Show Object References

Upload Results

More "Insert from Examples"
Printer output enhancement
Integrated File System enhancement
Database - Schemas support added
Many object actions are implemented within ACS
Actions also enabled within Visual Explain and elsewhere
 
---
Hardware
IBM Power S812 model 8284-21A
#EU4A - RDX USB External Docking Station
#EJ1P/#EJ1N - PCIe1 SAS Tape/DVD Dual-port 3Gb x8 Adapter
Serviceability improvements for severe errors
Flash drive no longer requires a physical pull or push when exported
Default setting for 4096 sector disk has been changed
DS8000 HyperSwap disks no longer require resume of normal replication before IPLing
---
Open Source 
IBM i Open Source Solutions (5733-OPS)  
​Option 7 - Tools​

Product Descriptions have been updated with 'real' text
​

wget & curl

​URL (FTP, HTTP, ...) fetchers allow you to download URLs from the command line

rsync

​allows users to sync files and updates between multiple systems, including to and from non-IBM i systems

​GNU tar

​alternative to the PASE tar with many additional features, like automatic decompression support

​gzip, xz, and bzip2

​compression tools for handling archives from the internet

​​Option 2 - Python 3.x

​​Option 4 - Python 2.x

Option 6 - Git

updated to 2.10.2 and rebuilt with curl and perl support, allowing git to work with HTTP and FTP remote repositories and also to enable more advanced tools that require perl such as git add -p

Set your default shell 

​Users can now set the shell that gets started when they log in via SSH. Previously a user would always start in /QOpenSys/usr/bin/bsh or the shell specified in the ibmpaseforishell sshd_config option, if set. These solutions were system-wide and many users want the ability to customize their shell independently. Users can use the QSYS2.SET_PASE_SHELL_INFO procedure to customize their shell. Administrators can also set a default shell that will be used for all users that do not have a shell explicitly set, which makes the ibmpaseforishell configuration option obsolete.
---
General Operating System
Networking
BRMS
Removed an IPL during disaster recoveries with Domino to improve recovery times.
ANZLIBBRM enhancement for estimated save times for *LINK data
[{"Business Unit":{"code":"BU058","label":"IBM Infrastructure w\/TPS"},"Product":{"code":"SWG60","label":"IBM i"},"Component":"","Platform":[{"code":"PF012","label":"IBM i"}],"Version":"IBM i 7.3","Edition":"","Line of Business":{"code":"LOB08","label":"Cognitive Systems"}}]
Document Information
Modified date:
31 January 2020