Managing the machinery that powers the world
IBM Maximo Asset Performance Management
Welcome to the era of asset optimization

New technologies fuel asset performance management solutions

2 min read
APM is the engine of progress

EAM makes APM possible

3 min read
Plan: The first step toward APM

Planning identifies critical assets

3 min read
Monitor: Optimize operating performance with AI-powered insights

Act with confidence with better operating visibility and more accurate alerts

2 min read
Health: What are your machines telling you?

Health monitoring improves performance

3 min read
Predict: Prevent problems, eliminate unplanned downtime

Better performance for greater productivity and profit

2 min read
Conclusion

Monitor assets. Manage maintenance. Maximize performance.

2 min read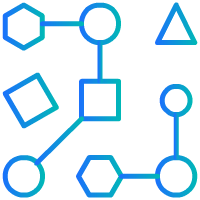 Maximo Asset Performance Management
Extend your Enterprise Asset Management (EAM) systems with AI data and analytics
Take the asset performance management assessment
Where are you on your APM journey? And what should your next steps be?
Managing the machinery that powers the world
01
Welcome to the era of asset optimization
2 min read
Welcome to the era of asset optimization
We envision a world where the lights never go out, networks never go down, and planes are always on time. A world where assembly lines operate flawlessly, cargo is delivered on schedule, and the turbines that generate energy never run out of steam. We envision a world in which the machinery that propels us forward is always operating at peak performance, reliably humming along at the pace of progress.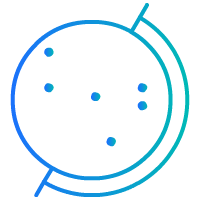 In this world, man and machine work harmoniously, forging a future in which expectation is a reality, and probability is predictable.
This is the world of Asset Performance Management (APM). It's a smarter world. A better world. A world where you belong.
Let's build that world together.
APM is the engine that drives the future
For many organizations the deployment of an Enterprise Asset Management system (EAM) was the beginning of monumental changes to how physical assets were managed. It allowed them to take control of critical assets and plan, execute, and track needed maintenance activities.
But the advent of the Internet of Things (IoT), artificial intelligence (AI) and new technologies such as 5G has made much more possible. Today, organizations can use these technologies to improve decisions about when and how to provide routine maintenance, the optimal points to overhaul assets, and when to consider decommissioning and replacement.
Individual assets can now be monitored, measured, and managed to predict and prevent system failures. Operations can run uninterrupted. Time can be saved. And asset investments protected. This new practice is quickly being adopted by visionary enterprises and is driving a revolution of reliability.
APM is so effective that some asset-intensive organizations have been able to achieve
%
reduction in maintenance costs
and extend the life of their assets by years. Wouldn't you like to report those statistics, too? 1
Your actions impact your assets
The success of your organization depends upon its physical assets. And the performance of those assets depends on the actions you take using the insights they generate. Keep reading to learn how you can leverage IoT and advanced analytics and AI to balance costs with risk and performance to optimize the contribution of your assets.
02 APM is the engine of progress
→
Managing the machinery that powers the world
02
APM is the engine of progress
3 min read
Addressing the asset performance conundrum
Asset-intensive organizations struggle with the asset performance conundrum. How do they reduce risk and optimize asset performance while keeping maintenance costs low? And how can they repair and replace equipment without blowing their capex budget? Even organizations with the most sophisticated approaches have grappled with these issues.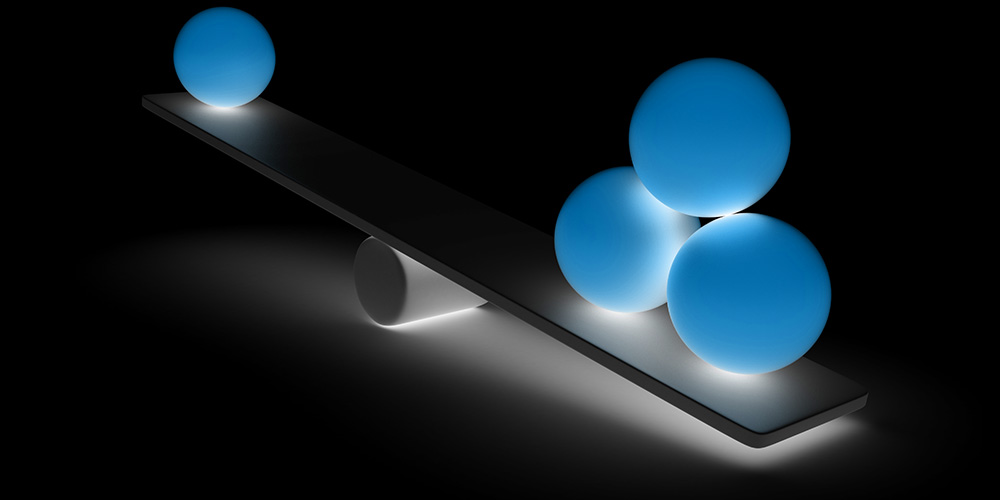 Which do you choose: improve margins or reduce risk?
Cut costs to improve margins
Challenges

Unplanned downtime due to aging assets
Lack of needed spare parts and capital
Overtime labor due to unforeseen failures
Increased risk of safety issues
Spend more to reduce risk
Challenges

Over-maintenance of equipment
Excess spare parts in inventory
Increased size of maintenance staff
Extra assets lead to redundancy
Difficulty determining which assets to decommission, repair or replace

of asset failures appear random 2
Ours is not an orderly universe. Asset failures can occur at any time.
of preventive maintenance activities are carried out too frequently 3
Even worse, some maintenance activities may actually cause failure by disrupting the equilibrium of stable assets.

of all maintenance efforts are ineffective 4
Almost half of preventive maintenance costs are spent on assets with negligible effect on uptime failure.
EAM brings order out of chaos
Many organizations have embraced enterprise asset management for maintenance execution. EAM is a powerful tool that helps capture volumes of data related to assets – data like location data, maintenance schedules, and work order history. It helps bring order out of chaos. Additionally, EAM addresses regulatory requirements, enables calendar-based maintenance, and captures the knowledge of experienced workforce technicians.
But as the business world continues to evolve, more is needed. Competitive pressures have intensified, and there's more pressure to maximize asset availability, reduce risks, and minimize maintenance costs. Also, with the help of EAM, we've learned that equipment failures aren't always a result of age. Relying on calendar-based maintenance alone can cause expensive over-maintenance with lengthy disruption that becomes a drain on human resources. Or, it can result in unnecessary and costly replacement when planned refurbishment would have extended the life of the unit.
Add to these issues an aging infrastructure and retiring workforce technicians, and it's easy to understand why many organizations are seeking help to better monitor health in real-time, assess risk and make better maintenance planning decisions about their myriad of assets.
Introducing APM: EAM with booster rockets
With the foundation of EAM firmly in place, providing a system of record, it has become possible to add powerful new capabilities to enhance the core. APM solutions are designed for decision support. Building on a foundation of EAM and data from plant operations systems and other systems of record, APM uses advanced analytics and AI to help engineers, planners and maintenance leaders make better decisions. It enables them to shift asset maintenance strategies from preventive to predictive, prescriptive, and financially optimized. It enables them to confidently determine which assets should be repaired, refurbished or replaced.
APM solutions are designed for decision support. Building on a foundation of EAM and data from plant operations systems and other systems of record, APM uses advanced analytics and AI to help engineers and planners make better decisions. It enables them to shift asset maintenance strategies from preventive to predictive, prescriptive, and financially optimized.
Asset-intensive organizations that implement APM are achieving predictably outstanding results
Although it's still in its infancy, APM is providing outstanding results. Asset-intensive organizations that have made the leap to APM are realizing unprecedented results:
A 15-50% reduction in operational costs
A 10-20% increased uptime and availability
Years of additional performance of assets
The results are so astounding that experts predict that the reduction of unplanned downtime can save manufacturers USD 50 billion annually. 5
Some organizations are reporting astounding results:
Decrease total spend on preventive maintenance by up to 50% 6
Reduce maintenance costs by up to 25% 7
Eliminate up to 70% of breakdowns 8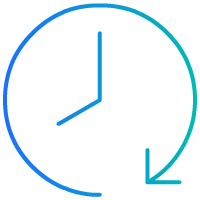 Cut unplanned outages by up to 50% 9
Figure 1: A comprehensive APM solution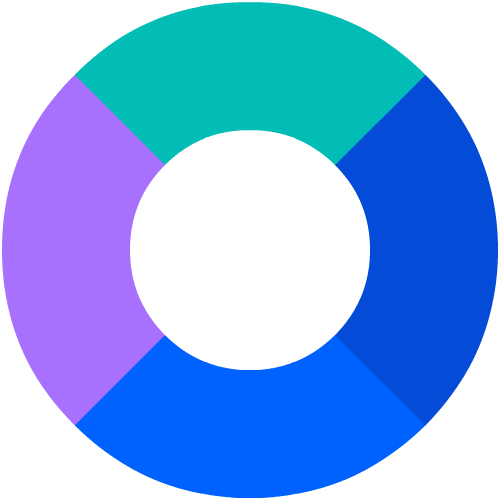 A comprehensive APM approach is built on four important pillars: plan, monitor, health, and predict. Each of these pillars is essential to the creation of a reliable asset maintenance program that drives your corporate goals. While the criteria for each pillar will change according to industry and specific organizational objectives, the approach remains the same.
03 Plan: The first step toward APM
→
Managing the machinery that powers the world
03
Plan: The first step toward APM
3 min read
To accelerate your APM journey it is necessary to re-examine and reassess asset management strategies. What are the goals? To reduce asset costs? To reduce risks? To improve resilience? Yes. Yes. And yes.
Organizations realize that it doesn't make sense to treat all assets equally. They need to identify which assets need attention and when. And for even greater productivity, they want to ensure that when the technician arrives to perform the necessary maintenance, the procedure is known and the needed parts are available.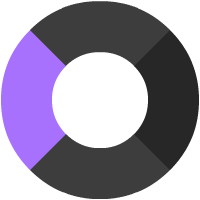 Planning is the first step in embarking on this journey.
The importance of criticality
You have hundreds, if not thousands of assets in operation at any given time. If you are like many in the industry you may be managing them in exactly the same way with the same maintenance schedules and inventory of replacement parts. Yet even within the same asset class, not all your assets have equal importance. For example, the failure of a power transformer in a residential area may be inconvenient. But the loss of power at a hospital could be tragic.
Rather than attribute the same importance and approaches to all your assets, it's now best practice to determine the specific criticality of each asset or asset class. This assessment is based on the likelihood of failure and the consequences. Assets having a high likelihood of failure that could result in extreme consequences should be designated critical assets, and subject to the following measures:
Regularly planned predictive and preventive maintenance
Immediate availability of replacement parts
Assessments of condition and life expectancy
Contingency plans, including higher priority work order status
To accurately assess and assign criticality requires an understanding of your asset landscape and business objectives. It requires planning.
With appropriate planning, organizations can put into place a differentiated maintenance strategy that helps them achieve their objectives for uptime, safety, cost and the environment. They can establish a maintenance program to generate the best possible outcomes using the least amount of resources. They can make informed decisions about the lifespan of individual units and the need to refurbish or replace. They can ensure compliance, make better decisions and remain competitive. But it all begins by carefully examining their asset landscape and thoroughly understanding their goals.
Figure 2: Organizations are challenged to achieve the right balance of asset maintenance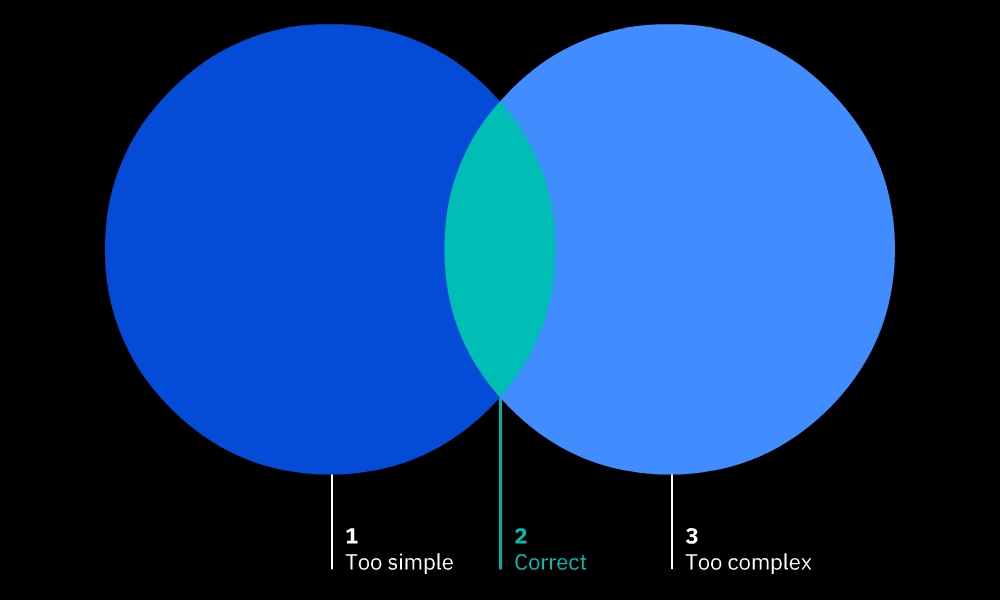 Too much maintenance
Too little maintenance
Precision
Integration
Flexibility
Minimizes costs while maintaining high productivity and safety
Resource intensive
Time consuming
Analytics and AI make APM possible. Planning makes APM work.
Proper planning ensures that organizations implement the full spectrum of functionality required to meet their performance objectives. Ideally, they're seeking:
A comprehensive solution that integrates with their existing technology
A single solution that provides everything required to manage the reliability of every asset in the enterprise, without the need for disparate point solutions from multiple vendors or the building of custom integrations.
Tools to quickly identify and prioritize critical, high-risk assets
Proper planning collects and analyzes full data about your current asset state and projected lifespan.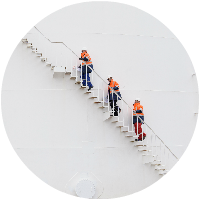 Ability to compare various tactics, based on customized requirements
Set company or site-specific objectives for safety, availability, environmental outcomes, maintenance costs and other factors. Conduct failure analysis and event simulation to help maintenance teams create and evaluate plans that find the balance among financial results, operational performance and residual risk.
Assurance that they are compliant with the appropriate regulatory requirements
Industry-specific planning that includes safety, environmental and other important issues.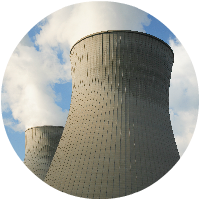 Insight into the business impact of the program
Planning helps you prioritize your actions, and provide measurable key performance indicators (KPIs) and return on investment(ROI) targets.
Learn more about planning for asset performance management
Take the APM assessment to begin planning your APM strategy.
04 Monitor: Optimize operating performance with AI-powered insights
→
Managing the machinery that powers the world
04
Monitor: Optimize operating performance with AI-powered insights
2 min read
Your assets are becoming more intelligent. Now your model for operating and maintaining them must evolve. Organizations recognize it is now possible to aggregate data from across your operations — from low cost sensors and asset management systems of record to even legacy SCADA operational control systems and historians. They are seeking to scale solutions beyond limited pilots to unlock essential insights from patterns in the data.
The result? The availability of enterprise-wide systems designed to learn what is normal and alert asset maintenance leaders and operators when something has changed. This means identifying problems before they cause downtime.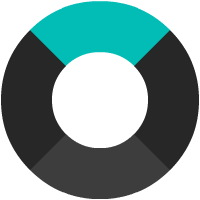 Improve asset and operational availability with AI-based remote monitoring at scale
Combining intelligent assets and IoT sensors with remote monitoring and AI-powered insights can help you understand the context of your data, prioritize the right alerts, and see new relationships between factors causing downtime. Notify your maintenance manager when an anomaly is detected that could lead to a breakdown. Notify a machine operator or process engineer to make a change before a failure shuts down production. The savings can be massive.
Remote monitoring enables you to meet your many objectives for asset management and maintenance:
Make better decisions with real-time visibility of critical equipment
Understand real-time data to minimize negative trends
Respond quickly to reduce downtime
Maximize efficiency of production process and yield
Troubleshoot sources of degradation based on historical data
Detect anomalies and drill into root cause
Reduce maintenance costs associated with repeat failures
Reduce emergency maintenance costs, including supply chain and overtime
Reduce safety incidents and associated costs
APM works hard to keep you working harder
Maintaining sophisticated machinery is becoming more complex. Just think how much more effective your asset maintenance and operations leaders will be when you are armed with the following capabilities.
Reduced inspection time with remote monitoring of asset health
Fewer, more accurate alerts
AI technology for improved anomaly detection
Historical data retention
Drill-down capability for troubleshooting
Aggregated data from assets and operations
Quickly scalable enterprise-wide view
Seamless integration with your EAM and other systems of record
Past approaches to asset monitoring required costly and time-consuming manual inspections and basic alerting relying often on human observation. With internet-enabled assets connected to the cloud, you can now aggregate data around the clock from across your enterprise. You will rely less on inspections and have automated real-time visibility of asset operating state.
In addition to improved visibility, multi-sourced asset data provides a powerful foundation for advanced analytics and AI. With these tools in place you can empower your teams to understand factors contributing to failures and generate customizable alerts. This means your people can identify potential failures and troubleshoot faster. You ensure your people will have the right information to know break-fix before it matters and fix the problem right the first time – all to ensure your business never stops.
05 Health: What are your machines telling you?
→
Managing the machinery that powers the world
05
Health: What are your machines telling you?
3 min read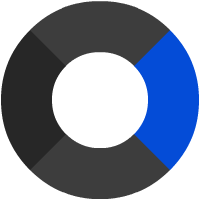 Your machines are sending you messages
It's true. With the advent of IoT and sensors, your connected assets are capable of telling you a lot about themselves, and about how you can get the most from your investment in them. A hydraulic pump might be telling you how you can reduce preventive maintenance costs by up to 25 percent. An airplane engine might be telling you that based on use, you can reduce maintenance hours by up to 70 percent. A wind turbine might be telling you that it needs maintenance every six months rather than every four. 10
If you listen carefully to the valuable data your assets are sending, you can take the appropriate condition-based preventive measures and more effectively meet your business goals.
Deeper insights into the health of your assets
APM determines overall asset health from a variety of data that is obtained from numerous sources, including IoT sensors, weather patterns, historical data, your EAM systems, and even human observations. This approach is far more sophisticated than a traditional time-based approach that can often result in continuous work order creation, regardless of need. APM Health gives you a clear, accurate, and near real-time picture of what's actually happening to enable condition-based maintenance. Best of all, the health view is based on criteria that you establish.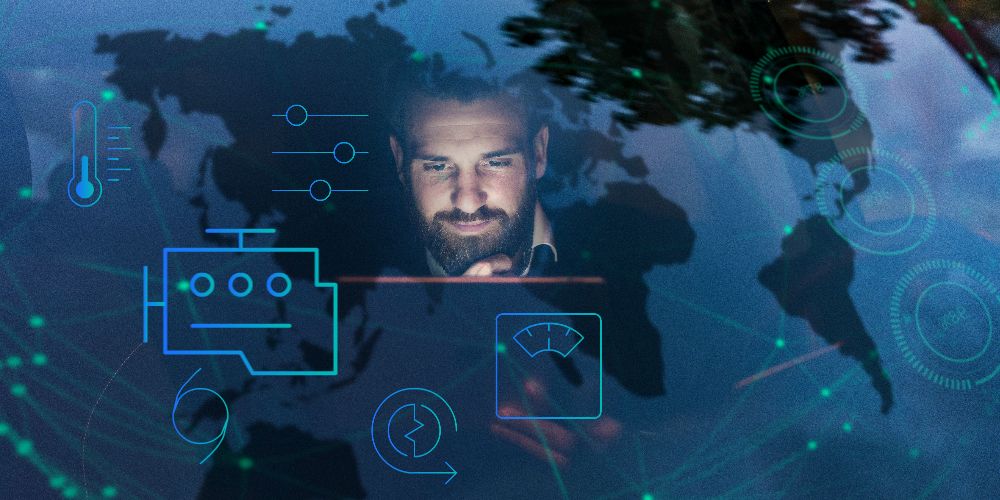 So equipment maintenance schedules can be adjusted based on asset condition, usage, and history to provide peak performance while reducing maintenance costs. You can identify bad actors and analyze condition data to take immediate, appropriate remedial action to prevent unplanned downtime by sending a technician supplied with the instructions and the appropriate replacement part. Or you can even choose to automatically address the issue as part of the future routine maintenance.
Health insights provide clarity in a world of random malfunctions
Traditional methods of scheduling maintenance or asset replacement are often based on the calendar and static OEM-suggested maintenance plans. This ignores the fact that we live in a world of random events where unplanned equipment outages are rarely the result of age, but instead are based on a number of other variables: age, use, maintenance history, and environmental conditions they operate in.
Traditional methods don't consider all the information related to unit condition or operating environment. Additionally, these methods don't accommodate prioritization, and create unnecessary backlogs of work orders. The result? Maintenance leaders are often overwhelmed with work orders which will have little real impact on the operating life of the asset. Failures come as a surprise. And unplanned equipment replacement plays havoc with capex budgets.
Unit condition
Unit condition doesn't consider the asset condition or operating environment. In such cases, assets may be over maintained, resulting in unnecessary maintenance spend with minimal impact on failure avoidance or the asset lifecycle.
Prioritization
A lack of prioritization creates a growing backlog of preventive maintenance work orders. As a result, some assets may become undermaintained, creating even greater risk for unplanned downtime.
APM Health insights reduce risk, save time, save money
APM Health insights save money and human resources by calculating a health score based on reliable engineering processes. Tracking asset health ensures that maintenance and refurbishment occur at precisely the right times, reducing the risk of unplanned downtime and extending the lifecycle of assets.
06 Predict: Prevent problems, eliminate unplanned downtime
→
Managing the machinery that powers the world
06
Predict: Prevent problems, eliminate unplanned downtime
2 min read
In an ideal world, machines would work at 100 percent capacity, 100 percent of the time. But this isn't the real world. We live in a world where pistons suddenly stop firing, turbines suddenly stop turning, and you're always awaiting the next unexpected failure. Face it, when you have hundreds of thousands of moving parts, you've got hundreds of thousands of opportunities for things to go awry.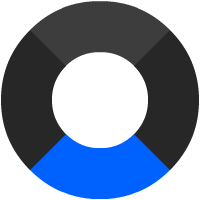 Your job is to anticipate and minimize, if not eliminate these occurrences.
Being able to aggregate IoT sensor and operating environment data about your asset and integrate with sophisticated analytics provides powerful insights into potential failures. Here, data science and algorithms use this data to help you push beyond situational awareness and into prediction. This means predicting failures and understanding when they might occur – weeks, days or even months ahead of the event. You will be able to intercede early to prevent unscheduled downtime and reduce the high cost and organizational disruption of emergency repairs that can result from overtime work by technicians, the last-minute acquisition of replacement parts, and deferrals of other maintenance activities.
Increasingly, it is possible to predict failures and when they might occur — weeks, days or even months ahead of the event. With this information, you're able to intercede early to prevent unscheduled downtime. And by doing so, you can reduce the high cost and organizational disruption of emergency repairs that can result from overtime work by technicians, the last-minute acquisition of replacement parts, and deferrals of other maintenance activities.
Take corrective action before a failure
Visionary organizations are using IoT, sophisticated analytics and AI to foresee problems and, in many cases, prevent them from happening. They do it by using APM predictions that monitor degradation of performance and provide a failure probability. A comprehensive solution allows operations, reliability, and maintenance personnel to:
Adjust operations
Guide refurbishment and replacement planning
Project the likelihood of failure, identify when, and identify the top indicators that lead to failure
Establish prioritization of actions
Determine the optimal maintenance date


Schedule operations to achieve peak performance

Keep or replace assets using real-time data

Based on each asset's performance history


Assign priority based on a predicted failure window

Deferral saves operating expenses in the current period
Contain costs, increase profits
Even organizations with the most mature EAM solutions and programs are experiencing mounting pressures to improve their asset performance and reduce unscheduled downtime. To stay competitive, they need to increase availability with predictability, optimize maintenance scheduling, manage the costs of their maintenance and replacement programs, and mitigate the risk of catastrophic failures that can impact their operations.
The bottom line is that equipment should be repaired before it fails, but not until maintenance is actually necessary.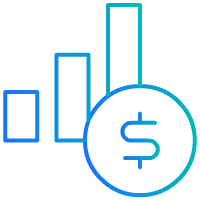 Unplanned downtime can cost an average of USD 260,000 per hour! 11
How do you manage this seemingly impossible task when increasingly complex equipment is now used in every facet of business, in every location you operate? APM prediction provides the answer – ensuring that the need for maintenance is always predicted, always planned, always just in time.
It's not just asset performance, it's overall productivity
The value of APM with predictive capabilities extends beyond optimizing maintenance and cost savings. When organizations align maintenance investments to the demands of equipment, they improve overall equipment effectiveness for their machinery and human resources.
Work planning becomes easier to manage and more efficient. Equipment replacement can be planned based on real-time lifespan analytics. Worker health and safety is improved because maintenance teams are able to avoid dangerous, ad hoc repair projects.
Additionally, when equipment reliably performs at optimal levels with maintenance performed precisely when it's required, the organization's customers receive uninterrupted service that leads to stronger relationships.
Learn how predictive capabilities are powering improvements in the energy industry
See the impressive results of predictive maintenance
Managing the machinery that powers the world
Introducing IBM Maximo Asset Performance Management
As an innovator and expert in asset management, IBM is responding to the challenge of enhancing the solution with IoT, advanced analytics, and artificial intelligence. IBM Maximo® Asset Performance Management is powered by Watson® analytics capabilities to provide a comprehensive data-driven system for real-time asset management.
The IBM Maximo Asset Performance Management suite has all the features you'd expect from a world leader in technological innovation: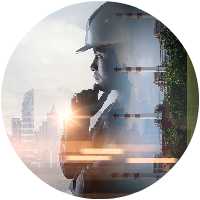 Deep industry expertise
Industry-specific knowledge accelerates product innovation and speeds time to value for customers. Includes expertise, learnings, data models, and knowledge bases to expand solutions quickly to solve domain problems.
Integration with IoT Platform
Connectivity through IoT Platform enables data aggregation and processing of asset data with extraneous data about asset condition – often in real-time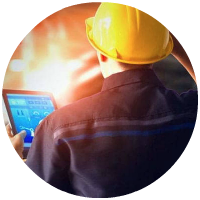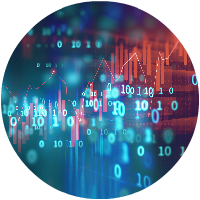 Advanced analytics and AI
Set company or site-specific objectives for safety, availability, environmental outcomes, maintenance costs, replacement costs and other factors. Conduct failure analysis and event simulation to help maintenance teams create and evaluate plans that find the balance among financial results, operational performance and residual risk.
EAM foundation extendibility
Asset visibility through management of physical assets based on common hierarchies, maintenance histories, and failure data tracking across the lifecycle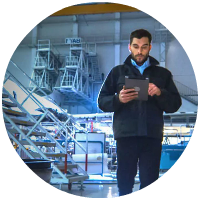 This suite of solutions provides insights at the point of action to lower costs, reduce risks, and improve resilience.
Modular design provides customized capabilities
The IBM Maximo APM solution integrates key sources of data from your organization's EAM system of record with sensor data from IoT and OT systems. It then applies a rich set of analytics and AI services to give you real-time insights into your asset performance. By providing the right information at the right time, it can initiate work orders to help ensure the required maintenance takes place before a failure occurs.
IBM solutions provide capabilities suited to your specific requirements: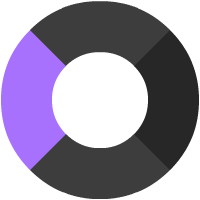 Plan
Optimize asset maintenance and replacement strategies based on asset risk and criticality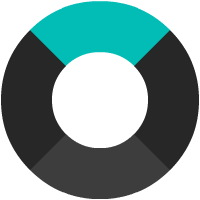 Monitor
IBM Maximo Asset Monitor enables AI-powered remote monitoring for enterprise-wide visualization and alert notifications of critical assets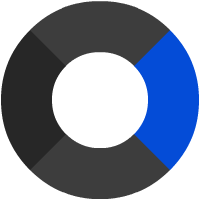 Health
IBM Maximo Asset Health Insights responds to changing conditions and prioritize maintenance and replacement decisions with asset health metrics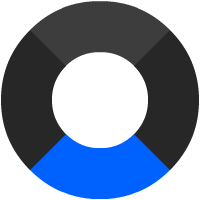 Predict
IBM Maximo APM Predictive Maintenance Insights helps you avoid unplanned down time using anomaly detection and predictive analytics to forecast failures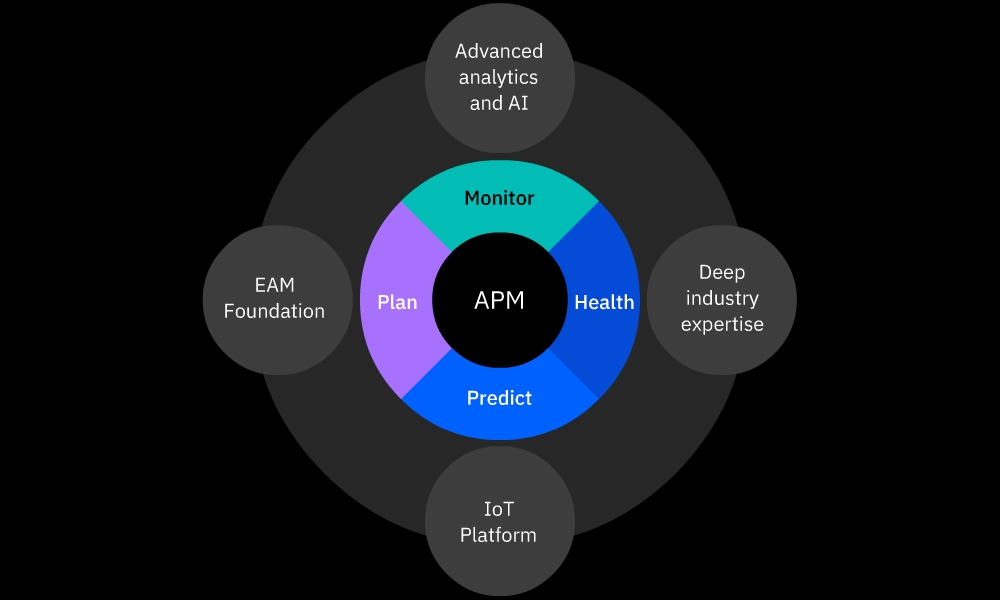 Learn about IBM Maximo APM solutions. The knowledge you gain may be your first step toward greater corporate productivity, increased performance and increased profitability.
Monitor remotely with IBM Maximo Asset Monitor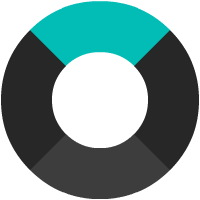 Maximo Asset Monitor enables enterprise-scale remote monitoring and AI-powered anomaly detection to optimize operating performance with fewer, more accurate alerts, and greater insights into what is causing failure.
Asset Monitor features:
Configurable dashboards, alerts, and drill-down
Enterprise-wide view of operations
Workflow to drive ownership of issues
Rapid data integration
Hierarchical data filtering and management
Assess health with IBM Maximo APM Health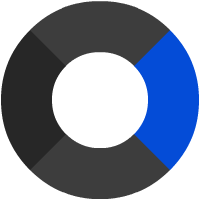 The first important step toward establishing a comprehensive APM solution is to create a maintenance plan. This plan enables decision makers to understand how different maintenance strategies may affect cost, uptime and other metrics over time.
It should include:
New levels of automation
Quantitative analysis
Enterprise-level integration
Failure analysis and event simulation
A solid plan will set objectives for safety; assess environment outcomes, maintenance costs and other factors; determine asset availability; and evaluate plans that balance financial results, operational performance and residual risk.
After the plan has been established, IBM Maximo APM Asset Health Insights allows an organization to analyze asset maintenance information, and other IoT and environmental data to help prioritize maintenance around critical assets and determine optimal replacement strategies.
Its capabilities include:
Consolidated global view of assets
Asset health visibility and analysis
Condition-based maintenance scheduling
Replacement planning that balances expected life with current condition and cost
This solution aggregates asset condition drivers and influencers, plus other data. It provides users with a complete view of the asset health score and recommendations for maintenance planning.
For more information about Maximo Asset Health Insights in action, read the blog.
Predict with IBM Maximo APM Predict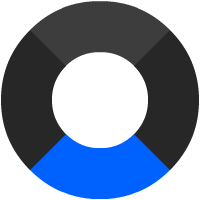 The Predictive Maintenance Insights solution lets you know when fixes are needed, and when asset managers should assign technicians to make the repair or replacement.
This solution features:
Asset failure models
Determine factors that contribute to failure
Score models with current sensor data
Templates to build five common predictive models
Predictive models that provide scores using Watson machine learning
Pre-built visualizations for the five common models
Model scores that assess asset health with Maximo Monitor
It also allows users to:
Predict and reduce failures
Reduce unplanned downtime
Reduce maintenance costs
Improve asset utilization
Extend life of asset
Reduce replacement costs
Increase production output
For more information about Maximo Asset Health Insights in action, read our case study:

Monitor assets. Manage maintenance decisions. Maximize performance.
We envision a world in which machines operate flawlessly to keep the wheels of industry turning. It's a world where shutdowns and power outages never occur. Lights are always on. Trains are always on time. Expectations are consistently delivered on schedule.
Call us idealistic. Call us dreamers. But also call us committed.
Our APM suite of solutions builds on the success of EAM systems you may already own. We turbo-charge asset management, routine maintenance and critical repair decisions with bold new approaches and sophisticated new technologies. Our IoT and AI-powered modules are already achieving astounding results for the visionaries who have already implemented them, and they can do the same for you.
For more information about Asset Performance Management and how IBM Maximo can help your organization better manage its physical assets, speak to your IBM representative or contact us.
We'd be happy to provide an assessment of your current operations to determine how you can leverage the benefits of IoT and AI.
Footnotes
Kareem Yusuf, PhD, How IBM is Applying AI to Improve Operational Asset Performance, IBM THINK blog, February 28, 2019

ARC view, Optimize Asset Performance with Industrial IoT and Analytics, August 2015

Oniqua Enterprise Analytics, Reducing the Cost of Preventive Maintenance

T.A. Cook, Maintenance Efficiency Report 2013, August 2013

Enterprise Asset Management and Field Service Management, ARC Advisory Group, April 2015

G.P. Sullivan, R. Pugh, A.P. Melendez and W.D. Hunt, "Operations & Maintenance Best Practices: A Guide to Achieving Operational Efficiency, Release 3.0," Pacific Northwest National Laboratory, U.S. Department of Energy, August 2010