In preparation for my [upcoming trip to Australia and New Zealand], I decided to upgrade my smartphone. My service provider T-Mobile offered me the chance to try out any new phone for 14 days for only ten dollar re-stocking fee. For the past 16 months, I have used the Google G1 phone. This is based on a storage-optimized Android operating system, based on open source Linux, with applications processed in a storage-optimized virtual machine called Dalvik, based on open source Java. According to Wikipedia, Android-based phones have #1 market share [outselling both BlackBerry OS and Apple iOS phones]. There are over 70 different companies using Android, driven away from the proprietary interfaces from Apple, BlackBerry and Microsoft.
Since I was already familiar with the Android operating system, I chose the Samsung Galaxy S Vibrant. I liked my G1, but it had only a small amount of internal memory to store applications. The G1 supported an external Micro SDHC card, but this only was used for music and photos. There was no way to install applications on the memory card, so I found myself having to uninstall applications to make room for new ones. By contrast, the Vibrant has 16GB internal memory, plenty of room for all applications, and supports Micro SDHC up to 32GB in size. My model can pre-installed with a 2GB card, of which 1.4GB is consumed by James Cameron's full-length movie Avatar. On the G1, swapping out memory cards was relatively easy. On the Vibrant, you have to take the phone apart to swap out cards, so I won't be doing that very often. I will probably just get a 32GB card and leave it in there permanently.
(FTC disclosure: I work for IBM. IBM has working relationships with Oracle, Google, and lots of other companies. IBM offers its own commercial version of Java related tools. I own stock in IBM, Apple, Google. I have friends and family who work at Microsoft. My review below is based entirely on my own experience of my new Samsung Galaxy S Vibrant phone. Samsung has created different models for different service providers. The T-Mobile Vibrant is an external USB storage device with telephony capabilities, comparable to the AT&T Captivate, Verizon Fascinate, or Sprint Epic 4G. The majority of mobile phones in the world contain IBM technology. This post is not necessarily an endorsement for Samsung over other smartphone manufacturers, nor T-Mobile over other service providers. I provide this information in context of storage optimization, state-of-the-art for smartphones in general, and disputes related to software patents between companies. I hold 19 patents, most of which are software patents.)
When Oracle acquired Sun Microsystems, it inherited stewardship of Java. Java is offered in two flavors. Java Standard Edition (SE) for machines that are planted firmly on or below your desk, and Java Micro Edition (ME) for machines that are carried around. Most Java-based phones limit themselves to Java ME, but Google decided to base its smartphones on the more powerful Java SE, but then optimize for the limited storage and computing resources. These two levels of Java have radically different licensing terms and conditions, so Larry Ellison of Oracle cried foul. On The Register, Gavin Clarke has an excellent article with details of the Oracle-vs-Google complaint. Daniel Dilger opines that Oracle [might kill Google's Android and software patents all at once]. Fellow blogger Mark Twomey (EMC) on his StorageZilla blog, argues that [it's not about Android phones, but Android everything].
My Vibrant is roughly the size of a half-inch stack of 3x5 index cards in my hand. In my humble opinion, the problem is the grey area between mobile phone and the desktop personal computer. Laptops, netbooks, iPads, tablet computers, eBook readers, and smartphones fall somewhere in between. At what point do you stop licensing Java SE and start licensing Java ME instead?
Let's take a look at all the stuff my new Samsung Vibrant can do, and let you decide for yourself. I have 140 applications installed, which I can access alphabetically. I also have up to seven screens which I can fill with application icons and widgets to simplify access. The screen measures about 4 inches diagonally. Click on each image below to see the full 480x800 resolution.
Each screen has five rows. On my first screen, I have the first two rows related to photography. This includes a camera, camcorder, bar-code scanner and visual search engine (Google Goggles). I am not happy with Flickr Droid app in uploading photos, so I might need to find another app for that. Other reviews I read complain that the Vibrant's camera does not have am LED flash for night time shots, and that there is no forward facing camera to do Skype or FaceTime-style videoconferencing. I think it is fine the way it is. An interesting feature of the camera app is that it uses the volume up/down buttons to zoom in and out.

The next two rows related to books and documents. In addition to both Amazon's Kindle and Barnes and Noble's Nook eBook readers, I have Dropbox to make it easy to transfer files between all my machines, a camera-scanner that generates PDFs, and ThinkFree, which appears to be based on OpenOffice open source software to create, view and edit WORD documents, EXCEL spreadsheets and PowerPoint presentations.
My second screen is for music and video entertainment.

The top row is consumed by a single widget for [Pandora], an internet radio station, not to be confused with the Pandora moon that the movie Avatar is based on. I-heart-radio, Slacker, and Last.fm are other internet radio stations. Be careful when roaming in another country, as the $15-per-MB transfer fees can really add up. While the Galaxy S has a built-in FM radio, T-Mobile has decided to disable this feature in its Vibrant model, in favor of internet-based radio stations.

I am glad the Samsung Vibrant uses the same 3.5mm combo audio jack that I mentioned in my blog post about my [New ThinkPad T410]. This allows me to use the same headset for both my laptop and my cell phone.

For those who use Microsoft Windows Media Player v10 or above, this phone lets you transfer over your songs, playlists and videos via the USB cable in PMC mode. The TED application shows 18-minute videos of lectures at conferences that focus on Technology, Entertainment and Design. MobiTV offers live streaming of popular Television shows, normally ten dollars monthly, but I got a free 30-day trial in the deal.
Screen 3 is focused on travel. I have a 30-day free trial of GoGo, the new Wi-Fi networks on various airlines. Hopefully, I will get to try this out on my upcoming flights. When GoGo is not available, the Extended Controls widget allows me to turn the phone into "Airplane mode", which would allow me to read eBooks and listen to pre-recorded music and videos stored on my phone. Most of the apps on Android are free, but Extended Controls, shown here in the top row, cost me money but well worth it. With this you can customize different size widgets with all the appropriate setting toggles you want. On this one, I can toggle Wi-Fi, Data transfer, GPS positioning, and Airplane mode.

Google Maps, Google Places and Google Sky Map are all well represented here. I also like TripIt, which is a free Software-as-a-Service for managing your trip itenerary, and syncs up with their online website. Currency and Language translation can help on international travel. The standard Alarm Clock also includes Time Zone conversion as well.
My screen 4 is my central home page. There are four buttons on the bottom of the phone: Menu, Home, Back, and Search. Hit the "Home" button on any screen, and it jumps immediately to Screen 4. From here, I can get to any of the other screens with just swiping my finger across the surface. Therefore, I chose to keep this screen simple.

For meetings, I have a big clock, and an Extended Controls widget to set my phone on silent/vibrate mode, and show my battery status. I put icons here for apps that I might need in a hurry, like Camera, Evernote, or Shazam. For those not familiar with Shazam, it will listen to the microphone for whatever song is playing in the background where you are, and it will identify the song's title and artist.

The "Starred" folder lists those five or so contacts that I have marked with a "star" to be on this short list. From here, I can call or send them an SMS text message.
Screen 5 is for office productivity. I have a 2x2 widget from Astrid to list my to-do items. I have a 1x2 widget showing my last call. My calendar syncs up with my Google calendar online.

The Locale widget allows me to change which on-screen keyboard to use. There is the standard Android keyboard which allows voice-to-text input, the Samsung keyboard that offers [XT9 mode], and the new ["Swype"] keyboard that allows you to write words quickly with squiggles swiped across the keyboard. The Swype is incredible accurate when I am typing in English. When I am communicating in Spanish, it gets in the way, spell-checking when it shouldn't.
Screen 6 is for my social media, news and search facilities. I have HootSuite Lite for managing my Twitter and Facebook posts. For news junkies, NPR, USA Today and CNN all offer mobile versions.

I have a selection of browsers, including Opera Mini 5, and Dolphin Browser HD. The latter offers a variety of special add-ons similar to Firefox on a desktop system. I also have specialty search sites, including the Internet Movie Database (IMDB), Fandango for local movie times, and Dex for local phone listings.
Screen 7 is for system administration. The top row is another "Extended Controls" widget, this time to change between 2G and 3G networks, brightness setting, set the the time-out interval for when the screen should automatically shut off, and a "stay awake" to turn off the screen saver altogether.

I can do some really powerful things here. For example, I have an application to let me use secure shell (ssh) to access our systems at work. I also can "tether" my laptop to my Vibrant, for those few times when Wi-Fi is not available, to let my laptop use the phone's signal as a dial-up modem. It is slower than Wi-Fi, but might be just what I need in a pinch.

The bottom row is the same across all seven screens, which you can customize. I left the bottom row in its original default, with options to make phone calls, look up contacts, and send text messages. The bottom right corner launches a list of all applications alphabetically, to access those not on my seven main screens.
Just in case I switch to a local SIM card while abroad in another country, I asked T-mobile to unlock my phone, which they happily did at no additional charge. For example, while I am in Australia, I can either leave my T-Mobile USA chip in the phone, and pay roaming charges per minute, or I can purchase a SIM chip from a local phone company with pre-paid minutes. This often includes unlimited free incoming calls to a local Australian phone number, and voicemail.
Unlocking the phone to use different SIM cards is different than "jailbreaking", a term that refers to Apple's products. For Android phones, jailbreaking is called "rooting", as the process involves getting "root" user access that you normally don't have. The only reason I have found to have my phone "rooted" was to take these lovely screen shots, using the "Screen Shot It" application. This is another application that I paid for. I used the free trial for a few screenshots first to check it out, liked the results, and bought the application.
So, this new smartphone looks like a keeper. I got a screen protector to avoid scratching, and a two-piece case that snaps around the phone to give it more heft. All my chargers are "Mini USB" for my old G1 phone, and this new Vibrant phone is "Micro USB" instead, so I had to order new ones for my car, my office, and for my iGo (tip A97).
This review is more to focus on the fact that the IT industry is changing, and what was traditionally performed on personal computers are now being done on new handheld devices. Android provides a platform for innovation and healthy competition. Let's all hope Oracle and Google can work out their differences amicably.
| | |
| --- | --- |
| | Guest Post: The following post was written by Tom Rauchut, IBM Infrastructure Architect and Advanced Technical Sales Specialist for Tivoli Automation. Tom is at IBM Pulse 2011 for Las Vegas this week, and has offered to send his observations. |
---
The expo opened last night. There are so many fantastic demos and product experts. Las Vegas has a Tivoli buzz on right now.
I'm working in the Hands On Labs room. Pulse labs kicked off Sunday. The hot topics included Cloud, Storage, Automation, Asset Management, and BigFix (a company IBM [acquired and products will now be called Tivoli Endpoint Manager])
I'll try to get you a few updates along the way.
technorati tags: IBM, Pulse, #ibmpulse, BigFix, Cloud, Storage, Asset Management, Automation, BigFix
Can Structured Query Language [SQL] be considered a storage protocol?
Several months ago, I was asked to review a book on SQL, titled appropriately enough "The Complete Idiot's Guide to SQL", by Steven Holzner, Ph.D. As a published author myself, I get a lot of these requests, and I agreed in this case, given that SQL was invented by IBM, and is a good fundamental skill to have for Business Analytics and Database Management.
(FTC Disclosure: I work for IBM but was not part of the SQL development team. I was provided a copy of this book for free to review it. I was not paid to mention this book, nor told what to write. I do not know the author personally nor anyone that works for his publicist. All of my opinions of the book in this blog post are my own.)
Despite an agreed-upon standard for SQL, each relational database management system (RDBMS) has decided to customize it for their own purposes. First, SQL can be quite wordy, so some RDBMS have made certain keywords optional. Second, RDBMS offer extra features by adding keywords or programming language extentions, options or parameters above and beyond what the SQL standard calls for. Third, the SQL standard has changed over the years, and some RDBMS have opted to keep some backward compatibility with their prior releases. Fourth, some RDBMS want to discourage people from easily porting code from one RDBMS to another, known in the industry as vendor lock-in.
Throughout my career, I have managed various databases, including Informix, DB2, MySQL, and Microsoft SQL Server, so I am quite familiar with the differences in SQL and the problems and implications that arise.
Most authors who want to write about SQL typically make a choice between (a) stick to the SQL standard, and expect the reader to customize the examples to their particular DBMS; or (b) stick to a single RDBMS implemenation, and offer examples that may not work on other RDBMS.
I found the book "The Complete Idiot's Guide to SQL" covered the basics quite well, but with an odd twist. The basics include creating databases and tables, defining columns, inserting and deleting rows, updating fields, and performing queries or joins. The odd twist is that Steven does not make the typical choice above, but rather shows how the various DBMS are different than standard SQL syntax, with actual working examples for different RDBMS.
You might be thinking to yourself that only an idiot would work in a place that had to require knowledge of multiple RDBMS. The sad truth is that most of the medium and large companies I speak to have two or more in production. This is either through acquisitions, or in some cases, individual business units or departments implementing their own via the [Shadow IT].
(For those who want to learn SQL and try out the examples in this book, IBM offers a free version of DB2 called [DB2-C Express] that runs on Windows, Linux, Mac OS, and Solaris.)
Last week, while I was in Russia for the [Edge Comes to You] event, I was interviewed by a journalist from [Storage News] on various topics. One question stuck me as strange. He asked why I did not mention IBM's acquisition of Netezza in my keynote session about storage. I had to explain that Netezza was not in the IBM System Storage product line, it is in a different group, under Business Analytics, where it belongs.
While it is true that Netezza can store data, because it has storage components inside, the same could also be said about nearly every other piece of IT equipment, from servers with internal disk, to digital cameras, smart phones and portable music players. They can all be considered storage devices, but doing so would undermine what differentiates them from one another.
Which brings me back to my original question: Should we consider SQL to be a storage protocol? For the longest time, IT folks only considered block-based interfaces as storage protocols, then we added file-based interfaces like CIFS and NFS, and we also have object-based interfaces, such as IBM's Object Access Method (OAM) and the System Storage Archive Manager (SSAM) API. Could SQL interfaces be the next storage protocol?
Let me know what you think on this. Leave a comment below.
Well, it's Tuesday again, and you know what that means! IBM announcements!
Today, I am in New York visiting clients. The weather is a lot nicer than I expected. Here is a picture of the Hudson River through some trees with leaves turning color. Something we don't see in Tucson! Our cactus and pine trees stay green year-round!
The announcements today center around the IBM PureSystems family of expert integrated systems. The PureFlex is based on Flex System components. The Flex System chassis is 10U high that hold 14 bays, consisting of 7 rows by 2 columns. Computer and Storage nodes fit in the front, and switches, fans and power supplies in the back. Here is a quick recap:
IBM Flex System Compute Nodes

The x220 Compute Node is a single-bay low-power 2-socket x86 server. The x440 Compute Node is a powerful double-bay (1 row, 2 columns). The p260 Compute Node is a single-bay server based on the latest POWER7+ CPU processor.

IBM Flex System Expansion Nodes

Do you remember those old movies where a motorcycle would have a sidecar that could hold another passenger, or extra cargo? IBM introduces "Expansion Nodes" for the x200 series single-bay Compute nodes. The idea here is that in a single column, you have one bay for the Compute node, and then on the side in the next bay (same column) you have an Expanions node. There are two choices:

Storage Expansion Node allows you to have eight additional drives
PCIe Expansion Node allows to to have four PCIe cards, which could include the SSD-based PCIe cards from IBM's recent acquisition, Texas Memory Systems.

There are times where one or two internal drives are just not enough storage for a single server, and these expanion nodes could just be the perfect solution for some use cases.

IBM Flex System V7000 Storage Node

I saved the best for last! The Flex System V7000 Storage Node is basically the IBM Storwize V7000 repackaged to fit into the Flex System chassis. This means that in the front of the chassis, the Flex System V7000 takes up four bays (2 rows by 2 columns). In the back of the chassis are the power supplies, fans and switches.

The new Flex System V7000 supports everything the Storwize V7000 does except the upgrade to "Unified" through file modules. For those who want to have Storwize V7000 Unified in their PureFlex systems, IBM will continue to offer the outside-the-chassis original Storwize V7000 that can have two file modules added for NFS, CIFS, HTTPS, FTP and SCP protocol support.

IBM Flex System Converged Network Switch

The Converged Network Switch provide Fibre Channel over Ethernet (FCoE) directly from the chassis. This eliminates the need for a separate "Top-of-Rack" switch, and allows the new Flex System V7000 Storage Node to externally virtualize FCoE-based disk arrays.

Patterns of Expertise for Infrastructure

The original patterns of expertise focused on the PureApplication Systems. Now IBM has added some for the Infrastructure on PureFlex systems.
IBM has sold over 1,000 Flex System and PureFlex systems, across 40 different countries around the world, since their introduction a few months ago in April! These latest enhancements will help solidify IBM's industry leadership,
technorati tags: IBM, PureFlex, Storwize V7000, Flex System V7000, PureSystems, PureApplication, Patters of Expertise
Perhaps I wrapped up my exploration of disk system performance one day too early. (While it is Friday here in Malaysia, it is still only Thursday back home)
Barry Burke, EMC blogger (aka The Storage Anarchist) writes:
Aren't you mixing metrics here?

Miles per Gallon measures an effeciency ratio (amount of work done with a fixed amount of energy), not a speed ratio (distance traveled in a unit of time).

Given that IOPs and MB/s are the unit of "work" a storage array does, wouldn't the MPG equivalent for storage be more like IOPs per Watt or MB/s per Watt? Or maybe just simply Megabytes Stored per Watt (a typical "green" measurement)?

You appear to be intentionally avoiding the comparison of I/Os per Second and Megabytes per Second to Miles Per Hour?

May I ask why?
This is a fair question, Barry, so I will try to address it here.
It was not a typo, I did mean MPG (miles per gallon) and not MPH (miles per hour). It is always challenging to find an analogy that everyone can relate to explain concepts in Information Technology that might be harder to grasp. I chose MPG because it was closely related to IOPS and MB/s in four ways:
MPG applies to all instances of a particular make and model. Before Henry Ford and the assembly line, cars were made one at a time, by a small team of craftsmen, and so there could be variety from one instance to another. Today, vehicles and storage systems are mass-produced in a manner that provides consistent quality. You can test one vehicle, and safely assume that all similar instances of the same make and model will have the similar mileage. The same is true for disk systems, test one disk system and you can assume that all others of the same make and model will have similar performance.

MPG has a standardized measurement benchmark that is publicly available. The US Environmental Protection Agency (EPA) is an easy analogy for the Storage Performance Council, providing the results of various offerings to chose from.

MPG has usage-specific benchmarks to reflect real-world conditions.The EPA offers City MPG for the type of driving you do to get to work, and Highway MPG, to reflect the type ofdriving on a cross-country trip. These serve as a direct analogy to SPC having SPC-1 for Online transaction processing (OLTP) and SPC-2 for large file transfers, database queries and video streaming.

MPG can be used for cost/benefit analysis.For example, one could estimate the amount of business value (miles travelled) for the amount of dollar investment (cost to purchase gallons of gasoline, at an assumed gas price). The EPA does this as part of their analysis. This is similar to the way IOPS and MB/s can be divided by the cost of the storage system being tested on SPC benchmark results. The business value of IOPS or MB/s depends on the application, but could relate to the number of transactions processed per hour, the number of music downloads per hour, or number of customer queries handled per hour, all of which can be assigned a specific dollar amount for analysis.
It seemed that if I was going to explain why standardized benchmarks were relevant, I should find an analogy that has similar features to compare to. I thought about MPH, since it is based on time units like IOPS and MB/s, butdecided against it based on an earlier comment you made, Barry, about NASCAR:
Let's imagine that a Dodge Charger wins the overwhelming majority of NASCAR races. Would that prove that a stock Charger is the best car for driving to work, or for a cross-country trip?
Your comparison, Barry, to car-racing brings up three reasons why I felt MPH is a bad metric to use for an analogy:
Increasing MPH, and driving anywhere near the maximum rated MPH for a vehicle, can be reckless and dangerous,risking loss of human life and property damage. Even professional race car drivers will agree there are dangers involved. By contrast, processing I/O requests at maximum speed poses no additional risk to the data, nor possibledamage to any of the IT equipment involved.
While most vehicles have top speeds in excess of 100 miles per hour, most Federal, State and Local speed limits prevent anyone from taking advantage of those maximums. Race-car drivers in NASCAR may be able to take advantage of maximum MPH of a vehicle, the rest of us can't. The government limits speed of vehicles precisely because of the dangers mentioned in the previous bullet. In contrast, processing I/O requests at faster speeds poses no such dangers, so the government poses no limits.
Neither IOPS nor MB/s match MPH exactly.Earlier this week,I related IOPS to "Questions handled per hour" at the local public library, and MB/s to "Spoken words per minute" in those replies. If I tried to find a metric based on unit type to match the "per second" in IOPS and MB/s, then I would need to find a unit that equated to "I/O requests" or "MB transferred" rather than something related to "distance travelled".

In terms of time-based units, the closest I could come up with for IOPS was acceleration rate of zero-to-sixty MPH in a certain number of seconds. Speeding up to 60MPH, then slamming the breaks, and then back up to 60MPH, start-stop, start-stop, and so on, would reflect what IOPS is doing on a requestby request basis, but nobody drives like this (except maybe the taxi cab drivers here in Malaysia!)

Since vehicles are limited to speed limits in normal road conditions, the closest I could come up with for MB/s would be "passenger-miles per hour", such that high-occupancy vehicles like school buses could deliver more passengers than low-occupancy vehicles with only a few passengers.

Neither start-stops nor passenger-miles per hour have standardized benchmarks, so they don't work well for comparisonbetween vehicles.If you or anyone can come up with a metric that will help explain the relevance of standardized benchmarks better than the MPG that I already used, I would be interested in it.
You also mention, Barry, the term "efficiency" but mileage is about "fuel economy".Wikipedia is quick to point out that the fuel efficiency of petroleum engines has improved markedly in recent decades, this does not necessarily translate into fuel economy of cars. The same can be said about the performance of internal bandwidth ofthe backplane between controllers and faster HDD does not necessarily translate to external performance of the disk system as a whole. You correctly point this out in your blog about the DMX-4:
Complementing the 4Gb FC and FICON front-end support added to the DMX-3 at the end of 2006, the new 4Gb back-end allows the DMX-4 to support the latest in 4Gb FC disk drives.

You may have noticed that there weren't any specific performance claims attributed to the new 4Gb FC back-end. This wasn't an oversight, it is in fact intentional. The reality is that when it comes to massive-cache storage architectures, there really isn't that much of a difference between 2Gb/s transfer speeds and 4Gb/s.

Oh, and yes, it's true - the DMX-4 is not the first high-end storage array to ship a 4Gb/s FC back-end. The USP-V, announced way back in May, has that honor (but only if it meets the promised first shipments in July 2007). DMX-4 will be in August '07, so I guess that leaves the DS8000 a distant 3rd.
This also explains why the IBM DS8000, with its clever "Adaptive Replacement Cache" algorithm, has such highSPC-1 benchmarks despite the fact that it still uses 2Gbps drives inside. Given that it doesn't matter between2Gbps and 4Gbps on the back-end, why would it matter which vendor came first, second or third, and why call it a "distant 3rd" for IBM? How soon would IBM need to announce similar back-end support for it to be a "close 3rd" in your mind?
I'll wrap up with you're excellent comment that Watts per GB is a typical "green" metric. I strongly support the whole"green initiative" and I used "Watts per GB" last month to explain about how tape is less energy-consumptive than paper.I see on your blog you have used it yourself here:
The DMX-3 requires less Watts/GB in an apples-to-apples comparison of capacity and ports against both the USP and the DS8000, using the same exact disk drives
It is not clear if "requires less" means "slightly less" or "substantially less" in this context, and have no facts from my own folks within IBM to confirm or deny it. Given that tape is orders of magnitude less energy-consumptive than anything EMC manufacturers today, the point is probably moot.
I find it refreshing, nonetheless, to have agreed-upon "energy consumption" metrics to make such apples-to-apples comparisons between products from different storage vendors. This is exactly what customers want to do with performance as well, without necessarily having to run their own benchmarks or work with specific storage vendors. Of course, Watts/GB consumption varies by workload, so to make such comparisons truly apples-to-apples, you would need to run the same workload against both systems. Why not use the SPC-1 or SPC-2 benchmarks to measure the Watts/GB consumption? That way, EMC can publish the DMX performance numbers at the same time as the energy consumption numbers, and then HDS can follow suit for its USP-V.
I'm on my way back to the USA soon, but wanted to post this now so I can relax on the plane.
technorati tags: IBM, EMC, Storage Anarchist, MPG, MPH, IOPS, NASCAR, Malaysia, Watts, GB, green, back-end, DMX-3, DMX-4, HDS, USP, USP-V, SPC, SPC-1, SPC-2, standardized, benchmarks, workload, DS8000, disk, storage, tape
[
Read More
]
Well, I'm back from my exhausting trip in New York City.
I had to rub my eyes when I saw the headlines about [HP accusing Oracle] of harassing their new CEO with a [subpoena in Oracle's suit against HP]. One thing perhaps can be said about this circus -- it may be more preferable for Oracle to talk about than the continued decline of the hardware business that it [acquired from Sun Microsystems] earlier this year.
Each quarter since 2006, the [IBM Migration Factory] team has tallied the number of clients who have moved to IBM severs and storage systems from competitive hardware. We'll I've just seen the latest numbers, for the third quarter of 2010, and it looks like we set a new quarterly record with nearly 400 total migrations to IBM from Oracle/Sun and HP.
It's clear that companies and governments worldwide are seeing greater value in IBM systems, while Oracle and HP watch their customer bases erode. In just this past 3Q 2010, nearly 400 clients have moved over to IBM -- almost all of them from Oracle/Sun and HP. Of these, 286 clients migrated to IBM Power Systems, running AIX, Linux and IBM i operating systems, from competitors alone -- nearly 175 from Oracle/Sun and nearly 100 from HP. The number of migrations to IBM Power Systems through the first three quarters of 2010 is nearly 800, already exceeding the total for all of last year by more than 200.
Let's do the math.... Since IBM established its Migration Factory program in 2006, more than 4,500 clients have switched to IBM. More than 1,000 from Oracle/Sun and HP joined the exodus this year alone. In less than five years, almost 3,000 of these clients -- including more than 1,500 from Oracle/Sun and more than 1,000 from HP -- have chosen to run their businesses on IBM's Power Systems. That's more than a client per day making the move to IBM!
And as the servers go, so goes the storage. Clients are re-discovering IBM as a server and storage powerhouse, offering a strong portfolio in servers, disk and tape systems, and how synergies between servers and storage can provide them real business benefits.
Adding it all up, it's clear that IBM's multi-billion dollar investment in helping to build a smarter planet with workload-optimized systems is paying off -- and that, more and more, clients are selecting IBM over the competition to help them meet their business needs.
technorati tags: , IBM, Migration Factory, Oracle, Sun, HP, lawsuit, subpoena
"Politics makes strange bedfellows."
--- Charles Dudley Warner

In my September 2007 post [Supermarkets and Specialty Shops], I explain that there are two kinds of clients:
Those that prefer to work with one-stop shopping of an IT Supermarket, with companies like IBM, HP and Dell who offer a complete set of servers, storage, switches, software and services, what we call "The Five S's".
Those that perfer shopping for components at individual specialty shops, like butchers, bakers, and candlestick makers, hoping that this singular focus means the products are best-of-breed in the market. Companies like HDS for disk, Quantum for tape, and Symantec for software come to mind.
My how the IT landscape for vendors has evolved in just the past five years! Cisco starts to sell servers, and enters a "mini-mall" alliance with EMC and VMware to offer vBlock integrated stack of server, storage and switches with VMware as the software hypervisor. For those not familiar with the concept of mini-malls, these are typically rows of specialty shops. A shopper can park their car once, and do all their shopping from the various shops in the mini-mall. Not quite "one-stop" shopping of a supermarket, but tries to address the same need.
("Who do I call when it breaks?" -- The three companies formed a puppet company, the Virtual Computing Environment company, or VCE, to help answer that question!)
Among the many things IBM has learned in its 100+ years of experience, it is that clients want choices. Cisco figured this out also, and partnered with NetApp to offer the aptly-named FlexPod reference architecture. In effect, Cisco has two boyfriends, when she is with EMC, it is called a Vblock, and when she is with NetApp, it is called a FlexPod. I was lucky enough to find this graphic to help explain the three-way love triangle.
Did this move put a strain on the relationship between Cisco and EMC? Last month, EMC announced VSPEX, a FlexPod-like approach that provides a choice of servers, and some leeway for resellers to make choices to fit client needs better. Why limit yourself to Cisco servers, when IBM and HP servers are better? Is this an admission that Vblock has failed, and that VSPEX is the new way of doing things? No, I suspect it is just EMC's way to strike back at both Cisco and NetApp in what many are calling the "Stack Wars". (See [The Stack Wars have Begun!], [What is the Enterprise Stack?], or [The Fight for the Fully Virtualized Data Center] for more on this.)
(FTC Disclosure: I am both an employee and shareholder of IBM, so the U.S. Federal Trade Commission may consider this post a paid, celebrity endorsement of the IBM PureFlex system. IBM has working relationships with Cisco, NetApp, and Quantum. I was not paid to mention, nor have I any financial interest in, any of the other companies mentioned in this blog post. )
Chris Mellor and Timothy Prickett Morgan at The Register have a great series of posts exploring this new development: [EMC VSPEX storage torpedo could sink FlexPods], [El Reg hurls EMC onto the rack, drills into VSPEX], [We were right: EMC's VSPEX will take on FlexPods], and [How EMC stuffs channel cakeholes with VSPEX recipes].
Last month, IBM announced its new PureSystems family, ushering in a [new era in computing]. I invite you all to check out the many "Paterns of Expertise" available at the [IBM PureSystems Centre]. This is like an "app store" for the data center, and what I feel truly differentiates IBM's offerings from the rest.
The trend is obvious. Clients who previously purchased from specialty shops are discovering the cost and complexity of building workable systems from piece-parts from separate vendors has proven expensive and challenging. IBM PureFlex™ systems eliminate a lot of the complexity and effort, but still offer plenty of flexibility, choice of server processor types, choice of server and storage hypervisors, and choice of various operating systems.
technorati tags: IBM, Stack Wars, PureSystems, PureFlex, VSPEX, EMC, Vblock, Cisco, VMware, NetApp, FlexPod, HDS, Quantum, Symantec
My colleagues, Harley Puckett (left) and Jack Arnold (right) were highlighted in today's Arizona Daily Star, our local newspaper, as part of an article on IBM's success and leadership in the IT storage industry. At 1400 employees here in Tucson, IBM is Southern Arizona's 36th largest employer.
Highlighted in the article:
DS8700 with the new Easy Tier feature
TS7650 ProtecTIER virtual tape library with data deduplication capability
LTO-5 tape and the new Long Term File System (LTFS)
XIV with the new 2TB drive, for a maximum per-rack usable capacity of 161 TB.
Read the full article [IBMers Crank Out 4 New Offerings To Handle Data Deluge]
technorati tags: , Arizona Daily Star, IBM Tucson, DS8700, Easy Tier, ProtecTIER, Deduplication, LTO-5, LTFS, XIV, IBM, Tucson, Arizona
On Wikibon, David Floyer has an article titled [SAS Drives Tier 1 to New Levels of Green] that focuses on the energy efficiency benefits of newer Serial-Attach SCSI (SAS) drives over older Fibre Channel (FC) drives. This makes sense, as R&D budgets have been spent on making newer technologies more "green".
Fellow blogger Hu Yoshida (HDS) encourages people to [Invest in the Future with SAS, SATA and SFF], referring to Figure 1.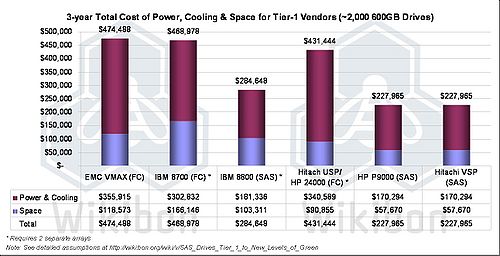 Of course, people might consider this an [apples-to-oranges] comparison. Not only are we changing from FC to SAS technology, we are also changing from 3.5-inch drives to small form factor (SFF) 2.5-inch drives. It seems odd to specify 2000 drives, when only two of the five scale up to that level. Few systems in production, from any vendor, have more than 1000 drives, so it would have seemed that would have been a fairer comparison.
However, Hu's conclusion that the combination of SAS and SFF provides better performance and energy efficiency for both IBM DS8800 and HDS VSP than FC-based alternatives from any vendor seems reasonably supported by the data.
Meanwhile, fellow blogger David Merrill (HDS) pokes fun at IBM DS8800 in Figure 2 in his post [Winner o' the green]. This second comparison was for 4PB of raw capacity, which 4 of the 5 can handle easily using 2TB SATA drives, but the DS8800 is based on SAS technology and does not support 2TB SATA drives. A performance-oriented configuration with four distinct DS8800 boxes employing 600GB SAS drives is used instead, causing the data for the DS8800 to stick out like a sore thumb, or perhaps more intentionally as a middle finger.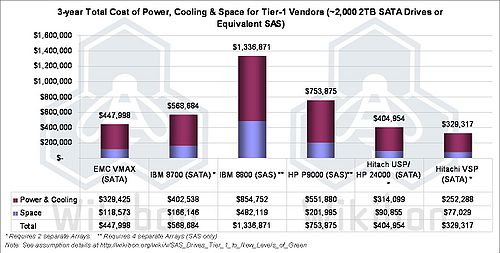 The main take-away here is that IBM offers both the DS8700 for capacity-optimized workloads, and the DS8800 for performance-optimized workloads. Some competitors may have been spreading FUD that the DS8700 was withdrawn last month, it wasn't. As you can see from the data presented, there are times where a DS8700 might be more preferable than a DS8800, depending on the type of workloads you plan to deploy. IBM offers both, and will continue to support existing DS8700 and DS8800 units in the field for many years to come.
technorati tags: IBM, DS8700, DS8800, Wikibon, Hu Yoshida, David Merrill, Davud Floyer
I am still wiping the coffee off my computer screen, inadvertently sprayed when I took a sip while reading HDS' uber-blogger Hu Yoshida's post on
storage virtualization andvendor lock-in
. This blog appears to be the text version of their
funny video
.
While most of the post is accurate and well-stated, two opinions particular caught my eye. I'll be nice and call them opinions, since these are blogs, and always subject to interpretation. I'll put quotes around them so that people will correctly relate these to Hu, and not me.
"Storage virtualization can only be done in a storage controller. Currently Hitachi is the only vendor to provide this."
-- Hu Yoshida
Hu, I enjoy all of your blog entries, but you should know better. HDS is fairly new-comer to the storage virtualization arena, so since IBM has been doing this for decades, I will bring you and the rest of the readers up to speed. I am not starting a blog-fight, just want to provide some additional information for clients to consider when making choices in the marketplace.
First, let's clarify the terminology. I will use 'storage' in the broad sense, including anything that can hold 1's and 0's, including memory, spinning disk media, and plastic tape media. These all have different mechanisms and access methods, based on their physical geometry and characteristics. The concept of 'virtualization' is any technology that makes one set of resources look like another set of resources with more preferable characteristics, and this applies to storage as well as servers and networks. Finally, 'storage controller' is any device with the intelligence to talk to a server and handle its read and write requests.
Second, let's take a look at all the different flavors of storage virtualization that IBM has developed over the past 30 years.
1972

IBM introduces the S/370 with the OS/VS1 operating system. "VS" here refers to virtual storage, and in this case internal server memory was swapped out to physical disk. Using a table mapping, disk was made to look like an extension of main memory.

1974

IBM introduces the IBM 3850 Mass Storage System (MSS). Until this time, programs that ran on mainframes had to be acutely aware of the device types being written, as each device type had different block, track and cylinder sizes, so a program written for one device type would have to be modified to work with a different device type. The MSS was able to take four 3350 disks, and a lot of tapes, and make them look like older 3330 disks, since most programs were still written for the 3330 format. The MSS was a way to deliver new 3350 disk to a 3330-oriented ecosystem, and greatly reduce the cost by handling tape on the back end. The table mapping was one virtual 3330 disk (100 MB) to two physical tapes (50 MB each). Back then, all of the mainframe disk systems had separate controllers. The 3850 used a 3831 controller that talked to the servers.



1978

IBM invents Redundant Array of Independent Disk (RAID) technology. The table mapping is one or more virtual "Logical Units" (or "LUNs") to two or more physical disks. Data is striped, mirrored and paritied across the physical drives, making the LUNs look and feel like disks, but with faster performance and higher reliability than the physical drives they were mapped to. RAID could be implemented in the server as software, on top or embedded into the operating system, in the host bus adapter, or on the controller itself. The vendor that provided the RAID software or HBA did not have to be the same as the vendor that provided the disk, so in a sense, this avoided "vendor lock-in".Today, RAID is almost always done in the external storage controller.



1981

IBM introduces the Personal Computer. One of the features of DOS is the ability to make a "RAM drive". This is technology that runs in the operating system to make internal memory look and feel like an external drive letter. Applications that already knew how to read and write to drive letters could work unmodified with these new RAM drives. This had the advantage that the files would be erased when the system was turned off, so it was perfect for temporary files. Of course, other operating systems today have this feature, UNIX has a /tmp directory in memory, and z/OS uses VIO storage pools.

This is important, as memory would be made to look like disk externally, as "cache", in the 1990s.



1990

IBM AIX v3 introduces Logical Volume Manager (LVM). LVM maps the LUNs from external RAID controllers into virtual disks inside the UNIX server. The mapping can combine the capacity of multiple physical LUNs into a large internal volume. This was all done by software within the server, completely independent of the storage vendor, so again no lock-in.



1997

IBM introduces the Virtual Tape Server (VTS). This was a disk array that emulated a tape library. A mapping of virtual tapes to physical tapes was done to allow full utilization of larger and larger tape cartridges. While many people today mistakenly equate "storage virtualization" with "disk virtualization", in reality it can be implemented on other forms of storage. The disk array was referred to as the "Tape Volume Cache". By using disk, the VTS could mount an empty "scratch" tape instantaneously, since no physical tape had to be mounted for this purpose.

Contradicting its "tape is dead" mantra, EMC later developed its CLARiiON disk library that emulates a virtual tape library (VTL).



2003

IBM introduces the SAN Volume Controller. It involves mapping virtual disks to manage disks that could be from different frames from different vendors. Like other controllers, the SVC has multiple processors and cache memory, with the intelligence to talk to servers, and is similar in functionality to the controller components you might find inside monolithic "controller+disk" configurations like the IBM DS8300, EMC Symmetrix, or HDS TagmaStore USP. SVC can map the virtual disk to physical disk one-for-one in "image mode", as HDS does, or can also map virtual disks across physical managed disks, using a similar mapping table, to provide advantages like performance improvement through striping. You can take any virtual disk out of the SVC system simply by migrating it back to "image mode" and disconnecting the LUN from management. Again, no vendor lock-in.

The HDS USP and NSC can run as regular disk systems without virtualization, or the virtualization can be enabled to allow external disks from other vendors. HDS usually counts all USP and NSC sold, but never mention what percentage these have external disks attached in virtualization mode. Either they don't track this, or too embarrassed to publish the number. (My guess: single digit percentage).

Few people remember that IBM also introduced virtualization in both controller+disk and SAN switch form factors. The controller+disk version was called "SAN Integration Server", but people didn't like the "vendor lock-in" having to buy the internal disk from IBM. They preferred having it all external disk, with plenty of vendor choices. This is perhaps why Hitachi now offers a disk-less version of the NSC 55, in an attempt to be more like IBM's SVC.

IBM also had introduced the IBM SVC for Cisco 9000 blade. Our clients didn't want to upgrade their SAN switch networking gear just to get the benefits of disk virtualization. Perhaps this is the same reason EMC has done so poorly with its "Invista" offering.
So, bottom line, storage virtualization can, and has, been delivered in the operating system software, in the server's host bus adapter, inside SAN switches, and in storage controllers. It can be delivered anywhere in the path between application and physical media. Today, the two major vendors that provide disk virtualization "in the storage controller" are IBM and HDS, and the three major vendors that provide tape virtualization "in the storage controller" are IBM, Sun/STK, and EMC. All of these involve a mapping of logical to physical resources. Hitachi uses a one-for-one mapping, whereas IBM additionally offers more sophisticated mappings as well.


technorati tags: IBM, disk, tape, storage, virtualization, Hu Yoshia, HDS, Hitachi, TagmaStore, USP, NSC, disk-less, SAN Volume Controller, LVM, AIX, RAID, SAN, blade, Sun, STK, Cisco, EMC, Invista,
[
Read More
]
Well, it's Tuesday again, and you know what that means! IBM Announcements! Typically, IBM System Storage has three to five major product launches per year. Making announcements every Tuesday would have been two frequent, and having one big announcement every two or three years would be too far apart. Worldwide combined revenues for storage hardware and software grew double digits last year, comparing full-year 2011 to the prior 2010 year, and I am sure that 2012 will also be a good year for IBM as well! This week we have announcements for both disk and tape, but since 2012 is the 60th Diamond Anniversary for tape, I will start with tape systems first.
TS1140 support for JA/JJ tape cartridges

The TS1140 enterprise tape drive was announced at the [Storage Innovation Executive Summit] last May. It supported a new E07 format on three different new tape cartridges. Models "JC" was 4.0TB standard re-writeable tapes, "JY" was 4.0TB WORM tapes, and "JK" were 500GB economy tapes that were less expensive, but offered faster random access.

Generally, IBM has adopted an N-2 read, N-1 write [backward compatibility]. This means that the TS1140 could read E05 and E06 formatted tapes on JB and JX media, and could write E06 format on JB and JX media. However, there are a lot of older JA and JJ media, especially as part of TS7740 environments, so IBM now supports TS1140 drives to read J1A formatted JA and JJ media. This is not just for TS7740 environments, any TS1140 in stand-alone or tape library configurations will support this as well.

TS7700 R2.1 enhancements

IBM is a leader in tape virtualization with or without physical tape as back-end media. There are two hardware models of the [IBM Virtualization Engine TS7700 family] for the IBM System z mainframe. These virtual libraries are referred to as "clusters" in IBM literature.

A unique feature of the TS7700 series is support for a Grid configuration, which allows up to six different TS7700 clusters to be grouped into a single instance image. These clusters can be in local or remote locations, connected via WAN or LAN connections.

R2.1 is the latest software release of this successful IBM's TS7700 series.

True Sync Mode Copy. Before R2.1, the TS7700 offered "immediate mode copy". An application would write to a virtual tape, and when it was done with the tape and performed an unmount, the TS7700 would then replicate the tape contents to a secondary cluster on the grid. With True Sync Mode, data contents are replicated per implicit or explicit SYNC points. This is another IBM first in the IT tape industry.
Remote Mount Fail-over. When you have two or more TS7700 clusters in a grid configuration, you can do remote mounts. We've added fail-over multi-pathing up to four paths, so that if a link to a remote cluster is down, it will try one of the others instead.
Parallel Copies and Pre-Migration. On of my 19 patents is for the pre-migration feature for the IBM 3494 Virtual Tape Server (VTS) that carries forward into the TS7700, and is also used in the SONAS and Information Archive products. However, when the grid architecture was introduced, the engineers decided not to allow pre-migration and copies to secondary clusters to occur concurrently. Now these two operations can be done in parallel.
Merge two grids into one grid. Now that we can support up to six clusters into a single grid, we have people with 2-cluster and 3-cluster grids looking to merge them into one. Of course, all the logical and physical volume serials (VOLSER) must be unique!
Accelerate off JA/JJ Media. There are a lot of older JA and JJ media still in TS7700 libraries. This feature allows customers to speed up the transition to newer physical tape media.
Copy Export to E06 format on JB media. This one is clever, and I have to say I would have never thought about it. Let's say you have a TS7740 with TS1140 drives, but you want to export some virtual tapes to physical media to be sent to someone who only has a TS7740 connected with older TS1130 drives. These older drives can't read new JC media nor make sense of the E07 format. This feature will let you export to older JB media in E06 format so that it will be fully readable at the new location on the TS1130 drives.
Copy Export Merge service offering. Thanks to mergers and acquisitions, it is sometimes necessary to split off a portion of data from a TS7700 grid. In the past, IBM supported sending this export to a completely empty TS7700 library, but this new service offerings allows the export to be merged into an existing TS7700 that already contains data.

LTFS-SDE support for Mac OS X 10.7 Lion

How do people still not yet know about the Linear Tape File System [LTFS]? I mentioned this in my blogs back in 2010 in [April], [September], and [November]. Last year, LTFS was the [NAB Show Pick Hits Award] and an [Emmy] for revolutionizing the use of digital tape in Television broadcasting.

In layman's terms, the Single Drive Edition [LTFS-SDE] allows a tape cartridge to be treated like USB memory stick. It is supported on the LTO5  tape drives for systems running various levels of Windows, Linux and Mac OS X. Prior to this announcement, IBM supported Snow Leopard (10.5.6) and Leopard (10.6), and now supports Mac OS X 10.7 "Lion" release.

XIV Gen3 Solid-State Drives (SSD)

The [IBM XIV Gen3 storage system] now supports Solid State Drives! I thought I would provide some context from a historic perspective.

IBM first introduced Solid-State Drives (SSD) back in 2007 where it made sense the most, in [drive-for-drive replacements on blade servers in the IBM BladeCenter]. Blade servers typically only have a single drive, and SSD are both faster and use less energy on a drive-for-drive comparison, so this provided immediate benefit. Today, SSD are available on a variety of System x and POWER system servers.

In 2008, IBM rocked the world by being the first to reach [1 Million IOPS with Project Quicksilver]. This was an all-SSD configuration which many considered unrealistic (at the time), but it showed the potential for solid state drives.

In 2010, IBM announced [DS8700 Easy Tier with Sub-LUN automated tiering], and followed it up with similar support for [SVC 6.1 and Storwize V7000] that provides this enterprise-class functionality to midrange and externally-virtualized storage systems.

In 2011, IBM was able to [scan 10 billion files in 43 minutes] using the GPFS file system in support of Big Data analytics. This, of course, was done with Solid State Drives.

When the [XIV Gen3 was Announced - July 2011], each module included an 1.8-inch "SSD-Ready" slot in the back. IBM made a Statement of Direction that IBM would someday offer SSD drives to put in these slots. Today's announcement is that IBM has finalized the qualification process, so now XIV Gen3 clients can have 400GB of usable non-volatile SSD read cache added to each module. This SSD can be added to existing XIV Gen3 boxes in the field, or it can be factory-installed in new shipments. If you have a 15-module XIV, that's 6TB of additional read cache! This SSD is entirely managed by the XIV Gen3, so you won't have to spend weeks reading manuals or specifying configuration parameters.

My colleague Elisabeth Stahl covers this from a performance angle in her blog post [Performance in a Flash: New IBM XIV SSD Caching].

When you carve volumes on the XIV, you now have an option to enable or disable use of the SSD cache for each volume. Since XIV is being used in private and public cloud deployments, this offers the ability to offer premium performance at premium prices. The use of SSD is complementary to IBM XIV Quality of Service (QoS) performance levels, which are determined by host instead.
Well, that's the first major IBM System Storage launch of 2012. Let me know what you think in the comment section below.
technorati tags: IBM, TS1140, TS7700, TS7720, TS7740, LTFS, LTFS-SDE, LTO5, Mac OS X, Sync, XIV, Gen3, Elisabeth Stahl, SSD
In my presentations in Australia and New Zealand, I mentioned that people were re-discovering the benefits of removable media. While floppy diskettes were convenient way of passing information from one person to another, they unfortunately did not have enough capacity. In today's world, you may need Gigabytes or Terabytes of re-writeable storage with a file system interface that can easily be passed from one person to another. In this post, I explore three options.
Cirago CDD2000 Docking Station

The good folks over at [Cirago International Ltd.] sent me a cute little [CDD2000 docking station] for evalution.

(FCC Disclaimer: I work for IBM, and IBM has no business relationship with Cirago at the time of this writing. Cirago has not paid me to mention their product, but instead provided me a free loaner that I promised to return to them after my evaluation is completed. This post should not be considered an endorsement for Cirago's products. List prices for Cirago and IBM products were determined from publicly available sources for the United States, and may vary in different countries. The views expressed herein may not necessarily reflect the views and opinions of either IBM or Cirago.)

| | |
| --- | --- |
| | I took a few photos so you can see what exactly this device looks like. Basically, it is a plastic box that holds a single naked disk drive. It has four little rubber feet so that it does not slip on your desk surface. |

| | |
| --- | --- |
| The inside is quite simple. The power and SATA connections match those of either a standard 3.5 inch drive, or the smaller form factor (SFF) 2.5 inch drive. However, to my dismay, it does not handle EIDE drives which I have a ton of. After taking apart six different computer systems, I found only one had SATA drives for me to try this unit out with. | |

| | |
| --- | --- |
| | The unit comes with a USB cable and AC/DC power adapter. In my case, I found the USB 3.0 cable too short for my liking. My tower systems are under my desk, but I like keeping docking stations like this on the top of the desk, within easy reach, but that wasn't going to happen because the USB cable was not long enough. |

| | |
| --- | --- |
| Instead, I ended up putting it half-way in between, behind my desk, sitting on another spare system. Not ideal, but in theory there are USB-extension cables that probably could fix this. Here it is with the drive inside. I had a 3.5 inch Western Digital [1600AAJS drive] 160 GB, SATA 3 Gbps, 8 MB Cache, 7200 RPM. | |

To compare the performance, I used a dual-core AMD [Athlon X2] system that I had built for my 2008 [One Laptop Per Child] project. To compare the performance, I ran with the drive externally in the Cirago docking station, then ran the same tests with the same drive internally on the native SATA controller. Although the Cirago documentation indicated that Windows was required, I used Ubuntu Linux 10.04 LTS just fine, using the flexible I/O [fio] benchmarking tool against an ext3 file system.

Sequential Write - a common use for external disk drive is backup.
Random read - randomly read files ranging from 5KB to 10MB in size.
Random mixed - randomly read/write files (50/50 mix) ranging from 5KB to 10MB in size.

| | | | |
| --- | --- | --- | --- |
| Workload | Metric | Internal | External |
| Sequential Write | Throughput IOPS | 1119 | 1044 |
|   | Latency (msec) | 0.866 ms | 0.948 ms |
|   | Bandwidth (KB/s) | 16900 | 14400 |
| Random Read | Throughput (IOPS) | 164 | 119 |
|   | Latency (msec) | 6.06 ms | 8.36 ms |
|   | Bandwidth (KB/s) | 658 | 477 |
| Random Mixed (50/50) | Throughput (IOPS) | 112 | 81 |
|   | Latency (msec) read | 8.78 ms | 12.1 ms |
|   | Latency (msec) write | 0.0983 ms | 0.120 ms |
|   | Bandwidth (KB/s) read | 557 | 328 |
|   | Bandwidth (KB/s) write | 556 | 337 |

For sequential write, the Cirago performed well, only about 15 percent slower than native SATA. For random workloads, however, it was 30-40 percent slower. If you are wondering why I did not get USB 3.0 speeds, there are several factors involved here. First, with overheads, 5 Gbps USB 3.0 is expected to get only about 400 MB/sec. My SATA 2.0 controller maxes out at 375 MB/sec, and my USB 2.0 ports on my system are rated for 57 MB/sec, but with overheads will only get 20-25 MB/sec. Most spinning drives only get 75 to 110 MB/sec. Even solid-state drives top out at 250 MB/sec for sustained activity. Despite all that, my internal SATA drive only got 16 MB/sec, and externally with the Cirago 14 MB/sec in sustained write activity.

| | |
| --- | --- |
| | Here is the mess that is inside my system. The slot for drive 2 was blocked by cables, memory chips and the heat sink for my processor. It is possible to damage a system just trying to squeeze between these obstacles. |

However, the point of this post is "removable media". Having to open up the case and insert the second drive and wire it up to the correct SATA port was a pain, and certainly a more difficult challenge than the average PC user wishes to tackle.

Price-wise, the Cirago lists for $49 USD, and the 160GB drive I used lists for $69, so the combination $118 is about what you would pay for a fully integrated external USB drive. However, if you had lots of loose drives, then this could be more convenient and start to save you some money.

IBM RDX disk backup system

Another problem with the Cirago approach is that the disk drives are naked, with printed circuit board (PCB) exposed. When not in the docking station, where do you put your drive? Did you keep the [anti-static ESD bag] that it came in when you bought it? And once inside the bag, now what? Do you want to just stack it up in a pile with your other pieces of equipment?

| | |
| --- | --- |
| | To solve this, IBM offers the RDX backup system. These are fully compatible with other RDX sytems from Dell, HP, Imation, NEC, Quantum, and Tandberg Data. The concept is to have a docking station that takes removable, rugged plastic-coated disk-enclosed cartridges. The docking station can be part of the PC itself, similar to how CD/DVD drives are installed, or as a stand-alone USB 2.0 system, capable of processing data up to 25 MB/sec. |

The idea is not new, about 10 years ago we had [Iomega "zip" drives] that offered disk-enclosed cartridges with capacities of 100, 250 and 750MB in size. Iomega had its fair share of problems with the zip drive, which were ranked in 2006 as the 15th worst technology product of all time, and were eventually were bought out by EMC two years later (as if EMC has not had enough failures on its own!)

The problem with zip drives was that they did not hold as much as CD or DVD media, and were more expensive. By comparison, IBM RDX cartridges come in 160GB to 750GB in size, at list prices starting at $127 USD.

IBM LTO tape with Long-Term File System

Removable media is not just for backup. Disk cartridges, like the IBM RDX above, had the advantage of being random access, but most tape are accessed sequentially. IBM has solved this also, with the new IBM Long Term File System [LTFS], available for LTO-5 tape cartridges.

With LFTS, the LTO-5 tape cartridge now can act as a super-large USB memory stick for passing information from one person to the next. The LTO-5 cartridge can handle up to 3TB of compressed data at up to SAS speeds of 140 MB/sec. An LTO-5 tape cartridge lists for only $87 USD.

The LTO-5 drives, such as the IBM [TS2250 drive] can read LTO-3, LTO-4 and LTO-5cartridges, and can write LTO-4 and LTO-5 cartridges, in a manner that is fully compatible with LTO drives from HP or Quantum. LTO-3, LTO-4 and LTO-5 cartridges are available in WORM or rewriteable formats. LTO-4 and LTO-5 cartridges can be encrypted with 256-bit AES built-in encryption. With three drive manufacturers, and seven cartridge manufacturers, there is no threat of vendor lock-in with this approach.
These three options offer various trade-offs in price, performance, security and convenience. Not surprisingly, tape continues to be the cheapest option.
technorati tags: IBM, Cirago, CDD2000, RDX, Ubuntu, Linux, LTO, LTO-5, LTFS, SATA, USB, fio
Recently, I spoke with Jarrett Potts, my long-time friend and former IBM colleague, who now works as Director of Strategic Marketing over at STORServer. If you have never heard of STORServer, it is a company that makes purpose-built backup appliances.
What is a Backup Appliance? It is an integrated solution of hardware and software that serves a single purpose: backup and recovery. STORServer Enterprise Backup Appliance (EBA) combines IBM's high-end x86 M4 server, IBM disk and tape storage, and IBM Tivoli Storage Manager (TSM) backup software.
(Fun Fact: The 2012 IBM year-end financial results were announced last month. IBM not only continues its #1 lead in servers overall, but has the #1 marketshare for high-end x86 servers, market-leading disk and tape storage hardware, and market leading backup software.)
To determine the appropriate size of your backup appliance, the folks at STORServer help you every step of the way. They figure out the number of TB you will backup every day, and even help configure all of the TSM server parameters to achieve the policies that make the most sense for your organization.
The appliance can backup every type of data, from databases and Virtual Machines (VMs) to documents, spreadsheets, and other unstructured data.
Are you then left with a solution too complicated to run yourself? No. The STORServer Console is an easy-to-use GUI for ongoing monitoring and maintenance. Plus, your friends at STORServer are only a phone call away in case you have any questions.
(FTC Disclosure: I work for IBM, and STORSever is an approved IBM Business Partner that uses IBM hardware and software to build their solution. I have no financial interest in STORServer, and was not paid by STORServer to mention their company or products on my blog. This post may be considered a celebrity endorsement of STORServer and its Enterprise Backup Appliances.)
Perhaps my readers feel that I am a bit biased in describing a TSM-based solution, and you want a second opinion. No worries, I understand. In the latest 165-page [2012 DCIG Backup Appliance Buyer's Guide], the STORServer models ranked very high. Here is an excerpt:
"Nowhere is this demand for purpose built appliances more evident than in the rise of purpose built backup appliances (PBBAs) over the last few years and their anticipated growth rate going forward. A recent market analysis performed by IDC found that worldwide PBBA revenue totaled $2.4 billion in 2011 which was a 42.4 percent increase over the prior year.

This scoring came into play in preparing this Buyer's Guide as the STORServer EBA 3100 model scored so highly overall that it fell outside of the two (2) standard deviations that DCIG generally uses as a guideline for inclusion and exclusion of products.

The reason DCIG included this model in this Buyer's Guide whereas in other situations it might not is that DCIG is unaware of any other backup appliance(s) from any other providers that come close to matching the EBA 3100's software and hardware attributes. As such, DCIG felt it would be doing STORServer specifically and the market generally a disservice by not highlighting in this Buyer's Guide that such a backup appliance existed and was generally available for purchase."



| | | | |
| --- | --- | --- | --- |
|   | Backup Appliance Models | Score | Ranking |
| 1. | STORServer EBA 3100 | 91.70 | ENTERPRISE |
| 2. | Symantec NetBackup 5220 Backup Appliance | 87.11 | Recommended |
| 3. | STORServer EBA 2100 | 86.90 | Recommended |
| 4. | STORServer EBA 1100 | 85.70 | Recommended |
| 5. | STORServer EBA 800 | 85.60 | Recommended |
| 6. | Symantec Backup Exec 3600 Appliance | 78.83 | Excellent |
| 7. | Unitrends Recovery-823 | 76.55 | Excellent |
| 8. | RackTop EBR-FE | 76.50 | Excellent |
| 9. | Unitrends Recovery-833 | 76.25 | Excellent |
| 10. | Unitrends Recovery-822 | 76.15 | Excellent |
The STORServer is ideal for small and medium-sized business (SMB), but can scale quite large to handle business growth. If you are currently unhappy with your current backup environment, and feel now is the time to look around for a better way of taking backups, you won't go wrong choosing a solution based on IBM's market-leading server and storage hardware with Tivoli Storage Manager software.
technorati tags: IBM, System Storage, Tivoli Storage Manager, STORServer
Continuing coverage of my week in Washington DC for the annual [2010 System Storage Technical University], I attended several XIV sessions throughout the week. There were many XIV sessions. I could not attend all of them. Jack Arnold, one of my colleagues at the IBM Tucson Executive Briefing Center, often presents XIV to clients and Business Partners. He covered all the basics of XIV architecture, configuration, and features like snapshots and migration. Carlos Lizarralde presented "Solving VMware Challenges with XIV". Ola Mayer presented "XIV Active Data Migration and Disaster Recovery".
Here is my quick recap of two in particular that I attended:
XIV Client Success Stories - Randy Arseneau

Randy reported that IBM had its best quarter ever for the XIV, reflecting an unexpected surge shortly after my blog post debunking the DDF myth last April. He presented successful case studies of client deployments. Many followed a familiar pattern. First, the client would only purchase one or two XIV units. Second, the client would beat the crap out of them, putting all kinds of stress from different workloads. Third, the client would discover that the XIV is really as amazing as IBM and IBM Business Partners have told them. Finally, in the fourth phase, the client would deploy the XIV for mission-critical production applications.

A large US bank holding company managed to get 5.3 GB/sec from a pair of XIV boxes for their analytics environment. They now have 14 XIV boxes deployed in mission-critical applications.
A large equipment manufacturer compared the offerings among seven different storage vendors, and IBM XIV came out the winner. They now have 11 XIV boxes in production and another four boxes for development/test. They have moved their entire VMware infrastructure to IBM XIV, running over 12,000 guest instances.
A financial services company bought their first XIV in early 2009 and now has 34 XIV units in production attached to a variety of Windows, Solaris, AIX, Linux servers and VMware hosts. Their entire Microsoft Exchange was moved from HP and EMC disk to IBM XIV, and experienced noticeable performance improvement.
When a University health system replaced two competitive disk systems with XIV, their data center temperature dropped from 74 to 68 degrees Fahrenheit. In general, XIV systems are 20 to 30 percent more energy efficient per usable TB than traditional disk systems.
A service provider that had used EMC disk systems for over 10 years evaluated the IBM XIV versus upgrading to EMC V-Max. The three year total cost of ownership (TCO) of EMC's V-Max was $7 Million US dollars higher, so EMC counter-proposed CLARiiON CX4 instead. But, in the end, IBM XIV proved to be the better fit, and now the customer is happy having made the switch.
The manager of an information communications technology service provider was impressed that the XIV was up and running in just a couple of days. They now have over two dozen XIV systems.
Another XIV client had lost all of their Computer Room Air Conditioning (CRAC) units for several hours. The data center heated up to 126 degrees Fahrenheit, but the customer did not lose any data on either of their two XIV boxes, which continued to run in these extreme conditions.

Optimizing XIV Performance - Brian Cormody

This session was an update from the [one presented last year] by Izhar Sharon. Brian presented various best practices for optimizing the performance when using specific application workloads with IBM XIV disk systems.

Oracle ASM: Many people allocate lots of small LUNs, because this made sense a long time ago when all you had was just a bunch of disks (JBOD). In fact, many of the practices that DBAs use to configure databases across disks become unnecessary with XIV. Wth XIV, you are better off allocating a few number of very large LUNs from the XIV. The best option was a 1-volume ASM pool with 8MB AU stripe. A single LUN can contain multiple Oracle databases. A single LUN can be used to store all of the logs.
VMware: Over 70 percent of XIV customers use it with VMware. For VMFS, IBM recommends allocating a few number of large LUNs. You can specify the maximum of 2181 GB. Do not use VMware's internal LUN extension capability, as IBM XIV already has thin provisioning and works better to allow XIV to do this for you. XIV Snapshots provide crash-consistent copies without all the VMware overhead of VMware Snapshots.
SAP: For planning purposes, the "SAPS" unit equates roughly to 0.4 IOPS for ERP OLTP workloads, and 0.6 IOPS for BW/BI OLAP workloads. In general, an XIV can deliver 25-30,000 IOPS at 10-15 msec response time, and 60,000 IOPS at 30 msec response time. With SAP, our clients have managed to get 60,000 IOPS at less than 15 msec.
Microsoft Exchange: Even my friends in Redmond could not believe how awesome XIV was during ESRP testing. Five Exchange 2010 servers connected two a pair of XIV boxes using the new 2TB drawers managed 40,000 mailboxes at the high profile (0.15 IOPS per mailbox). Another client found four XIV boxes (720 drives) was able to handle 60,000 mailboxes (5GB max), which would have taken over 4000 drives if internal disk drives were used instead. Who said SANs are obsolete for MS Exchange?
Asynchronous Replication: IBM now has an "Async Calculator" to model and help design an XIV async replication solution. In general, dark fiber works best, and MPLS clouds had the worst results. The latest 10.2.2 microcode for the IBM XIV can now handle 10 Mbps at less than 250 msec roundtrip. During the initial sync between locations, IBM recommends setting the "schedule=never" to consume as much bandwidth as possible. If you don't trust the bandwidth measurements your telco provider is reporting, consider testing the bandwidth yourself with [iPerf] open source tool.
Several members of the XIV team thanked me for my April 5th post [Double Drive Failure Debunked: XIV Two Years Later]. Since April 5th, IBM has sold more XIV units this quarter than any prior quarters. I am glad to have helped!
technorati tags: IBM, Technical University, XIV, HP, EMC, CLARiiON, VMAX, TCO, CRAC, JBOD, SAP, Oracle, ASM, Microsoft Exchange, ESRP
Did you miss IBM Pulse 2013 this week? I wasn't there either, having scheduled visits with clients in Washington DC this week, only to have those meetings cancelled due to the [U.S. sequestration cuts].
Fortunately, there are plenty of videos and materials to review from the event. Here's a [12-minute video] interview between Laura DuBois, Program VP of Storage for industry analyst firm [IDC], and fellow IBM executive Steve "Woj" Wojtowecz, VP of Tivoli Storage and Networking Software.
(Update: Apparently, IBM had not secured re-distribution rights from IDC to post this video prior to my blog post. IBM now has full permission to distribute. My apologies for any inconvenience last week.)
The two discuss client opportunities and requirements for storage clouds and compute clouds. Client cloud storage requirements include backup and archive clouds, file storage clouds, and storage that supports compute cloud environments.
On a related note, IBM has published a Redbook on its latest addition to the SmartCloud Storage family. I have added [IBM SmartCloud Storage Access V1.1 Configuration Cookbook] to the right panel for "Featured IBM Redbooks".
technorati tags: IBM, Pulse, Steve Wojtowecz, IDC, Laura DuBois, SmartCloud, Storage Cloud, Redbook