IBM Developer templates are designed to make it easy to produce presentations and emails, including newsletters that represent our uncluttered brand style. Standard fonts, sizes and colors are preselected to ensure consistency and seamlessness. Choose these templates to achieve a consistent style, especially for materials reaching external clients.
PowerPoint template
The IBM Developer PowerPoint presentation template helps ensure a consistent brand style when presenting to external audiences, whether online or in person. It contains standard type styles and sizes, and brand-specific colors. The template should be considered a living document, which will be upgraded on an ongoing basis. Please always check first to ensure you're using the most up-to-date version of this template.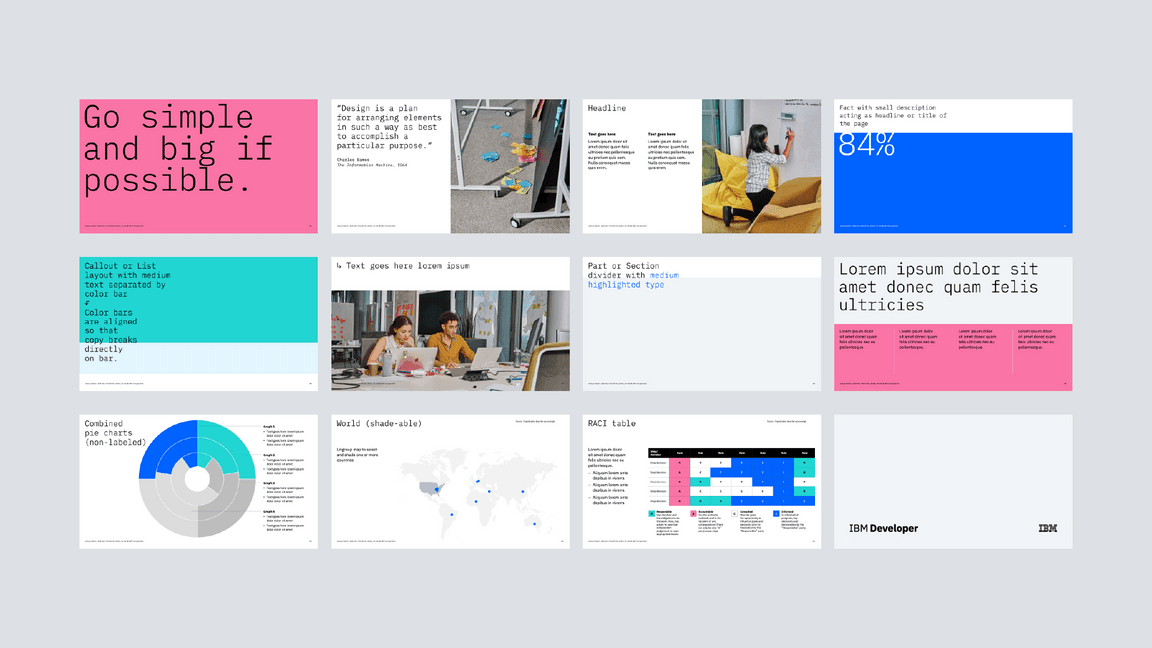 Email templates
The IBM Developer email templates display our uncluttered brand style. Because an email is easily forwarded, it's an opportunity to build the brand within the developer community as coders share news of IBM events, code patterns and innovations. For on-going projects, email newsletters can be an effective way to showcase new progress, acknowledge milestone achievement or just build camraderie.
While the template provides a framework, remember to keep your copy direct and essential, too. For images, be sure to use photographs that adhere to IBM Brand photography guidelines. Always be sure to get approval for your photography selections from the IBM Developer brand governance team before use. While the content is up to you, take care to include all of the legal matter in the footer module to remain in compliance with international email standards.