The minimalist nature of the IBM Developer brand is expressed well by IBM line-style illustration. Used by IBM to generate pictograms, line style nicely articulates IBM Developer brand activations with utility and immediacy. Line-style illustration helps bring forward themes and topics close to our developer audiences, as it augments awareness of concepts in technology, community, and diversity and inclusion.
Themes
Several illustration themes recur as we build the IBM Developer brand. These themes involve a focus on encouraging women in coding, growing the IBM Developer community, making developer tools accessible around the globe and promoting efficiency through technology.
Women in coding
These illustrations focus on enabling and empowering women to advance in development career paths.
Developer community
These illustrations focus on helping developers learn, grow skills, interact, share solutions and ideas, teach, connect, and have fun while learning.
Global developer advocacy
These illustrations focus on global builds that are designed to maintain easily deployable, functioning, supported and well-documented open-source code hosted on GitHub.
Technology
These illustrations focus on efficient ways to build once and securely from the start, to help solve both business and technical security needs rapidly.
Color use
The IBM Developer use of line-style illustration employs two approaches to the use of color.
Two-color approach
The two-color approach uses Black or White line-style illustration on one of the vibrant accent background colors from the IBM Developer color palette. It's important to use the colors as specified for optimal accessibility.
Use only Black lines on Cyan 30, Purple 40, Magenta 40, Teal 30 or White backgrounds.
Use only White lines on Blue 60 or Black backgrounds.
Multicolor approach
The multiple-color line illustration approach uses highlights from the IBM Developer color palette on a White, Cyan 10 or Cool Gray 10 background.
Use only Black lines for the multiple-color approach.
Examples
Use these examples as inspiration for your own static or animated IBM Developer line-style illustrations.
Static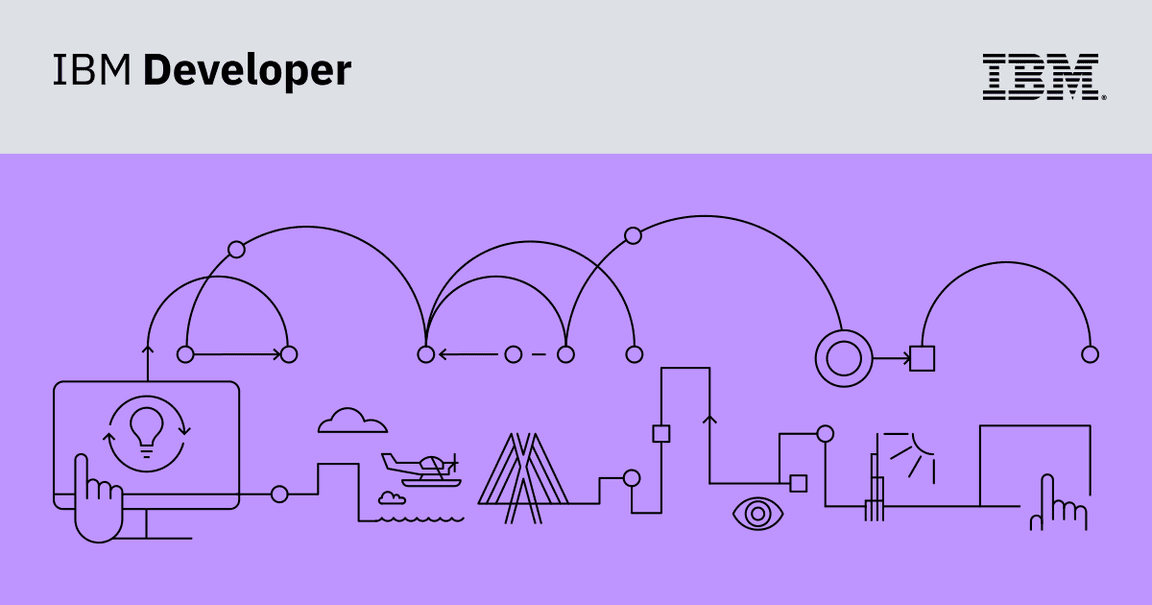 Animated