What is data science?
Marketplace disruptors have one thing in common: data science. Data science is the process of discovering hidden insights from massive amounts of structured and unstructured data, using methods such as statistics, machine learning, data mining, and predictive analytics. This multi-discipline area is changing the way organizations solve problems and gain competitive advantage.
Businesses that can capture higher value from new data sources—weather, healthcare, traffic, retail, social sentiment etc. —and use it to differentiate themselves will define what it means to be cognitive businesses. For areas as diverse as predicting where to deploy your police force, to finding new markets for your product, to fighting infectious diseases before they are an outbreak, and turning call center agents into change agents with real-time information—data science is being applied by today's new data artists: data scientists.
Who are data scientists?
To be successful, data scientists need an environment that is open, engaging, and fosters collaboration. They need:
Ability to use open source tools they know and love
Enterprise-grade functionality they'll need for critical data science projects
Community that supports them throughout the whole process
In this seedbed of innovation, data scientists can break down data barriers and develop ideas that change the world.
The data science toolkit
Just as an artist requires different tools for different media, a data scientist needs a palette of capabilities to tackle the different problems they need to solve. IBM's data science toolkit offers the most advanced analytics, open source technology, and integrated development community, all built to encourage creativity and collaboration.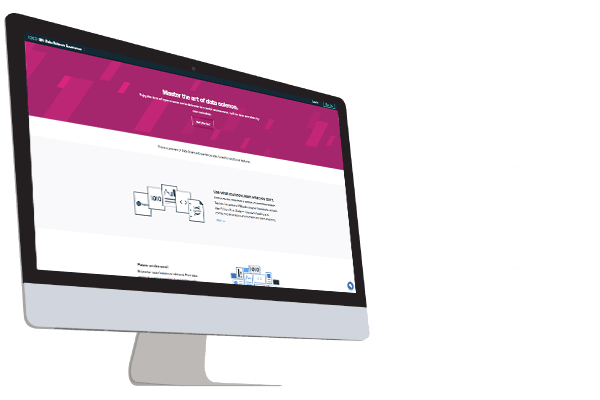 Featured IBM data science product
IBM Data Science Experience
Now you can create value faster using the best of open source and IBM together. Built for data scientists by data scientists, the IBM Data Science Experience is a new cloud-based, social workspace that helps data professionals consolidate create and collaborate across multiple open source tools such as R and Python.
Related solutions
Watson DataWorks Project
Industry first cloud-based data and analytics platform to integrate all types of data and enable AI-powered decision-making.
IBM Analytics for Apache Spark
Instantly access the power of Spark via an integrated, flexible, hassle-free, managed service.
Watson Internet of Things
Enable organizations to do everything from connecting devices and building IoT apps, to solving specific business problems, to transforming their companies and industries.
A glimpse inside the mind of a data scientist
It's all well enough for an organization to collect every slice of data it can reach, but having more data doesn't mean you'll automatically get better insights. First, you have to figure out what you want from your data you have to find its value.
Achieve more successful outcomes with a data science methodology
Data scientists typically construct models to predict outcomes or discover underlying patterns with the goal of gaining actionable insights. IBM's data science methodology ensures that as data scientists learn more about their data and models, they can quickly make adjustments and provide continuous value to the organization.
Spark: The Next Wave of Intelligent Applications
Life revolves around prediction. For example, the route you take to get to work, whether to go on a second date, or whether to keep reading this sentence are all forms of prediction. Predicating our future is very much tied to progress. We use it to help us plan our lives so we can increase our likelihood of success. The problem is that the human mind cannot possibly process all of the insight flowing from big data.
Get started with the IBM Data Science Experience