Improving efficiency requires understanding of the correlations between medical, operational and financial data.
Explore how inconsistencies in healthcare can affect many other areas of your organization and see how IBM Watson Health can address these issues.
Gaps in data that inhibit integrated and optimal care
Automated analysis of all available data can help providers prescribe personalized, data-driven treatment plans for more patients.
A more holistic view of patient engagement can boost outcomes by helping individuals better understand and follow treatment plans.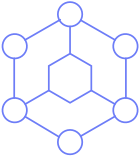 An integrated view of medical, financial and social data can improve clinical trials through a more targeted recruitment strategy and clearer benchmarks.