Transforming Clinical Trial Matching
Enabled with cognitive computing, Watson for Clinical Trial Matching enhances clinicians' ability to more easily find the potential list of clinical trials for which the patient may be eligible, increase the likelihood that the patient is offered the option of a clinical trial for treatment, and help increase clinical trial fulfillment through effective patient recruitment.
Identifies potential clinical trial options
Given a patient's clinical attributes, Watson for CTM can help quickly identify candidate trials for which the patient might be eligible by providing criteria level evaluation based on a patient's attributes. The tool clearly shows clinicians why criteria matched or not and points out modifiable conditions that could potentially increase the patient's eligibility for a trial.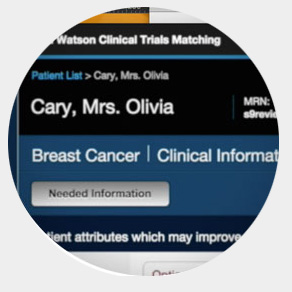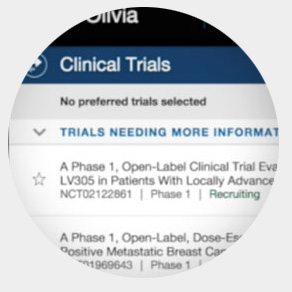 Helps increase clinical trial fulfillment
Poor patient recruitment is the number one reason that clinical trials fail. Given a clinical trial investigator's defined protocol, Watson for CTM can help facilitate recruitment into the trial at selected sites by screening a specific protocol against a specified patient population.
Provides transparency into criteria evaluations
Watson for CTM provides criteria (inclusion/exclusion) level evaluation based on the patient's attributes and allows the Clinician to see what patient data was used by Watson to make the determination.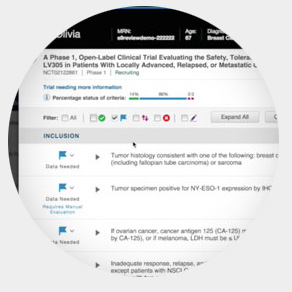 Get started
IBM® Watson™ for Clinical Trial Matching helps you quickly identify trials that potentially match the clinical attributes of a patient.