In this article...
Cognitive technology allows business-to-consumer companies to better identify customer wants and needs, and to serve them accordingly.
Both sales staff and customers benefit from the improved insights enabled by cognitive solutions.
---
While digital commerce has allowed customers to make purchases from the comfort of their couches, the shopping experience remains deeply imperfect. Most e-commerce websites simply catalog thousands of items, and rely upon rudimentary systems of tagging and classification to narrow a plethora of choices to a manageable list. Shopping for a service is no better: The customer still has too many choices, but without the benefit of multiple photographs to pinpoint the differences between each.
Increasingly, business-to-consumer companies are turning to cognitive technology to improve the customer shopping experience and to learn more about customer desires. By marrying structured and unstructured data, cognitive technology provides powerful new tools that can process and analyze assisted customer interactions at scale, in real-time.
IBM research reveals that half of cognitive early adopters already personalize the customer experience through cognitive insights, and nearly half are also increasing customer engagement and rapidly responding to customer and market needs.
Cognitive technology is used to provide experiences that adapt to customer needs, rather than asking customers to intuit the structure of a website. In return, companies reap powerful insights into customer thinking. Customers can more easily find the offering best-suited to them, and the customer experience is greatly improved. In this best-case scenario, more satisfied customers exhibit superior engagement and loyalty—both critical components of long-term, sustainable growth.
Watson Virtual Agent: Help your customers help themselves. Provide them with instantaneous, personalized support – wherever and whenever they need it.
Watson Virtual Agent: Help your customers help themselves. Provide them with instantaneous, personalized support – wherever and whenever they need it.
Identifying customer priorities
Retail chain Macy's recently unveiled mobile technology designed to enhance in-store shopping experiences. Through a cognitive-enabled mobile solution, a customer that needs help finding women's shoes, for example, can type or speak the request into a phone and get a response similar to that of talking with a sales associate. Instead of being shown a floor plan or a map with a blinking dot, the customer will get a reply instructing her to walk straight ahead to the escalator, go down to the first floor, look to the left for cosmetics and walk through cosmetics to women's shoes.
Within a month, it became clear that integrating cognitive technology allowed customers more flexible interactions. "Instead of buttons on a screen, you could open it up to hundreds of new options," said Don White, CEO of Satisfi, which implemented the cognitive initiative for Macy's.
Satisfi and Macy's initially thought that customers would ask for, say, women's athletic wear. But instead, they're asking for women's running shorts in a particular brand. Multiplied by thousands of interactions, those inquiries give Macy's a unique perspective on customer desires. Customers also often ask for product advice or the inventory status of an item. "By providing a cognitive interface, you're able to really draw out what people are trying to accomplish," said White.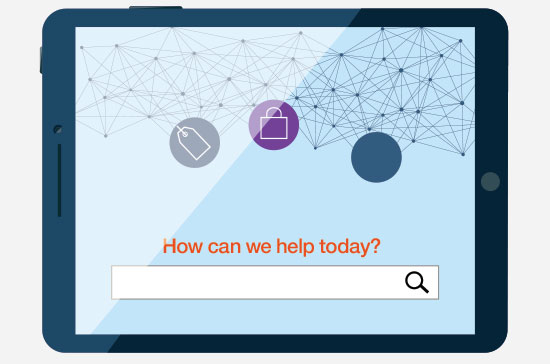 " By providing a cognitive interface, you're able to really draw out what people are trying to accomplish. "

– Don White, CEO, Satisfi
" By providing a cognitive interface, you're able to really draw out what people are trying to accomplish. "

– Don White, CEO, Satisfi
Finding the right product for the right person
Cognitive technology is also helping executives at activewear company The North Face to better understand how customers use their gear. The company wanted to use technology to mirror natural language, and to support the means by which people naturally process information. In a pilot launched in December 2015, visitors to The North Face's website could elect to use a cognitive tool—called Expert Personal Shopper—to select the right jacket. Importantly, customers who choose the Expert Personal Shopper are not asked what type of jacket they want. Instead, the session begins with the question, "Where and when will you be using this jacket?"
Immediately, and at scale, The North Face gained a better understanding of what its customers need, how they use their gear, and which products best suit them. The Expert Personal Shopper intelligently narrows down hundreds of choices to about six, taking into account the clothing's functionality and its intended use. That makes the process of online shopping much closer to that of consulting with a sales associate.
The North Face reports that 60 percent of customers who use the Expert Personal Shopper click through to learn more about particular products—in an industry where single-digit click through rates are common. Customers spend about two minutes per session with Expert Personal Shopper, which Cal Bouchard, The North Face's vice president of digital commerce and experience, characterizes as "good engagement." Eighty percent of those who use Expert Personal Shopper say they would use it again.
Serving customers by predicting their needs
Another example of getting the right product to the right person at the right time comes from the world of financial services. USAA, started by U.S. military officers, offers diversified banking, insurance and wealth services to its 12 million members. Because of the company's focus on military families, many of whom are stationed overseas, USAA has a long history of delivering products digitally. USAA also realized that certain life events, such as moves (more frequent in military families), and retirement, were altering customer needs.
USAA began using cognitive technology to try to predict important events in the lives of its customers, using historical data to train analytics models. The technology was able to predict nine major life events with a high degree of accuracy. The goal is to use this information to make more relevant offers to USAA members and ultimately decrease customer attrition.
Differentiating the brand and customer experience
These examples show how cognitive solutions can help companies differentiate customer experiences. In Macy's case, their cognitive-enabled tool allowed them to enhance the in-store experience. "Macy's sales associates are enthusiastic about Macy's On Call because it helps them provide in-depth service to their customers. The cognitive tool is able to start the dialogue and answer the most commonly asked questions, freeing up associates to provide more meaningful service to customers during in-store interactions, such as helping shoppers put together outfits or find the right gifts," says White. "They want people to get excited about the brand."
In The North Face's case, the Expert Personal Shopper also provides differentiation, which is especially important for a brand that sells online, in its own stores and through other retailers. "What we've heard from consumers so far is they are telling us, 'Hey, this is cool,'" says Bouchard. Those who gave feedback on the Expert Personal Shopper rated the pilot a 2.5 out of three.