What IBM Storwize V5100 can do for your business
IBM Storwize V5100 and Storwize V5100F combine NVMe-powered IBM Flashcore technology with the richest set of IBM Spectrum Virtualize features in one affordable solution. Leverage AI to simplify management and cost efficiency while enabling cloud applications in containers.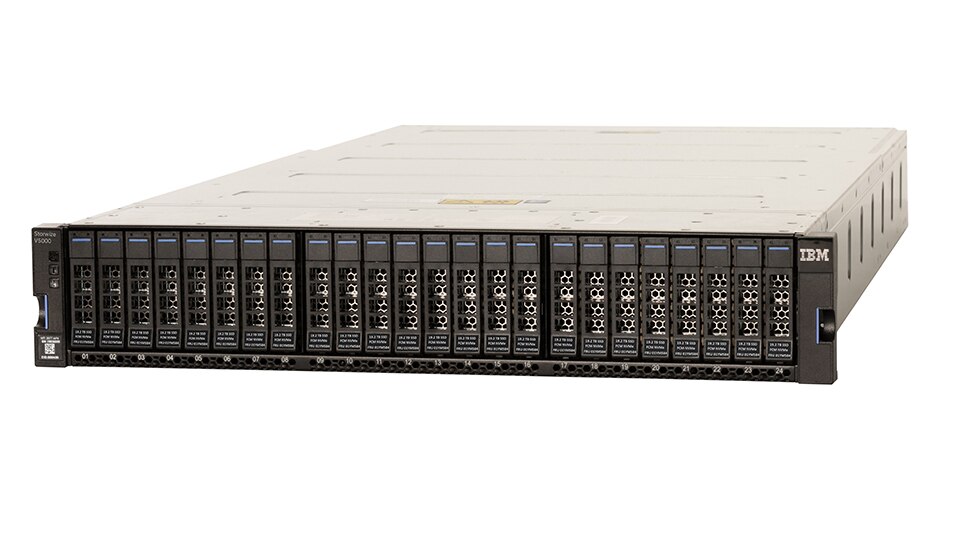 Make faster business decisions
Gain insights faster with high performance, NVMe FlashCore modules & storage class memory ready.
Intelligent data management
Easily move data between storage media types powered by AI. Seamlessly move data and applications to and from the cloud to address modern data mobility needs.
Reduce costs, both CapEx and OpEx
Store more data in less space with the latest generation storage media and data reduction technologies.
Six 9's availability
Gain the highest levels of availability to support your mission-critical applications.
Cloud enabled
Grow your private cloud with the flexibility to start small and scale up as business demands or client adoption grows.
Protect your most valuable data asset
Benefit from integration with modern data protection tools, cyber resiliency capability such as encryption and cloud "air gap" snapshots, and IBM FlashWatch guarantees for complete peace of mind.
Key features of IBM Storwize V5100
End-to-end NVMe performance
Easy to use
Advanced copy services
IBM Easy Tier®
Easy data mobility
Data reduction options
Six 9's Availability
Intelligent support
Transform CAPEX to OPEX
Integrates with your existing storage environment
Leverage public cloud
Worldwide network of business partners
Which option is right for you?
IBM Storwize V5100

---

Hybrid flash solution: NVMe control enclosure with the ability to add hybrid expansions.

IBM Storwize V5100F

---

All-flash solution: NVMe control enclosure with the ability to add all flash expansions.