A comprehensive solution for corporate communications
IBM Enterprise Video Streaming can power video-based corporate communications ranging from town halls, to trainings and department meetings – boosting employee engagement from virtually anywhere.
Through a cloud-based platform, alleviating costly updates and continued maintenance from IT, administrators can manage a secure rich end user experience. This experience includes AI-driven deep search and the ability to track usage down to the individual user level with metrics as detailed as when content was accessed, device information, geographic location of the viewer and completion percentage.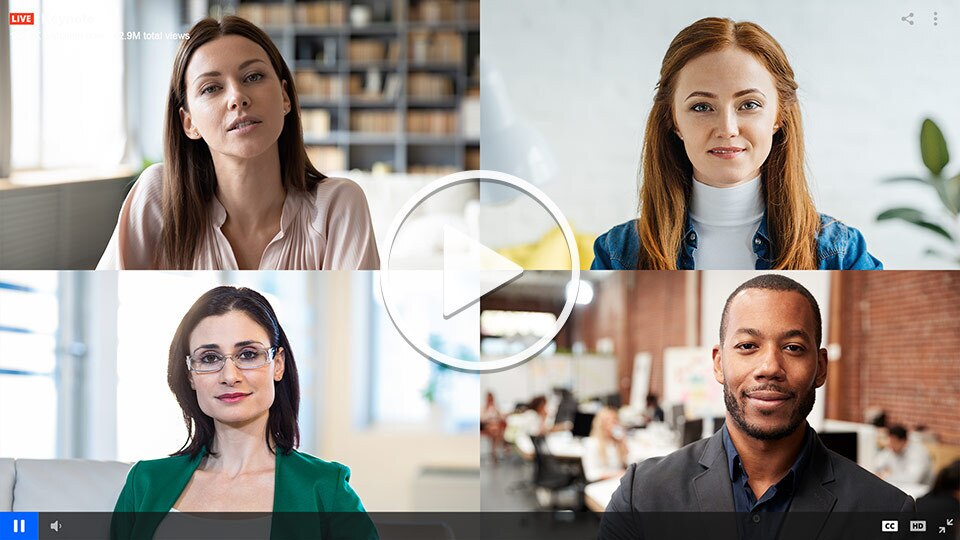 Secure rich video platform for delivery
Intelligently restrict access to corporate video assets. Easily integrate with corporate directory systems and enable access via single-sign on, with individual user tracking.
AI-driven deep video search
Through automated, AI-driven transcription, video content can be searched at the library level, returning results based on keyword searches. Viewers can jump to specific moments based on AI insights.
Make it yours with a video portal
Provide a hosted, company branded and customizable portal for your employees to access video content and live events via single sign-on (SSO).
Security and privacy in the cloud
When using IBM Cloud offerings, your company can scale and adapt quickly to changing business needs without compromising security, privacy or risk levels. Learn more about IBM Cloud security
This offering meets the following industry and global compliance standards, depending on the edition you choose.
ISO 27001
PCI-DSS for Payment Card Industry USA
To learn about the compliance and certifications for a specific offering edition, consult the Cloud Services data security and privacy data sheets.
Product images