What IBM ESS Storage System 3000 can do for your business
IBM Elastic Storage System 3000 (ESS 3000) is designed to meet and beat the challenge of managing data for analytics. Packaged in a compact 2U enclosure, ESS 3000 is a proven data management solution that speeds time to value for artificial intelligence / deep learning and high performance computing workloads thanks to its blisteringly quick all-NVMe storage and simple, fast containerized software installation and upgrade. Its no-compromise hardware and software design gives you the industry-leading performance required to keep data-hungry processors fully utilized. ESS 3000 is compatible with all IBM Elastic Storage Server models.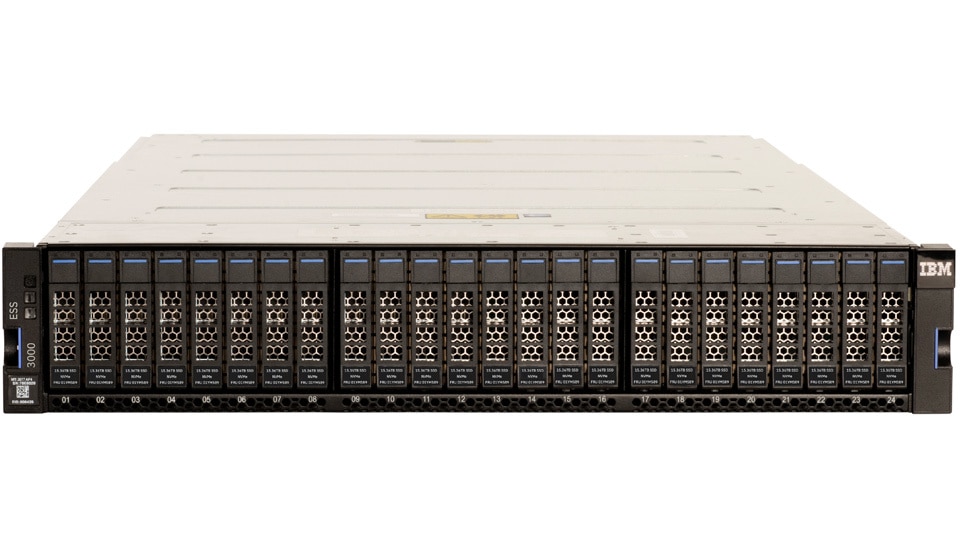 Fast time to value
ESS 3000 combines IBM Spectrum Scale file management software with NVMe flash storage for the ultimate in scale-out performance and simplicity, delivering 40GB/s of data throughput per 2U system.
Operational efficiency
Containerized software install and a powerful management GUI minimize demands on IT staff time and expertise. Dense storage within a 2U package means a small data center footprint.
Reliability
Software-defined erasure coding assures data recovery while using less space than data replication. Restores can take minutes rather than hours or days and can be run without disrupting operations.
Deployment flexibility
Available in a wide range of capacities from tens to hundreds of terabytes per 2U. Deploy as a standalone edge system or scale out with additional ESS 3000 systems or with IBM Elastic Storage Server.
Key features of the IBM Elastic Storage System 3000
IBM Spectrum Scale
IBM Spectrum Scale Erasure Coding
True scale-out capability
Global sharing and collaboration
Policy-based tiering
Integrated and modular
Ease of management