Stay curious, learn and thrive.
It's a Virtual Experience. IBM TechU 2020 is the technical classroom experience that comes to you. Whether you elect to take the training from your home or safe spaces, IBM is helping to ensure the safety of attendees by offering this event--virtually.

Gain Competitive Advantages. IBM TechU provides you and your teams the opportunity to learn technologies required to increase skills, productivity and innovation.

Knowledge Gained is Your Benefit. New software, applications, AI and automation have valuable roles to play in the deployment and management of secure infrastructures that support new business models and processes.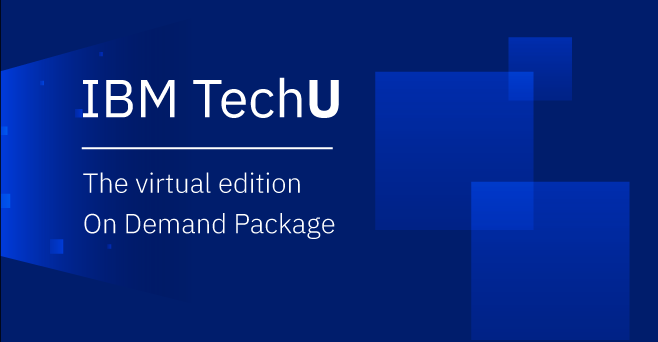 Data and AI
Hybrid Multicloud
Systems Management
and Performance
Security and
Cyber Resiliency
Agenda Highlights
The TechU Experts. Lectures are provided by IBM, IBM clients and IBM Business Partners to administer advanced technical topics across IBM Power Systems, IBM AIX, IBM i, IBM Storage, IBM Z, Red Hat Enterprise Linux (RHEL) and LinuxONE. All content will be available until January 31, 2021 (Labs and some NDA sessions are not included).
Themes
Speaker(s)
Description
Business in the COVID Era: An IT Roadmap for Success
Tom Rosamilia
Senior Vice President, IBM Systems and Chairman, North America.



In order to succeed in this new normal, you must embrace new strategies or accelerate your existing journeys to digital reinvention. See more

Architecting the Future
Thomas Harrer

CTO Hardware Sales, IBM Systems EMEA, IBM Distinguished Engineer, Member TEC CR and AoT.

Architecting the Future within the Virtual TechU is about innovation based on the digital transformation.
Storage Made Simple
Sam Werner
(VP, Offering Management, IBM Storage)
Eric Herzog
(Chief Marketing Officer and VP, Worldwide Storage Channels, IBM Storage)



Join Sam Werner and Eric Herzog to hear about the latest improvements to IBM's award-winning storage portfolio. See more
Let's stay connected all year by using. #IBMTECHU.
Algar Telecom
Arrow
Brocade, A Broadcom Company
Cisco Systems
Comarch
Converge Technology Solutions Corp.
Galileo
IBM Community
IBM Electronic Tools Development
IBM Power Systems
IBM Storage
IBM Technical Sales & Services
IBM Techline
IBM TSS
IBM Z and LinuxOne
Ingram Micro Brazil
Interskill Learning
M81
Mainline Systems
Maxava
Rocket Software
Software AG
SVA Systems Vertrieb Alexander GmbH
SUSE
SUSE - Ecosystem Expansion
Zetaly
Bronze Level
Altran
CANCOM
Guide Share Europe
Ingram Micro
Nextperform powered by Tech Data
PT Global Infotech Solution
Sinaptrix SRL
Xorux