---
Few organizations make gender equality in leadership a formal business priority, but those that do outperform.
Download Download the infographic

Despite abundant evidence that gender equality in leadership is good for business, an overwhelming majority of organizations say advancing women into leadership roles is not a formal business priority. In fact, women hold only 18 percent of senior leadership positions among 2,300 organizations surveyed worldwide. In other words, men occupy approximately 82 percent of the most influential roles in today's organizations. And promoting women is not a formal business priority at 79 percent of surveyed organizations. Respondents estimate it could take more than 50 years to close this gap.
But companies can make changes to help turn the tide much faster, and there's good reason for them to do so. We discovered a small cohort of exceptional organizations (about 12 percent of respondents) that are more proactive in the push for gender equality in leadership. And they report that they are outperforming their competition in profitability, revenue growth, innovation, and employee satisfaction. We call these organizations "First Movers."
First Movers acknowledge their responsibility to take action and say they believe gender inclusiveness will result in enhanced organizational success. More than 80 percent have elevated gender-equitable leadership to a strategic business imperative.
From our analysis of the First Movers, we have identified four key practices that can help other organizations close the gender gap in leadership.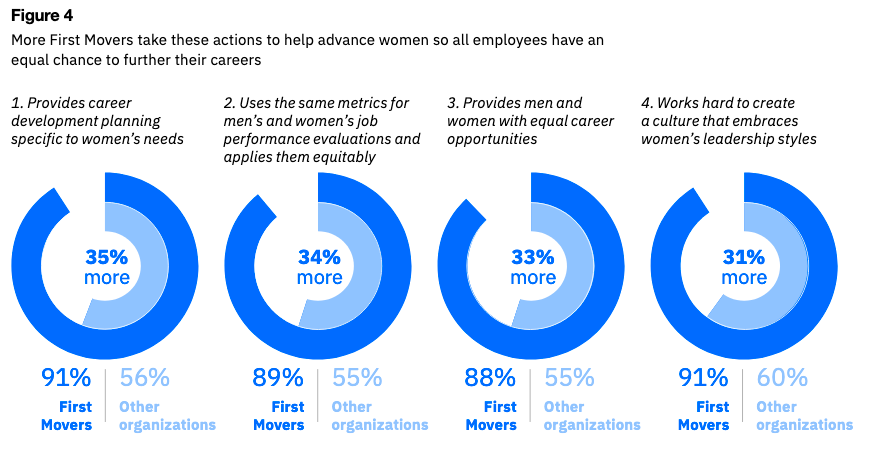 Read to learn about these practices and other steps your organization can take to create an inclusive corporate culture where all employees have equal opportunities to grow their careers.
---
Watch the 37 second BeEqual video —
Does your company prioritize gender equality in leadership?
---
---
---
Additional content
Infographic:

---
Meet the authors
Michelle Peluso, Senior Vice President, Digital Sales, and Chief Marketing Officer, IBM
Lynn Kesterson-Townes, Global Cloud & Quantum Leader, IBM Institute for Business Value, IBM Consulting
---
---