Shoppers have experienced tremendous disruption over the past five years. The explosion of digital technologies, the spread of social networks, a new generation of advanced analytics – all of these and more have combined to create an omni-channel environment that has completely transformed both the shopping experience and customer expectations. When and how will a "new normal" emerge, and what must retailers do to get there? To find out, the IBM Institute for Business Value analyzed more than 110,000 responses to global surveys from 2010-2014 to reveal how the speed and intensity of customers' changing attitudes and behaviors translate into must-haves for retailers.
Over the past five years, the emergence of the technology-enabled "smarter consumer" has upended the traditional retail business model. The days when department stores or large discount chains targeted promotions to mass audiences according to commonalities across age, gender and income are giving way to market segments composed of single individuals. Instead of relying upon the retailer to push product out, knowledgeable shoppers are pulling product through the pipeline, telling retailers exactly what they want, when they want it and how they want it delivered. Customer interactions have moved from transactions controlled by the retailer, to relationships driven by the consumer.
In this executive report, based on cumulative research over the past five years by the IBM Institute for Business Value – with more than 110,000 customer responses – we will explore how the emergence of digital technology, and the increasing willingness of consumers to use it, has disrupted the retail industry at virtually every level – from shoppers, to megastores, to digital to social media, and more. Further, we will provide recommendations that can enable retailers to position themselves to slice through this disruption and provide seamless, omni-channel customer experiences and conversations that can help build customer loyalty, create value and positively impact the bottom line.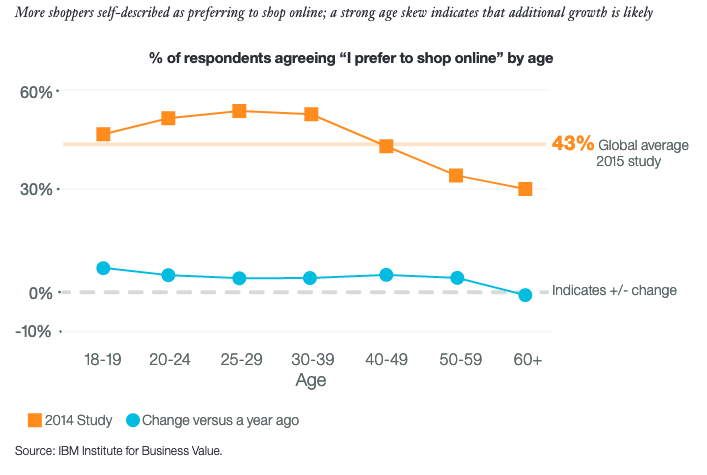 For the retailer, the challenge has become about understanding the full potential of new technologies – of knowing what customers need and want – even before they know it themselves. Those organizations that understand and respond to the shifting retail dynamic can place themselves in a position to capitalize on the wealth of consumer information at their disposal. On the other hand, retailers that continue down the traditional path are likely to falter in the face of continued shopper-driven disruption.
---
---
---
Meet the author
Jane Cheung, Global Consumer Industry Research Leader, IBM Institute for Business Value
---
Download report translations
---
Originally published 17 June 2015