Because of COVID-19, much of the world's population has entered a new social regime. It ranges from distancing ourselves to total lockdown to protect the physical health of ourselves and our communities. However, while we do this, the resulting feelings of isolation and loneliness may slowly exacerbate a different health problem: the ongoing global mental health crisis.
The practice of social distancing is certainly a significant life change for many individuals. In a new IBM survey, 45 percent of surveyed Americans said that prior to the COVID-19 pandemic, they had regular or almost constant interactions with individuals and/or large crowds on a daily basis. So now, stay-at-home restrictions are almost certain to intensify feelings of isolation for those who live alone.
Eighteen percent of Americans surveyed live alone and more than 7 percent of that group face even more solitude by living without the company of a pet. Research suggests those living alone—regardless of age or gender—have a higher prevalence of common mental health disorders and that this may largely be explained by loneliness.
More than a third of respondents were concerned that at least one member of their household is at high risk for contracting COVID-19. Even more dire: 8 percent say at least one household member has displayed symptoms but not been diagnosed, and 3 percent have already tested positive for the virus.
And still, long before this pandemic upended everyday life, there was already growing attention on how to grapple with the challenges, stigma, and cost of diagnosing and treating mental illnesses. As we focus on combating the immediate threat of the virus, mental illness will certainly be an insidious aftershock that must be addressed, especially in the workplace. One in four employees surveyed cite mental health impacts while working from home during this crisis and more than forty percent of Americans surveyed feel strongly that their employer should provide access for employees to mental health and well-being assistance programs prior to opening up their workplace to return to normal operations.
So, in these worrisome and unprecedented times, what can governments, businesses and other organizations do to better address these challenges? How can we help our friends, family, neighbors, employees, and colleagues who struggle? Clearly, innovative and collaborative approaches are in high demand.
Just prior to the early 2020 declaration of a global pandemic, IBM and the non-profit organization Give an Hour used innovative technology to conduct a brainstorming event about mental health needs and solutions. To identify new techniques and generate greater awareness of the need to change how mental health is considered and treated, they convened the "Change Direction Jam: A global conversation on mental health culture change."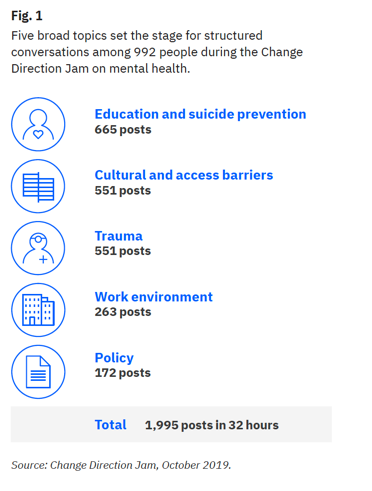 Using the IBM InnovationJam™,a platform for large-scale online collaboration (see Insight: InnovationJam), people from varied backgrounds, professions, and expertise—including those who have lived with the effects of mental illness—shared their experiences and insights.
For 32 consecutive hours, military personnel, entertainment executives, mental health professionals, and many others from around the world shared thoughts and ideas about how to address the stigma attached to mental illness, promote mental health practices and suicide prevention, and curb the spread of substance use disorder.
Nearly 1,000 participants worldwide posted their ideas and stories about struggles with depression, anxiety, trauma, suicide, and substance abuse. The group of Jam hosts prompted conversations and highlighted emerging ideas. Meanwhile, Jam participants were encouraged to "like" and comment on ideas or proposals that resonated with them. The InnovationJam technologies gleaned insights from the longest conversations, highest-rated comments, most-watched content, and other key indicators.
Ultimately, addressing the global mental health crisis will require a concerted effort among us all. It is critical to share leading practices across many groups in society. People will need to work together to implement strategies that bring real and meaningful change for those suffering from and affected by mental health issues.
---
---
---
Meet the authors
Randy Phelps, CEO, Give an Hour
Dave Zaharchuk, Research Director, IBM Institute for Business Value
Heather Fraser, Global Lead for Healthcare and Life Sciences, IBM Institute for Business Value
---
Originally published 28 April 2020