The global chemicals and petroleum (C&P) industry is facing unprecedented challenges. Falling crude prices, volatile socioeconomic and political environments, new forms of competition, and ever-increasing demands for sustainability and safety are disrupting the industry. As C&P organizations navigate these challenges, they can learn valuable lessons from leading global innovators. C&P companies can apply these learnings to create new structures, functions and cultural environments conducive to innovation, and to establish more efficient processes for converting ideas into outcomes. By embracing these successful innovation strategies, C&P organizations can position themselves not only to overcome current challenges, but also to grow revenue, capture efficiencies and join the ranks of the outperformers.
The global C&P industry has rarely experienced its current level of volatility. Challenges for the industry abound. Primary among them is a combination of reduced demand and increased supply that has lowered oil prices to levels not seen for more than a decade. At prevailing low prices, oil production in many areas of the world is becoming uneconomic. Industry implications are manifest, with declining investment and growing pressure for major players to rethink strategies and cut costs (see Figure 1).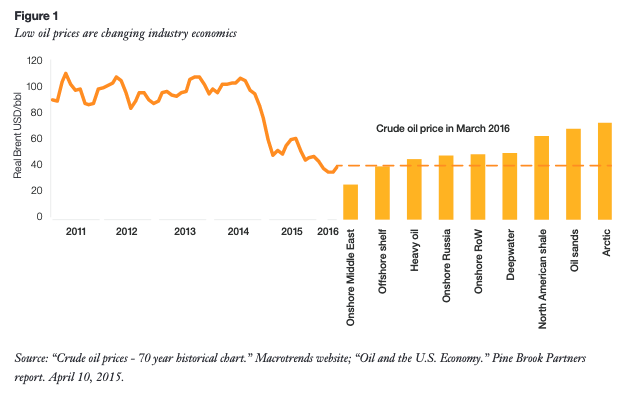 Many industry players are experiencing the negative consequences of high rates of leverage – the ratio of total debt to total assets – over recent years. For example, debt loads of exploration and production companies in the oil and gas industry have almost doubled since the beginning of the decade in North America, while net cash flows have fallen precipitously over the same period.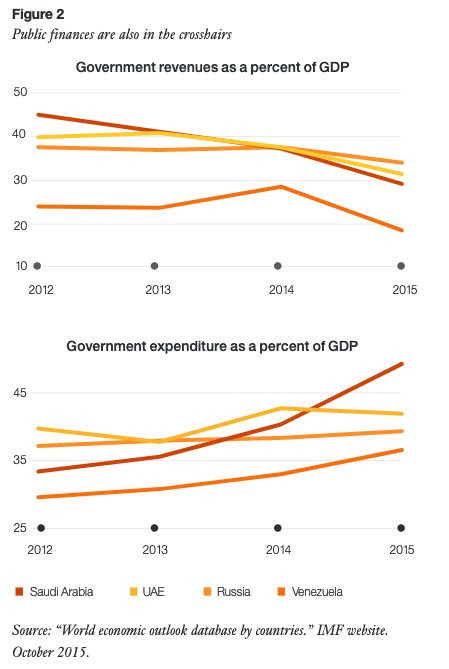 The debt-to-revenue crunch is also impacting many oil-producing nations, risking the need for severe budget corrections with consequent political instability. Public sector revenues have been falling, while government spending has either remained static or increased unsustainably (see Figure 2).
Substantial correction is inevitable, as current public spending levels for many countries are based on the unlikely assumption that oil prices will return to previous levels soon. As of 2015, USD 81 per barrel was the break-even budget assumption for the United Arab Emirates, USD 104 per barrel in the case of Saudi Arabia, USD 105 per barrel for Russia and USD 118 per barrel for Venezuela.
At the same time, government policies to promote sustainability and increase use of renewables are reinforcing lower demand for oil long term. Continuing investments in clean energy sources, rapidly evolving fuel efficiency standards and improvements in battery technology are among the energy initiatives that place downward pressure on demand for oil.
---
---
---
Download report translations
---
Originally published 01 May 2016