Home
Next generation hybrid cloud powers next generation business—The India point-of-view
Next generation hybrid cloud powers next generation business—The India point-of-view
India is the second-fastest growing cloud services market in the Asia Pacific region.¹ The public cloud services market in India is soon expected to reach USD 4.1 billion.
Low-hanging opportunities for public cloud have already been exploited by most organizations. "Front-office" applications, such as client inquiries (checking account balances, for example), social media, and digital shopping carts, make up a large portion of what has gone to public cloud.
These initial opportunities have validated the benefits of the cloud architectures, including speed of deployment, dynamic resource acquisition, application elasticity, and service reuse across workloads. Because of cloud, organizations are thinking about innovation, speed, deployment, new markets, and disruption in a new light.
Executives report a range of successes with public cloud initiatives, especially around their abilities to scale and grow.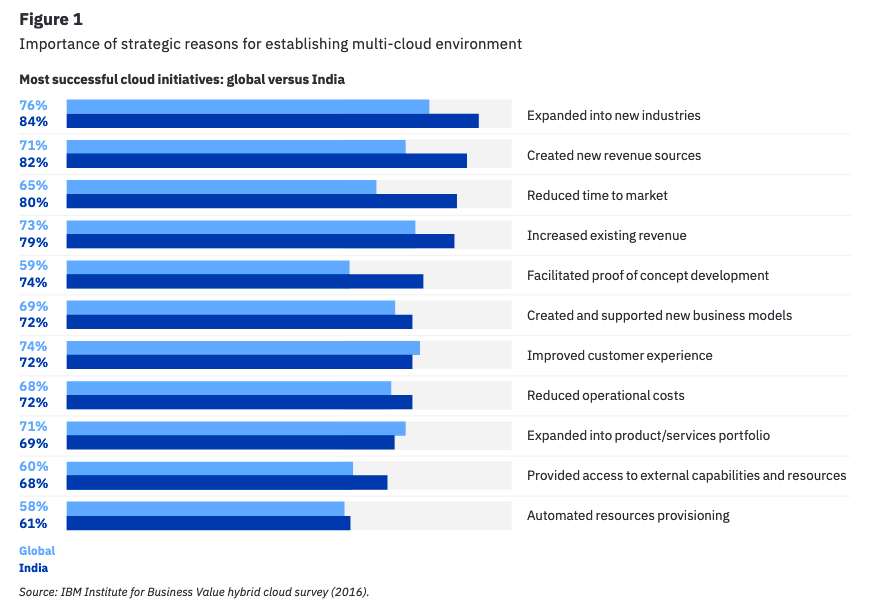 At the same time, mission-critical, security-dependent applications, such as customer data bases, transaction processing, finance and accounting, supply chain, and manufacturing—have moved slowly—or not at all—to public cloud. This is especially true for highly regulated industries, such as banking and healthcare, where the highest proportion of processes are yet to move to the cloud. In many cases, these workloads are better suited to private cloud—or a mixture of public, private, and traditional IT.
If the next phase of cloud benefits is to be realized, a new approach is needed to address these workloads that have been left behind.
Hybrid cloud permits public clouds, private clouds, and on-premises IT to interoperate seamlessly across all three standardized technology interfaces: Linux, Open Container Initiative, and Kubernetes. These enable businesses to innovate with scale and agility, improving responsiveness and constraining cost, despite growing complexity.
Hybrid cloud allows workloads to be deployed to whichever is the best environment for that workload:
– Public clouds are well suited for many front-office workloads
– Private clouds are well suited for many of the mission-critical workloads where the benefits of cloud are desirable—but the security and assurance of a private environment are fundamentally important
– Traditional IT environments are suited for workloads that don't inherently take advantage of cloud benefits—and demand the dedication of computing resources.
In all cases, however, there remains a universal need to interoperate between public, private, and traditional IT. Hybrid cloud's intrinsic interoperability and portability means organizations are not locked-in either to one environment or one individual public cloud vendor. They can place their workloads in the best spots—and have interoperability among environments and different public cloud providers. __________________________________________________________________________________ ¹ Mallya, Prakash. "India's Booming Cloud Market Is Set To Be Worth $4.1 Billion By 2020 -- Here's Why." March 23, 2018. https://www.forbes.com/sites/prakashmallya/2018/03/23/indias-booming-cloud-market-is-set-to-be-worth-4-1-billion-by-2020-heres-why/#790a6cca631a
---
---
---
Meet the authors
Vikas Arora, Executive Director, Cloud and Cognitive Software and Services, IBM India/South Asia
Seema Kumar, Director - Cloud & Cognitive Software Technical Sales, IBM India/South Asia
Lynn Kesterson-Townes, Global Cloud & Quantum Leader, IBM Institute for Business Value, IBM Consulting
Anthony Marshall, Senior Research Director, IBM Institute for Business Value
---
Originally published 29 November 2019