Digital acceleration has become ubiquitous. 97% of businesses have started adopting cloud. And almost 80% have at least piloted artificial intelligence (AI). However, not all enterprises advance at the same pace: leading high technology adopters benefit from a 7-percentage point revenue growth premium over their peers across 13 industries. Indeed, merely adopting individual technologies is no longer enough to leverage their full potential and differentiate an organization from its competition.
Virtualization and digital ways of working are becoming the norm, giving high technology adopters an edge within their industries. But among these advanced companies, which are the leaders? What makes them enjoy greater success? How do they convert technologies into greater value? What operational, organizational, and cultural environments are most conducive to deep and enduring digital transformation? And how can organizations accelerate their digital transformation journey most effectively and sustainably?
The latest research from the IBM Institute for Business Value (IBV) provides new and striking insights into these questions. The analysis of a new survey encompassing more than 7,000 C-suite executives conducted by the IBV in collaboration with Oxford Economics shows that not all technology-adopting businesses achieve similar results. To truly set an organization apart, technology needs to be integral to an end-to-end enterprise transformation toward what we call the "Virtual Enterprise."
The Virtual Enterprise: Expanded potential for digitization and revenue growth rate premiums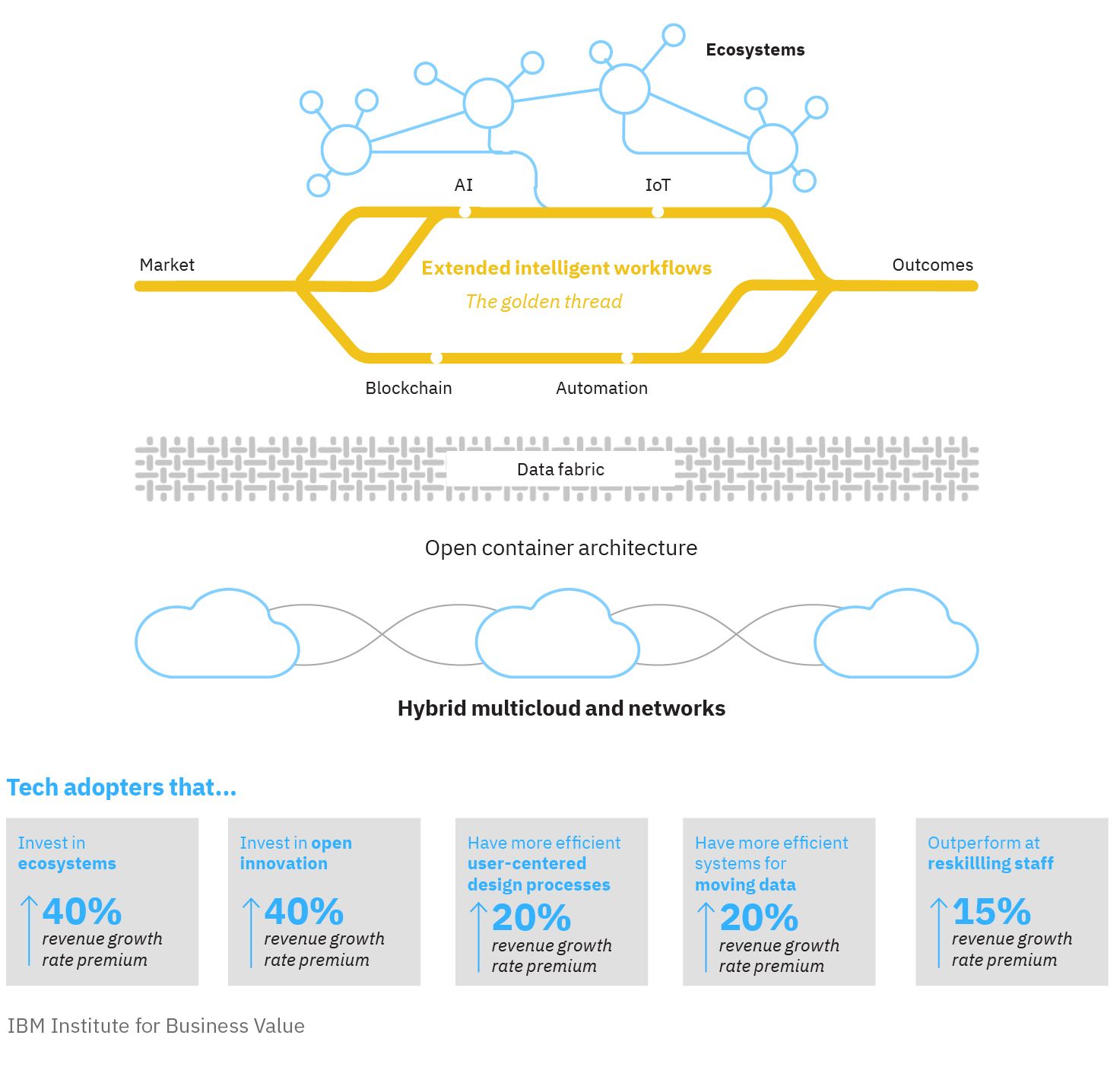 The single most important characteristic of the Virtual Enterprise is "openness," which brings value at three levels:
Inside — Within the enterprise, connecting divisions and functions in more collaborative and agile workflows
Outside — With partners outside the enterprise who become ever more critical to delivering the core purpose of the business
Out there — With the wider ecosystem that allows true platform economics to play out and the enterprise to take advantage of all those who wish or need to connect with its intent.
The pandemic is both shaping and testing this new extended, near-boundless reality of the enterprise. The digital channel has become a primary source of engagement, unleashing new potential for markets and access, as well as creating new challenges for re-creating empathy, a sense of belonging, and human connection. The Virtual Enterprise operates in an environment where purpose, intent, and wider societal impact have come to the fore.
Our research has confirmed the benefits of adopting these key tenets of the Virtual Enterprise:
The high technology adopters who focus on "openness" or "ecosystems" enjoy a 40% revenue growth performance premium over their advanced competitors. The magnitude of this number alone should give each business leader pause.
Those who have a higher focus on user-centered design or developed mastery in their ability to move and exploit data benefit from a 20% revenue growth rate premium over other organizations.
Tech-adopting enterprises that excel at reskilling staff to adjust to the new technology-driven world can benefit from a 15% revenue growth rate premium over other tech-adopting organizations.
The takeaway? Organizations that combine high levels of technology adoption with a holistic approach to their business and cultural transformation achieve higher rates of revenue growth than organizations that focus on technology adoption alone.
Download the full report to learn how your organization can unleash the business value of technology adoption and realize the promise of digital acceleration.
---
---
---
Meet the authors
Jean-Stéphane Payraudeau, Managing Partner, Offering Management, Assets, IBV, and Industry CoCs IBM Consulting
Anthony Marshall, Senior Research Director, IBM Institute for Business Value
Jacob Dencik, Ph.D, Global Economic Research Leader, IBM Institute for Business Value
---
Originally published 05 October 2021