---
Discover 5 ways your organization can create next-wave digital experiences.
COVID-19 has turned economies and communities on their sides. Not only did organizations have to rapidly rethink their tactics and respond to dramatically shifting customer demands, they also needed to architect innovative ways of working, collaborating, maintaining connections, and delivering value. For some businesses, weaknesses or misalignments in digital strategy—or the absence of a digital strategy altogether—have produced devastating results. Others have been able to seize the moment to accelerate their digital transformation.
Now, 18 months into the pandemic, as organizations begin to recognize the strategic potential that interoperable and hybrid technologies provide, motivation to transform has transcended initial tactical necessities. Having the right technologies, infrastructure, and agile practices architected in the right ways has enabled digitally mature organizations to tackle supply chain challenges that crippled others in their industries. These high performing organizations have been able to reframe and respond with different approaches to meet strategic, customer, and operational necessities.
Digital maturity and differentiation
Digitally mature businesses have differentiated themselves, in large part, by unleashing the power of digital experience platforms (DXPs)—both expanding deployment more broadly across their organizations and more deeply into core processes and workflows. Indeed, nearly 60% of organizations that automated end-to-end workflows using Salesforce solutions reported this investment made it easier to execute necessary business pivots during the COVID crisis.
Many organizations have deployed multiple DXPs, often from one or more vendors, including Salesforce. Over time, it is not unusual to find businesses with multiple DXP strategies and solutions across different business units. Despite DXPs' widespread presence, the complexities associated with so many deployments have left many organizations uncertain how to best leverage DXPs to their fullest potential.
Only a handful of organizations are realizing the full potential of their digital experience platform (DXP).
To better understand the challenges organizations face, and what they can do to achieve truly differentiating experiences that drive more value, the IBV surveyed 200 US-based executives across multiple industries who are very familiar with their DXP solutions. For the purposes of this study, all respondents have deployed Salesforce as a DXP. These executives—from C-suite officers to line-of-business DXP owners—told us the barriers they face are often rooted in problems with data and fears that expanding platform engagement could dilute their brand. Importantly, organizational silos that styme progress on multiple fronts continue to prove difficult to break down.
Allowing these challenges to impede needed transformation will likely widen the gap between those companies that thrive and those that wither. Successive IBV studies conducted throughout 2020 and into 2021 demonstrate that enterprise transformation has never been more important. COVID-19 is accelerating digital transformation for almost 60% of enterprises, and the momentum of change continues to grow. So for organizations we surveyed and many like them, there is no time to lose. Businesses need to urgently mitigate weaknesses in their DXPs and accelerate initiatives and investments to expand and improve them.
It's all about the experience
Customer demands spawned during the pandemic are becoming the new status quo, such as virtual queues and touchless, seamless experiences. The purpose of a DXP is to meet these demands. Unsurprisingly, respondents' top reasons for investing in their Salesforce DXP, outpacing the others, are to boost customer experience and drive loyalty.
Putting capital into customer capital: Executives cite the most important reason for DXP investments as improving customer experience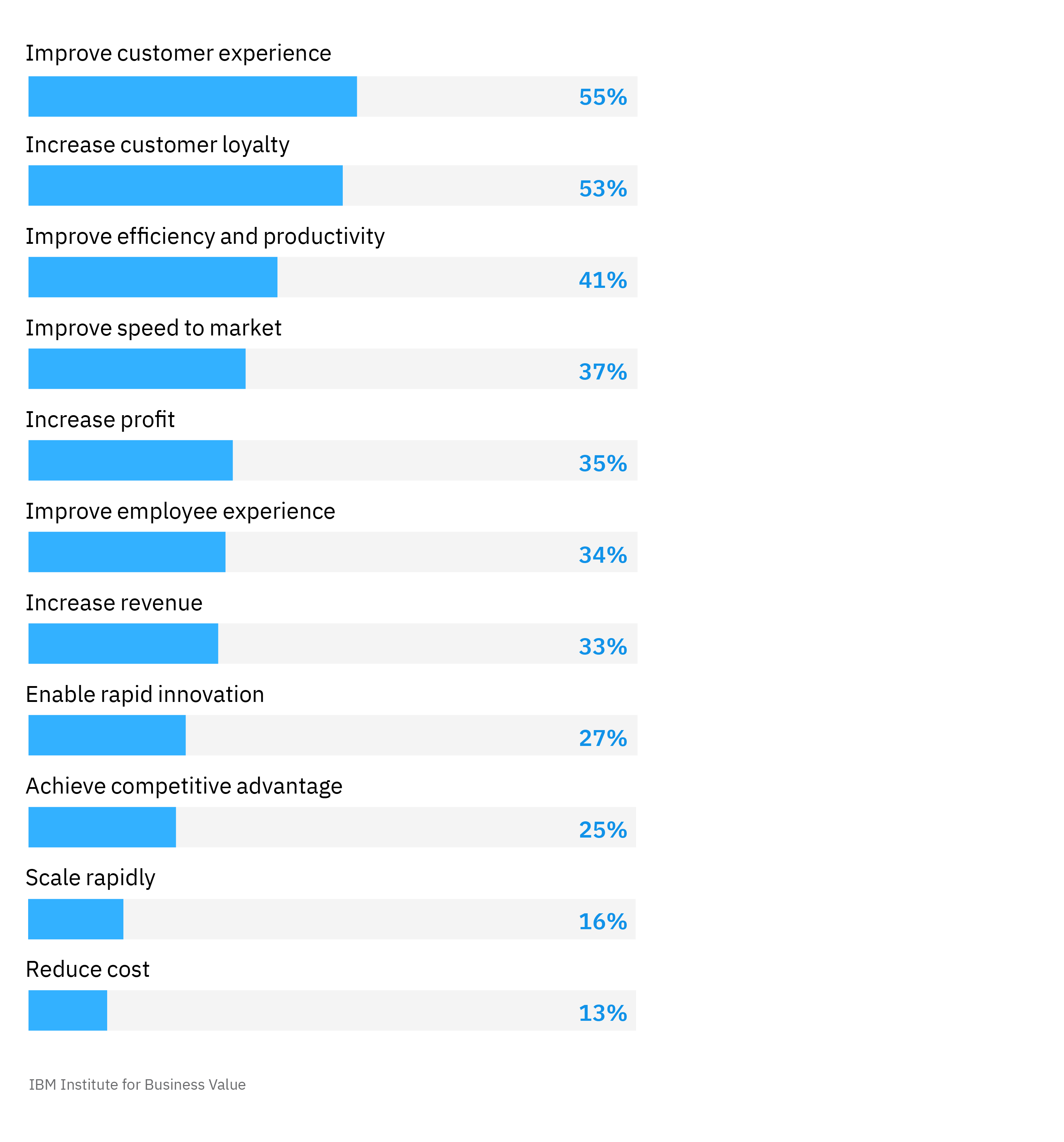 However, a mere 14% of businesses surveyed report having significantly exploited the capabilities of their current DXP investments. Most others are in various stages of early DXP maturity, with as many as 47% still piloting or implementing point solutions or exploring their options to expand their initial applications. Some are delaying further investment amid uncertain markets. Still others fear provider lock-in, face budgetary constraints, or worry that joining an ecosystem means losing their "secret sauce."
But to truly differentiate, organizations need to shift their mindset from "implement and maintain" to "constantly evolve."
Rather than waiting for the post-pandemic dust to settle, organizations need to strike now, or risk being eclipsed by their competition. By making better calculated DXP investments today, organizations can step ahead, capturing advantages accruing to first—and best—movers.
Download the report to learn about 5 ways your organization can create next-wave digital experiences.
---
---
---
Download report translations
---
Originally published 13 August 2021
---