Download Download the study infographic - Canada's comeback - Turning the skills crisis into a competitive advantage

Stoking growth with critical skills
After more than a decade of middling growth, Canada's economy grew at an annualized rate of 3.7 percent in the first quarter of 2017, significantly outpacing the 1.2 percent of real GDP growth in the United States for the same period. Executives are optimistic about their business prospects, with many predicting both revenue and profit growth over 2016.
Canada's vast natural resources and skilled workforce enabled it to enjoy more than a decade of economic growth from 1993 to 2007. However, like most countries, Canada's economy experienced a downturn during the global financial crisis. In 2009, the Canadian government posted a fiscal deficit after 12 years of surplus.
The comeback
Growth since has been middling. Canada's gross domestic product (GDP) was USD 1.67 trillion in 2016, with GDP growth lagging behind both the United States and Mexico. While Canada has weathered some hard times over the past decade, recent improvement in economic performance, coupled with increased optimism from economists and business leaders, suggest that Canada may be poised for a comeback.
Some economists have even speculated that the Canadian economy could outpace the United States in 2017. Many Canadian executives appear less worried about the economy than they were just a year ago. Findings from the latest CPA Canada Business Monitor (Q1 2017) indicate that 38 percent of the business leaders surveyed are optimistic about the prospects for the Canadian economy over the next 12 months, up from 32 percent in Q4 2016 and a mere 22 percent in Q1 2016. Business leaders also expressed optimism over growth opportunities for their own businesses. Sixty-nine percent project revenue growth, and 63 percent project profit growth—both higher than 2016.
Potential for growth
Our research indicates that Canadian executives identify multiple growth opportunities. Executives surveyed tell us that Canada can be a successful technology innovator to meet the needs of global markets, a global leader in research and development, and a producer of higher value-added products and services. Additionally, 39 percent identified being a global leader in sustainability initiatives and helping other countries fulfill their sustainability objectives as key strategic growth opportunities—an area which potentially has gained greater promise with the U.S. decision to withdraw from the Paris Climate Agreement.
To accelerate its path toward higher growth and capitalize on strategic growth opportunities, Canada needs a skilled and talented workforce. As such, the nation's future economic success is heavily dependent upon the ability of ecosystem partners to work together to develop and maintain a skilled workforce across regional labor markets. And addressing skills need must occur during a period of continuing industry and economic disruption fueled by rapidly evolving technologies.
The gathering storm
Digital technologies are fundamentally disrupting business and operating models. And this dramatic transformation is having a profound effect on the types of workforce skills demanded by organizations in both the public and private sectors. To gauge current skills challenges and assess future needs, the IBM Institute for Business Value (IBV), in collaboration with Oxford Economics, surveyed more than 5,600 global executives in 18 industries and 48 countries, including 353 executives from Canadian organizations.
Our findings show massive changes occurring across industries worldwide. And Canadian executives share similar views with their peers from other countries about the ever-greater impact various disruptive forces are placing on the demands for workforce skills. Two-thirds of Canadian executives said advances in both general and industry-specific technology, expanded trade and global economic specialization will have a significant impact on the future demand for skills.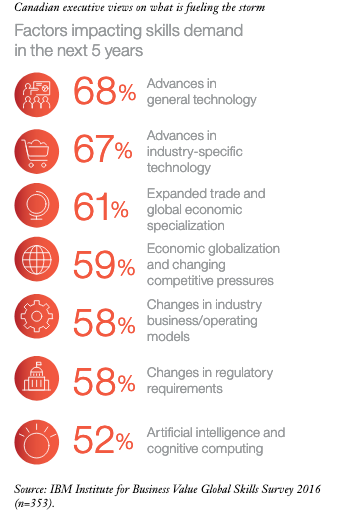 More than half cited the impact of economic globalization, changing competitive pressures, changes in industry business and operating models, and changes in regulatory requirements. And 52 percent say advances in cognitive computing and artificial intelligence will have a significant impact on the types of skills demanded. Canadian executives also share similar views to executives elsewhere in terms of which skills are in highest demand, with the notable exception of science, technology, engineering and math (STEM) skills, which they rate much lower than their global peers. To redress the skills challenge, both public and private sector ecosystem partners must work together.
---
---
---
Download report translations
---
Originally published 01 August 2017